Varroc Engineering Ltd., manufacturer of exterior lighting systems, body and chassis parts, engine valves, machined forgings, and electrical and electronic systems for the two-wheeler and three-wheeler industry, showcased a bouquet of products for the aftermarket segment. The company's Vice President and Business Head (Global Aftermarket) Tarun Tyagi spoke to Rajesh Rajgor about their participation at the ACMA iAutoConnect and exciting future growth plans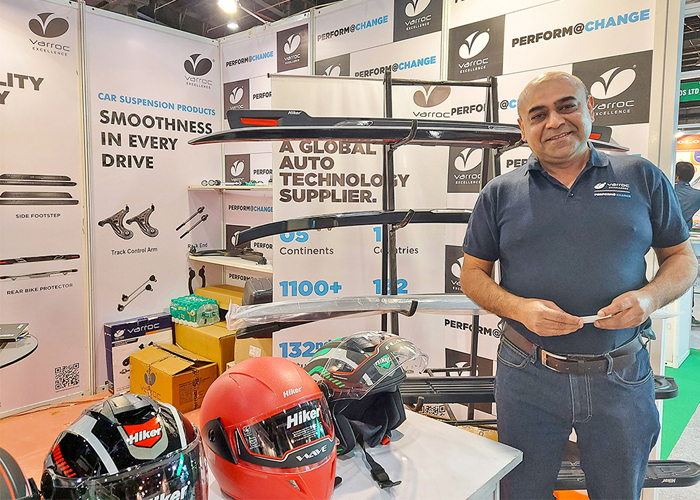 Product Mix
Bumpers, footsteps, roof rails, suspensions, helmets and lights for usage in the aftermarket section are on display. We are the world's sixth-largest headlamp manufacturer with two plants in India. Lighting products will continue to be in demand in the aftermarket even as the market switches to electric vehicles. It will continue to be an important part of our aftermarket operations. Suspensions and helmets are the focus here.
The helmet market is estimated to be worth around Rs 3,000 crore. Even if the hiker helmets do not become a volume leader, we may provide specialty products to the market. This might result in a large increase in revenue, to the point where it could become a separate sector worth Rs 50 crore. Depending on user behaviour, we will begin with traditional helmets and eventually go to intelligent features such as Wi-Fi connectivity, Bluetooth and cameras.
Growth Plans
Our aftermarket business is made up of 55-60% electrical and electronics products. Casting and forging, filters and rubber parts account approximately for 20% of the total revenue. We sell roughly 3,750 SKUs in 38 product sub-categories. Individual personal mobility became a priority during the pandemic and the demand for used two-wheelers and three-wheelers increased. We had a turnover of Rs 300 crore before the pandemic Rs 368 crore in the first 10 months of the pandemic year.
We had revenue of Rs 498 crore in the fiscal year that ended in FY22. Despite rising electric vehicle (EV) adoption, we expect the aftermarket business will maintain its pace. In FY23, we expect to have sales turnover of Rs 600 crore and in the next three years we expect to generate a sales turnover of Rs 750 crore. We strive to provide differentiated product solutions such as a starter motor repair kit. As a solution provider, rather than just a product seller, our goal is to deliver a combination of products that customers require.