It's what keeps any vehicle running smooth like a well-oiled machine. Be it systems that control central locking, seat adjustment, wiper or even brakes – specialty lubricant is core to all these functions and more.
And Klüber Lubrication India has a fine and vast range of specialty lubricants to offer to its discerning customers.
'Special' Offerings
Specialty lubricants, especially, in the aftermarket are becoming more and more the need of the hour. And why not! Service centres want to keep maintenance cost to the lowest and customers do not want to compromise on quality and comfort. This is what makes the conventional lubricants passé. And Klüber Lubrication India is fully committed to its customers.
Dinkar Pande – Associate General Manager, Klüber Lubrication India shares: "More and more motorists are now preferring longer service intervals along with high reliability in products. For instance, commercial vehicle owners would rather have a yearly FC to FC (Fitness Certificate) visit to the service centre rather than having to perform random stops to get their wheel hub bearing or the under-chassis lubrication done."
Klüber Lubrication, today, has established itself as one of the market leaders and a key supplier of specialty lubricants for OEMs, tier I and II suppliers, besides serving the aftermarket.
State-of-the-art R&D Facility
Klüber Lubrication India's state-of-the-art R&D centre has been successful in developing high performing and economical products to meet the aftermarket specialty lubricant requirements for the Asia Pacific market. The plant in India also has the capability to deliver products in customized packs – be it as small as sachets, small containers or as aerosol cans, along with customer specific branding comprise the unique strength of the plant. The company has allowed its local manufacturing facility to build customization capability to supply products as per the demands of the market.
Pande adds: "The trust factor in our brand increases as we can offer packages of lubricants that have the OEM stamp on them and it also definitely helps that our product is easily available besides being highly affordable."
The company has also been highly conscious of the 'Make in India' initiative over the years. The brand's high-performance aftermarket products are part of its larger sustainability goal enabling reduction in lubricant consumption and improvement in service life. It also ensures reduction in carbon footprint with lower grease usage and reduced wastage.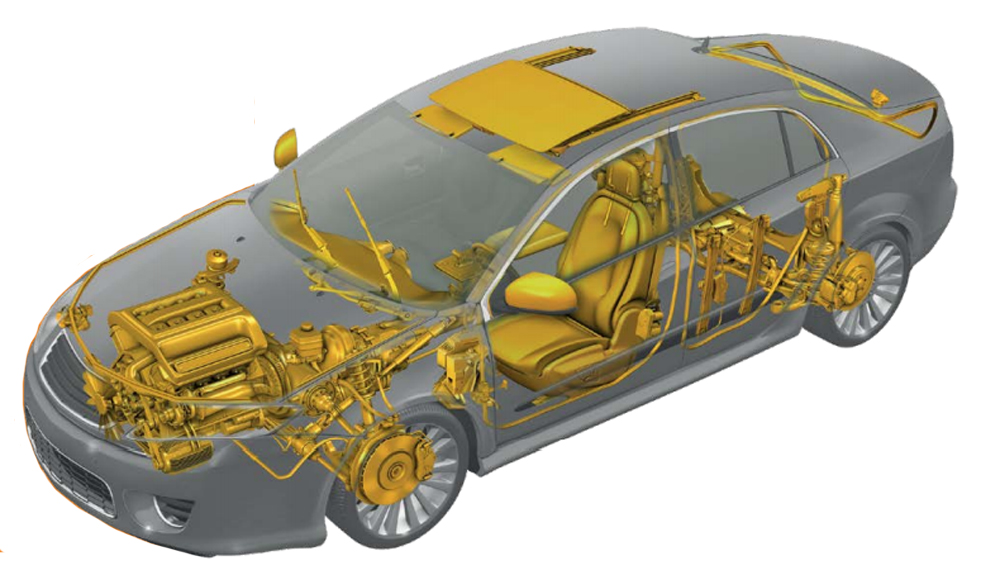 Bouquet of Products
Klüber Lubrication India caters to each and every automotive segment. The company has more than 250 lubricant solutions that lubricate various components in a passenger vehicle.
In the 2-wheeler segment, lubrication for the chain is crucial during the service of the vehicle. The chains face huge impact of vastly varying climatic and temperature difference across the country and also that of the road conditions where the rate of wear and tear and corrosion is high. Klüber Lubrication India has solutions for keeping the chain protected against the high moisture content in the environment during wet season, enabling smoother movement while carrying heavier loads in hilly areas and inclines, offering general protection from dusty ambient conditions, besides lessening friction.
Klüber Lubrication India has also developed chain lubricant sprays that meet all the most stringent customer requirements.
Yet another application is the 2-wheeler Steering Cone Bearing, which requires greater protection from corrosion, water repellence, heavy load bearing capacity for handling rough road conditions which has the tendency to displace the oil film between the ball and races. To this exact purpose, Klüber Lubrication has specialised greases available in the aftermarket that takes care of this requirement enabling long service intervals.
Big Commercial vehicles are catered for too. Klüber Lubrication has lubricants for the wheel hub bearing application ranging from 50,000 kilometres to lifetime service intervals. These greases can efficiently handle heavy loads without oil film displacement, giving protection from corrosion, reduced wear and tear, and facilitating a longer service life (FC to FC) and economy.
Supporting Service Centres
Specialty products are heavily consumed at service centres too, for making various tasks easier including that of removing rust, unscrewing nuts and bolts, for short-term corrosion protection, disassembling of parts and degreasing, besides helping remove old residue of grease and oil completely from the automotive parts.
Pande shares: "Generally in the market, solvent-based products are available. But Klüber Lubrication India offers not only these but also has on offer technologically-advanced water based solutions. We are proud of our water-based solutions which have been designed with sustainability goals, can be used in varying concentrations depending on the usage."
Leading service centres across India have been reaping the advantages of using products from Klüber Lubrication India. Another such solution is the battery terminal protection spray. Its uniqueness lies in the fact that it repels dust unlike a gel, paste or grease, and provides excellent corrosion protection along with robust electrical contact.
Partnering Aftermarket Suppliers
Klüber Lubrication India is looking at partnering with component suppliers now in the aftermarket segment, with its wide range of specialty products. Be it any application – whether for door hinges, brake pedal, hood hinges, NVH requirements, two wheeler steering stem cone or the chain, Klüber Lubrication India can help. Moreover, the material of the product is of no concern. It can be plastic, metal, rubber or even carbon. Klüber Lubrication India has solutions that are easy to apply, odourless, provide great efficiency and good aesthetic appeal for all material types.
Klüber Lubrication India, with its wide range of aftermarket lubricants, is committed to remain a highly efficient and reliable partner for its discerning customer promising a smooth ride!