Dana, one of the most well-known and respected global brands in the auto component supply chain, made a strong presence at the show. With its three strong brands – VICTOR REINZ, Spicer and Tru-Cool – the company attracted a lot of attention from visitors as it vies to double its share of business from the MENA region. Akos Domeny, Senior Sales Manager (Europe, Middle East, Africa), Dana, tells us more.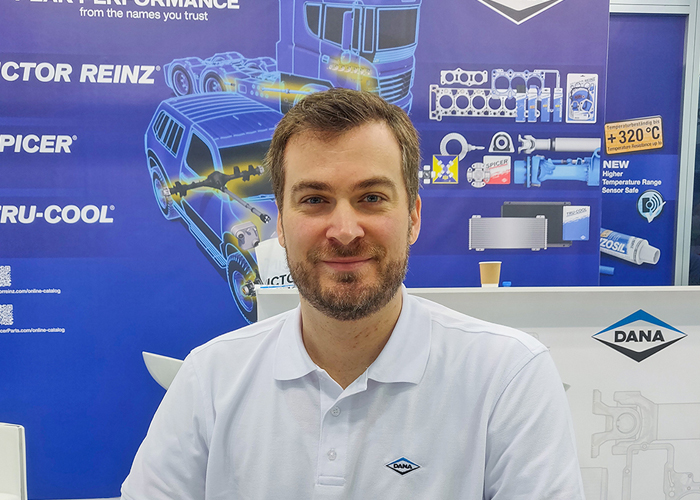 Aim of Participation
This is a very good opportunity for Dana and our sub brands to engage with local customers in the region, especially after two years of being unable to visit and meet our customers due to COVID. Here we are trying to understand their needs, know how business is progressing and evaluate how we can further support their needs. The attendance rate at the show has been very good, our booth has been packed with visitors from day 1. I find the show really useful and a good occasion to get closer to our customers which is precisely what we have been missing over the last two years.
MENA Region Presence
Basically, under the Dana portfolio, we have three major sub-brands. First is the VICTOR REINZ range of gaskets and sealants which accounts for more than 80% of our revenue and sales. Our distribution for the brand is very strong in North Africa and Middle East with the exception of some smaller markets which represents the potential for us to grow our distribution further.
Spicer is our brand for on-highway & off-highway axle, driveshaft and transmission application for trucks, agricultural machines, mining & heavy equipment. We see good potential to grow and create presence in markets where we are under-represented and are taking efforts to meet potential customers for Spicer products in this region.
Tru-Cool is our brand for engine cooling applications and is gaining in popularity and acceptance in this region.
Sales & Growth Strategy
Our strategy is to sell mainly to our distribution partners. The Middle East and Africa region accounts for nearly 10% of Dana's aftermarket business at present; the plan is to at least double this figure.
Though COVID hit all companies hard in terms of availability and supply of parts, we managed to grow our aftermarket business in 2021, even hitting 2019 figures in fact. Once the global supply chain problems are alleviated, we believe double-digit growth is something that can be achieved for our company in 2022.