Gulf Oil, a leading Global Automotive and Industrial lubricant player, has taken the right steps to be future-proof with equity stakes in Indra Renewable Technologies, UK, and SaaS provider Techperspect Software Pvt Ltd.  Gagan Mathur, Head (Business Development Cluster Markets-), Gulf Oil Lubricants India Ltd., spoke to Rajesh Rajgor in an exclusive conversation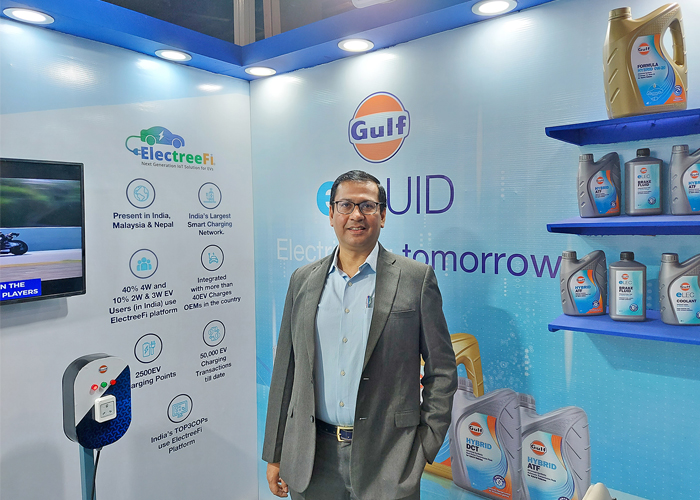 Aim of Participation at ACMA EV Expo
Our aim is to showcase our E Fluid range and EV charging capability. We are showcasing our e-fluids range which was launched recently. These products were introduced in the international markets first, including Europe, the Middle East and China, and now we are ready to introduce them for the Indian market. The range of fluids that we have will meet the needs of Electric two & three-wheelers, passenger cars, light commercial vehicles and e-buses for brake system, transmission, gears and driveline axles. Our e-fluids are designed to improve the vehicle's performance and safety.
Gulf e-LEC brake fluids are meant to improve braking performance. They also prevent against corrosion while e-LEC coolant keeps electric vehicle batteries cool in high temperatures. Gulf e-LEC driveline fluid is suitable for a variety of applications, including wet or dry, single and multi-speed gearboxes in electric car rear axles and transaxles. It is appropriate for applications where the axle fluid is in close contact with electrical components and ensures electrical qualities in both fresh and old oil. We would want to focus on the OEM and thereafter, aftermarket requirements as and when the EV vehicle population grows, leveraging our 80,000+ touch-points across the country.
Preparing for Change
We have an equity partnership with Indra Renewable Technologies, UK. They are the forerunners in the home charging segment in the UK. Indra Renewable Technologies is a smart EV Charger firm that develops charging solutions for residential and commercial usage. Initially we would start with 7.2 KV Type 2 AC chargers and as the need arises we would move on to higher capacity chargers. The voltage required would be a 230 V single phase power supply with 16 amp socket for the 7.2 KW AC version. The earthing protection reduces installation time and cost. Another aspect is the vehicle to grid (V2G) technology, which has already been developed by Indra Renewable Technologies and may serve the power needs of individual houses as a backup as well as providing tremendous opportunity to build partnerships with potential micro grid solution providers in the future.
Gulf Oil Lubricants India Ltd. has formed an equity partnership here with a company called Techperspect Software (P) Ltd. based in Noida. Their well-known brand 'ElectreeFi' consists of EV charger management software, battery swapping management system, EV fleet management system and software to assist smart charging and grid load control. They claim 40% of four-wheelers and 10% of two and three-wheeler customers already. Our intent is to bundle the hardware and software offering together and approach as a system solution to customers coming to us through this partnership.