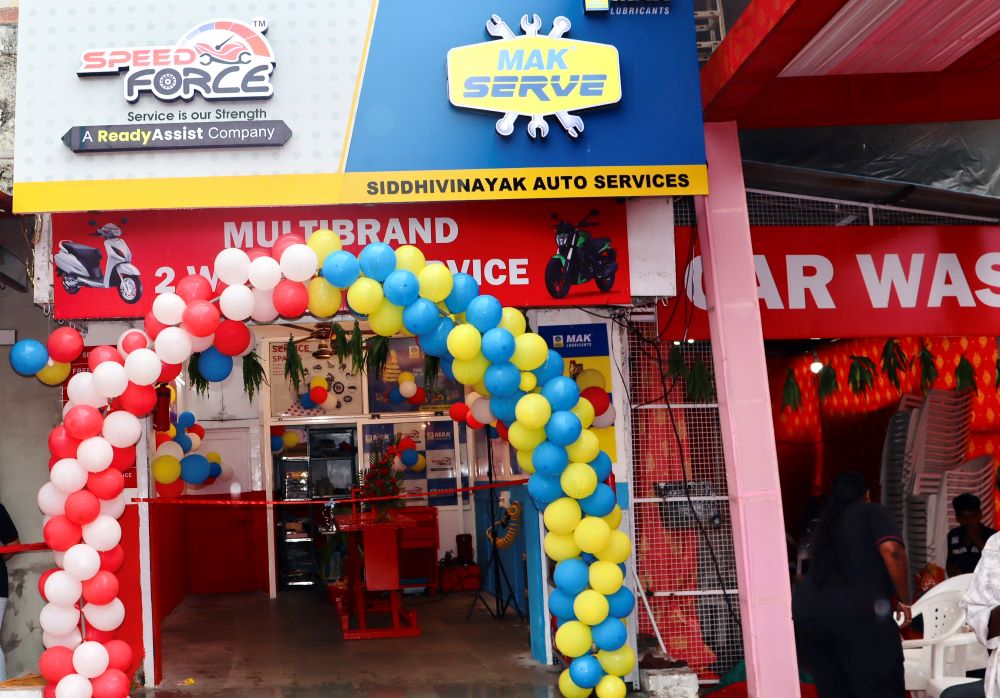 SpeedForce plans to open 200 cobranded MAKServe garages and generate 1500 indirect job opportunities in 12 months 
SpeedForce, India's largest chain of multibrand two-wheeler workshops and a subsidiary of ReadyAssist, has announced the opening of five co-branded MAKServe workshops across the country. The move comes within 45 days of announcement of its Memorandum of Understanding (MoU) with MAK Lubricants from Bharat Petroleum Corporation Limited (BPCL).                                   
The strategic tie-up between SpeedForce and MAK Lubricants will enable more physical touch points for MAK Lubricant customers. Currently there are 5 workshops opened under this tie-up in Vadodara, Kanpur, Karnal, Prayagraj, Hyderabad and 4 more opening are planned this month. Opening of these five workshops simultaneously showcases SpeedForce's commitment to rapid expansion and delivering unparalleled service excellence. SpeedForce team has ambitious plans to open a total 200 such co-branded workshops within the next twelve months as part of the pilot phase. The pilot project will serve as a stepping stone for the future, enabling SpeedForce to fine-tune its operations and offer top-notch services across the nation.               
Moreover, this collaborative effort will contribute to the nation's economic growth. SpeedForce is committed to creating approximately 1,500 indirect job opportunities within the mechanical community over the next 12 months. This demonstrates their dedication to fostering economic development and supporting the local workforce.                    
"We are thrilled to announce the opening of our first five co-branded MAKServe workshops. This achievement is a testament to the hard work and dedication of both the SpeedForce and MAK Lubricants teams," stated Mr. Vimal Singh, Founder & CEO, ReadyAssist. "Within a short span of 45 days, we have successfully transformed our tie-up into tangible progress, and this is just the beginning of our journey together. With the support of MAK Lubricants, we are confident in our ability to redefine the two-wheeler servicing experience in India."       
The opening of these five co-branded MAKServe workshops is a significant milestone for SpeedForce and MAK Lubricants. It signifies the beginning of a transformative journey in the two-wheeler servicing industry, one that promises innovation, superior service quality, and customer-centric solutions.