Just under a decade since its birth, Porter has created unique solutions to resolve pain points ignored by the giants in the intra-city logistics segment. The company, with its three founders, has built not only a digital space to marry supply with demand efficiently but it is striving towards building a better ecosystem. Sarada Vishnubhatla meets Pranav Goel, Partner and CEO, Porter for an in-depth interaction.
The story begins in 2013 when Pranav Goel, Uttam Digga and Vikas Choudhary – all IIT graduates (Kharagpur and Kanpur, respectively) came together to establish a start-up in intra-city logistics – a segment which is riddled with many loopholes in service, according to them.
Pranav Goel, Co-Founder and CEO shares: "Intra-city logistics in India is worth US $ 40 billion market today. It is the fastest growing segment but is also the most inefficient with underutilization of the assets. In any industry, there is 60-65% of asset utilization but in intra-city, it is around 30%. But Porter has been able to improve this figure and bring it to more than 66%. Historically, this market is extremely fragmented as there are more than 5 million LCVs in India and all of them are owned by individuals."
It is interesting to note that the first couple of drivers who onboarded with Porter are large fleet owners today and are still with the platform. Not only that, Porter boasts of a registered partner base upwards of four lakhs across all major vehicle categories.
Smoothing Over Teething Troubles
User density – at the start of any service providing platform – is bound to be low, which results in poor matching of demand and supply at a good price. The story continues until a certain threshold density is reached.
Pranav explains: "The journey from zero to reaching the threshold density is tough because the dilemma is – whether you should get a driver or the customer first. If you get the driver, the customer complains of high cost, the pick-up shows far away, and more importantly, he does not get a vehicle every time he needs it because you do not have enough density on the supply side. Driver will have a problem that the pick-up point is not nearby and he is getting paid less than the market price besides returning empty. There is more churn in the initial stage which you try to compensate for by keeping the prices lower by taking it out of your own pocket."
Continuous evolution improves the service incrementally. All that is required is – perseverance and not losing focus. A key realization in the early years was that a satisfied 'supply' will lead to more demand to keep all the parties involved happy. And this strategy helped Pranav and his co-founders to reach their threshold density faster.
Moving It Across Industry Segments
Porter is sector agnostic. Each industry segment accounts for 5-10% of their volumes. Whether it is electronic items, white goods, furniture, timber, plywood, hardware, ceramic, FMCG, or the products that are relevant for small manufacturers such as lathe machines, or those for the local fabricators, paints and chemicals – Porter moves it all. Even some local logistics companies also depend on Porter for their first and the last mile needs.
Pranav says: "The two-wheeler segment makes up 50% of our orders and the rest is the LCV segment. Being a low-ticket service, the two-wheeler category brings in 20% of the revenue while LCVs amount to 80% of the earnings. In fact, you will be surprised to know that in Bangalore, in the two-wheeler pick-up and drop category, we are larger than the name which is making popular rounds in the city. For us, the two-wheeler segment is a two-year-old category and is doing phenomenally well."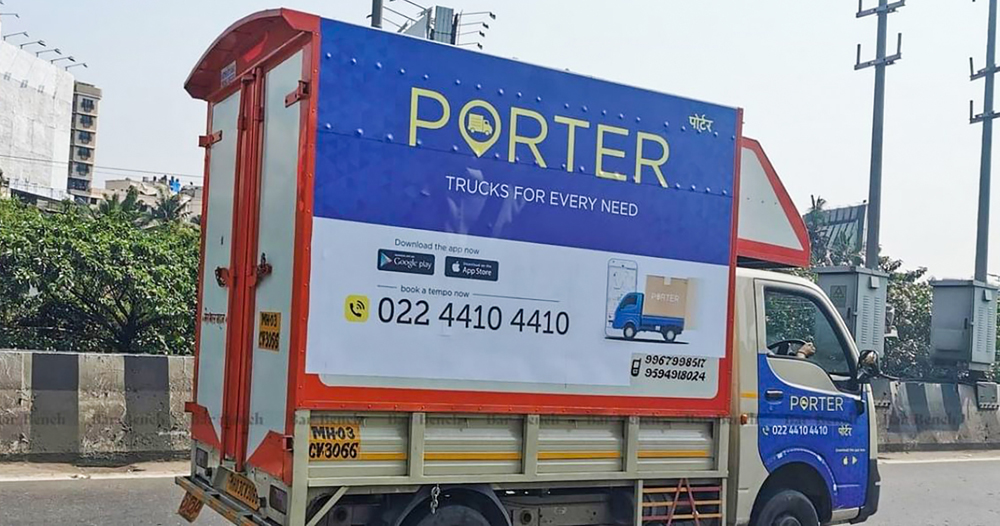 The partners are working towards making this particular segment easier to find and made use of by people in general. Also, COVID pandemic triggered the launch of many sub-categories in picking and dropping stuff for people.
He shares: "The pandemic saw massive labor migration leading to a shortage of people in the cities to help out with loading and unloading the cargo. So, we created the 'helper model' category in which our drivers would get paid for helping customers load and unload cargo. Then we also launched financing, insurance for the drivers and we have also begun packers and movers service."
Connecting Intra-city Logistics
Porter holds the key to removing uncertainty in demand for the various stakeholders involved by weaving the segment together digitally. This not only is removing long waiting periods and is also giving the drivers return hauls more than before. This is helping the customers save money on the logistics and enabling the drivers to earn more money. Pranav and his partners realized that better connectedness has created an efficiency surplus which is allowing everyone to get better service, better earnings and the system becomes more robust naturally.
Pranav claims: "With this, there is more visibility, higher efficiency by way of prompt service giving our customers a competitive edge and the platform also satisfies the customer with instant fulfillment of his request. A good fulfillment availability makes the system more efficient with shorter ETAs."
Delving Into Driver Psyche
Traditionally, the driver in the road transport is the weakest link in the chain – in terms of him getting exploited and generally looked down upon. Porter gave Pranav and the co-founders an opportunity to bring about a change in the dynamics and the people's perception, giving their mission a larger purpose.
He recounts: "Drivers' low professional and personal esteem is closely related with the fact that the customer is always out to exploit them with no leverage whatsoever. And they are habituated to not getting paid on time. Drivers do not understand why society does not treat them with respect. They have limited employment opportunities hence they are hard-pressed to become drivers. We made it a point that they do not get the raw end of the bargain."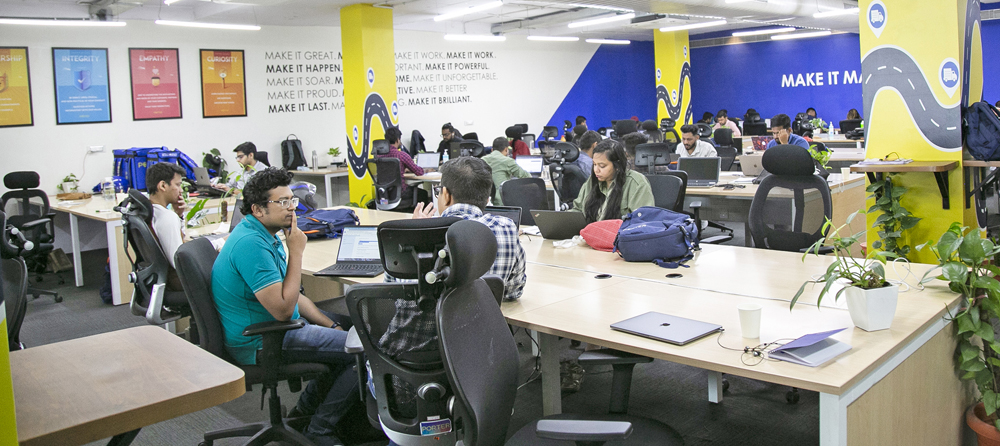 Porter has made significant inroads into improving the logistics standards, but also created a positive impact that can be felt by the drivers also.
Offering Niche Services
The advantage with Porter is that there is no working capital exposure for any partner, and the drivers receive immediate payment. Each driver is given a digital wallet which receives the payment immediately after the job is done after deducting Porter's commission. For all practical purposes, Porter is the single major player in the LCV on-demand segment today – since the segment has seen some serious market consolidation – and their primary challenge comes from the unorganized sector. A year ago, they created a marketplace for the unorganized movers and packers, brought them on to the platform, gave them soft skills training, set the rules of the platform and began offering it as a service.
Pranav shares insights: "Right now, this segment is already accounting for 5% of our revenue, and is a fastest growing sub-segment. In fact, we are giving the veteran company in this segment a run for their money as our cost is only one-third of theirs. And that is a game changer. We have begun a niche service in this category itself which is called micro shifting where, for example, a single piece of furniture that no one wants to shift can be fulfilled by us. This problem area has always existed but there never was a solution till now."
The company also widened their intra-city logistics by offering same-day movements too.
He elaborates: "Recently, we have begun catering to large cities which act as fulfillment centers for satellite towns and villages. There is a large movement that happens within a radius of 300-400 kilometers."
Talking about their most-profitable LCV segment, Pranav shares: "Opportunity is big, and the question before us now is only that of scaling. We have good density now and in the next five years, we have a choice of growing between 5%-10% of the market share. Largely, we have 2-3 major segments with sub-segments within all of them – from 20 kilos to 2.5 tonnes – and we are present in 15 cities across India as of today." The trio wish to expand their footprints to 35 cities in the next two years.
Shaping The Ecosystem
Following their aim, Porter, today, has become a price threshold in the logistics industry and is able to influence the ecosystem. Any amount of efficiency still falls short in the Indian logistics segment and Pranav, for one, believes that India spends less than 14% of its GDP on logistics, which is what is frequently quoted.
He explains why: "India is getting better at logistics. We think our spending in reality is between 10 to 12%. What actually will give a close-to-accurate reading is when every logistics segment is connected to become a more integrated logistics network. And this should be happening in the next five years, as we see it."
Successful Foray Into EVs
In the last 8-9 months, Porter has brought around 1000 EVs in the three-wheeler category into its fold and this segment brings in 5% of their total revenue. The company wishes to take this up to 20% in the next two years.
Pranav feels: "Porter is helping the ecosystem in faster EV adoption in the market. We are helping educate the market about EV products since we work with fleet owners and the retail distributors also. Our approach towards this is as a facilitator."
Porter is aiming for much to happen in the next couple of years. Their success is largely due to the fact that their service is multi-layered and they offer multi-category solutions at different price points – and all this while addressing niche pain points in the market. Pranav, Uttam and Vikas are working hard towards making Porter an even bigger market influencer than it is already!