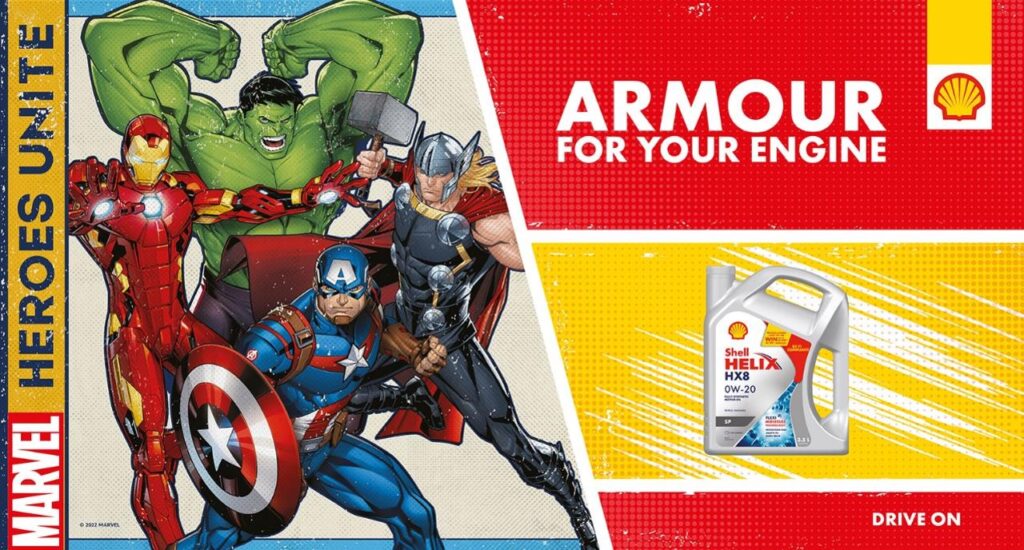 Shell, the world leader in finished lubricants, has announced the newest addition to its passenger car motor oils portfolio – Shell Helix SP HX8 0W-20. This fully synthetic, BS VI compliant, engine oil designed for modern turbocharged engines is being launched in an exciting collaboration between Shell and MARVEL Heroes Unite.
Speaking at the launch, Mr. Amit Ghugre, Automotive Sales and Marketing Manager, Shell Lubricants India, said, "As the world's leading lubricant supplier, we create future-ready products and solutions. We expect the Helix SP HX8 0W-20 segment to become consumers' primary choice in the next few years, based on both OEM recommendations and a need for more fuel-efficient lubricants. With this product launch, we are strategically investing in future demand creation, while bringing an exciting consumer brand collaboration with Marvel to the consumers".
Driven by the needs of fuel economy, lower emissions and changes in engine design, modern cars need an exceptional engine oil. Shell Helix HX8 SP 0W-20 is formulated with Flexi Molecule Technology that continuously adapts to engine conditions, to ensure more protection. Shell Helix HX8 SP 0W-20 is specially designed for modern turbocharged petrol direct injection (TGDI) engines to protect against damaging low speed pre-ignition (LSPI).
Shell Helix HX8 SP 0W-20 has been introduced in India with the latest API engine oil standard for passenger car motor oils that aim to meet the demanding needs of turbocharged petrol direct injection (TGDI) engines, the use of which is increasing because of the need to reduce environmental pollution and fuel use.
The collaboration offers motorists a chance to win exclusive MARVEL prizes* on purchase of every 3L and 3.5L Shell Helix HX8 0W-20 packs across nearest Shell branded workshop or retail outlet. Shell Helix HX8 is available nationwide at MRP INR 2730 for 3.5L pack.