Ampro Testing Machines is all set to provide customers with high-quality products and services that will exceed their expectations. Their partnership with Jaltest CV has gained reputation for repair and maintenance. Jaltest's diagnostics and repair services for trucks, buses, trailers and off-highway vehicles are now much in demand, as stated in this interview conducted by Rajesh Rajgor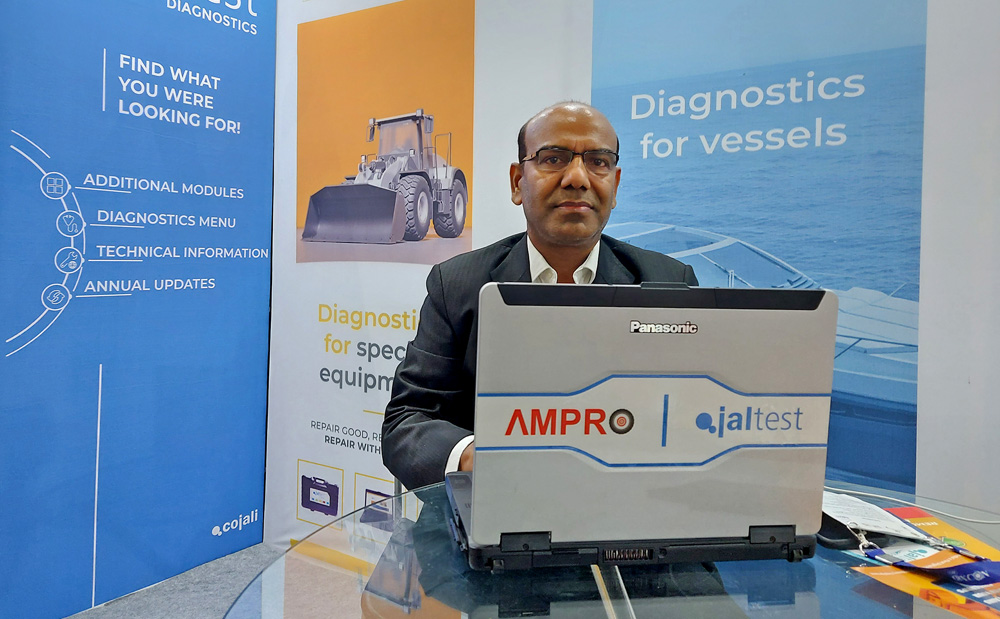 Ampro Testing Machines is a renowned supplier of high-quality precision-designed products such as automobiles and diagnostic equipment for commercial, off-highway and passenger vehicles. Since 2003, the company has been a trusted supplier, trader and exporter of vital automotive components and systems for a number of automotive sectors. Jaltest is a division of Cojali that is focused on the development of technical solutions with high added value. At the recently concluded Excon 2022 trade fair, Ampro Testing Machines had on display the Jaltest range of products such as the Jaltest off-highway vehicle scanner, Jaltest commercial vehicle scanner and Jaltest marine scanner.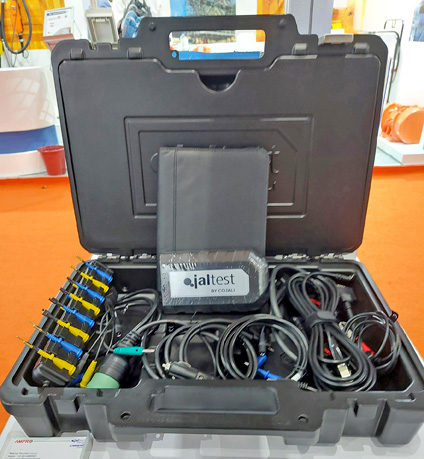 "Construction, earthmoving, cleaning and road maintenance machinery (street sweepers) are vehicles subjected to intense working conditions for lengthy work days and, as a result, they are exposed to multiple failures," says Manoj Kumar, CEO, Ampro Testing Machines. "Another form of machinery designed to sustain long work cycles is the stationary engine. We show end-users and fleet operators how to utilise our telematics and diagnostic solutions correctly. We demonstrate how the Jaltest diagnostic tool is the best tool for diagnosing their vehicles. Similarly, commercial vehicles have multi-brand and multi-system diagnostics with a broad coverage of several electronic systems. We educate our clients on how to use the product correctly," Kumar adds.
Focus and Strategy
At the moment, the company is pushing the Jaltest telematics kit in the construction equipment segment and multi-brand diagnostic tools in commercial vehicles as they are ones who want to track their vehicles and get adequate support. "B2C customers aren't much aware or trained. B2B is more in favour of diagnostics and hence handholding is required. Electronic diagnostics in the off-highway segment is less. We guide them in testing machines for diagnostics. We conduct 2-3 training programmes a month and teach them to check electronics and troubleshooting. Our service team also support them on field. Sometimes even remotely we help them trouble shoot," Kumar informs.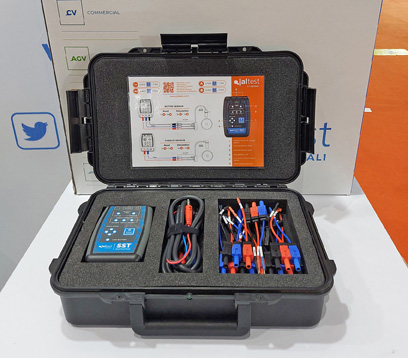 "In the Jaltest tools, along with the fault even the location of the part is highlighted. For instance, if a sensor is not working a code will be displayed which will indicate which part the sensor in the engine is not working," elaborates Kumar. The distributor also conducts multi-brand workshop training from time to time and perhaps proactively engages with Jaltest as well as OEMs to add features in the software as per the latest truck or bus engine developments. "In commercial vehicles, when it comes to Jaltest we have to focus on software development. Even after-sales activity has to be bolstered and feedback is shared with Jaltest to upgrade the software," he adds.
"We encourage workshops with mechanics across India in several cities for the easy use of Jaltest diagnostic kit. We apprise mechanics on how with one scanner they can diagnose multiple vehicle brands," Kumar further states. Ampro Testing Machines has an ambitious target of achieving sales of 1,000 units this year given the boost in demand for BS VI vehicles and customers' awareness towards Jaltest's diagnostic and telematics equipment. Jaltest helps in the process of digitalisation of workshops, fleets and service organisations, as well as the specialisation of the industrial automotive industry in electronics. These solutions, which are included in many Jaltest brands, place their clients at the forefront of the industry and provide them with unique solutions in order to meet the demands of a rapidly changing market.