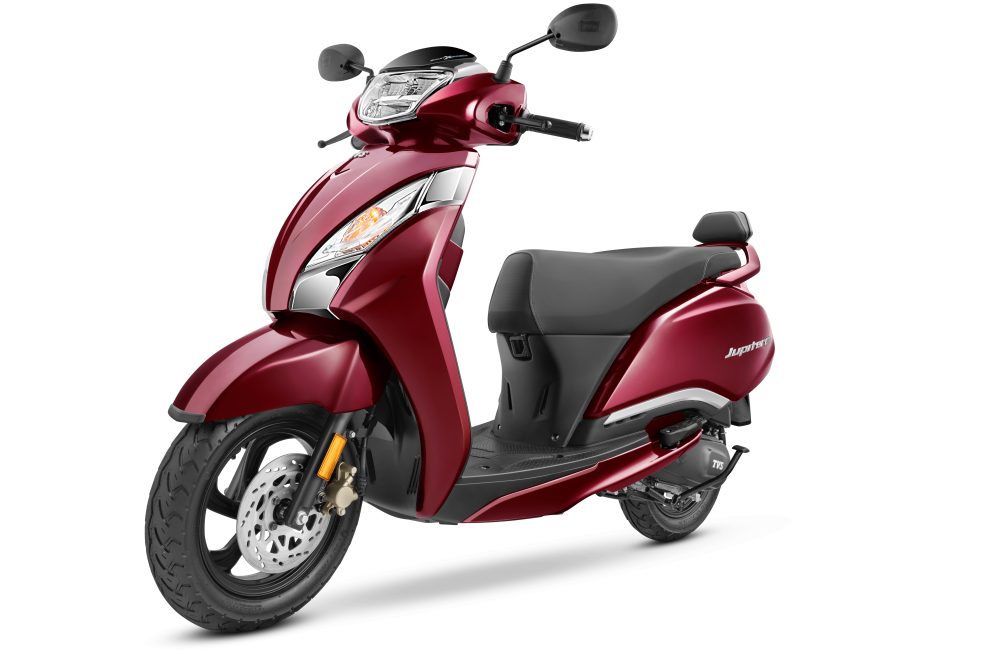 TVS Motor Company has announced the launch of all new TVS Jupiter 125 enabled with SmartXonnectTM. with segment-leading technology. It comes with advanced connected features which is set to create a new benchmark in the segment with first-in-class features for its connected customers. The scooter comes in two new colours, Elegant Red and Matte Copper Bronze in the new SmartXonnectTM variant.
TVS Jupiter 125 SmartXonnectTM comes packed with Bluetooth connected TFT digital cluster along with 'SmartXtalk' and 'SmartXtrack' that reinforces the premiumisation journey of the scooter customer. It also includes an array of advanced features for a superior riding experience. This state-of-the-art technology ensures that the rider is always connected to his world & stays updated while on the move, guaranteeing a smooth, convenient, and safe journey. Furthermore, the already existing feature of integrated mobile charging facility makes connected capabilities more enhanced.
Commenting on the launch, Mr. Aniruddha Haldar, Senior Vice President, Commuters, Corporate Brand & Dealer Transformation, TVS Motor Company, said, "In today's fast-paced world, staying connected has become more than a convenience; it's a way of life. There's only one time when you're possibly not connected – when you're on your two-wheeler. The introduction of the all-new TVS Jupiter 125 with SmartXonnect is designed to keep you connected seamlessly on the go. With SmartXtalk and SmartXtrack, our innovative connectivity features, the riding experience is about to be transformed like never before. We are confident that in the journey of "Connected Rahiye, Fayde Mein Rahiye", our customer will experience the future of riding with the TVS Jupiter 125 with SmartXonnect."
ADVANCED SMARTXONNECT TECHNOLOGY
The integration of SmartXonnect™ in the TVS Jupiter 125 offers riders a wide range of functionalities when connected to their smartphones paired with an exclusive TVS Connect mobile App, available on Android and iOS platforms. Some of the key features include:

Turn-by-Turn Navigation: This feature provides riders with real-time navigation guidance, making it easier to find their way to their destination.
Voice Assistance: Riders can use voice commands for various functions, enhancing convenience and safety while on the go.
Call and Message Notifications: The scooter can display incoming call and message notifications, allowing riders to stay connected without taking their eyes off the road.
Alerts from Social Media Platforms and Food/Shopping Apps: Notifications from popular social media platforms and food/shopping apps are also displayed on the digital cluster, keeping riders updated with their online networks.
Real-Time Sports Scores: Access to real-time sports scores ensures that riders can stay updated on their favourite sports events like Cricket & Football.
Weather Updates: Weather information helps riders plan their journeys better by knowing the current conditions.
News Updates: Riders can also stay informed about the latest news while on the move.
The new TVS Jupiter 125 SmartXonnect™ variant continues to impress with its commitment to offering segment-first features. The inclusion of features like follow-me headlamps and hazard lights adds an extra layer of safety, exemplifies the brand promise of always delivering 'Zyada'. This follow me headlamp feature ensures the headlamp illuminated for 20 seconds even after the engine is turned off, enhancing safety and convenience during dark parking condition. Further, the addition of a backrest in the scooter is a thoughtful feature that enhances the comfort of riders on the TVS Jupiter 125.
This combination of modernity, connectivity, safety, and convenience aligns with the evolving needs and expectations of the riders in today's digital age, giving TVS Jupiter 125 a competitive edge in the market.
Starting at Rs. 96,855/- (ex-showroom, Delhi), TVS Jupiter 125 SmartXonnectTM is now available across the country.