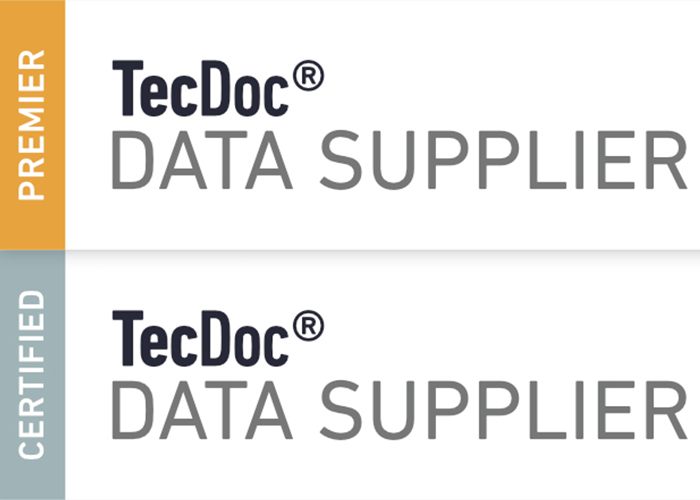 Since 2020, TecAlliance, one of the world's leading data specialists for the digital automotive aftermarket, has been running a data quality offensive to continuously optimise data quality in the TecDoc Catalogue. A new set of rules with additional validations and key performance indicators (KPIs) supports parts manufacturers in improving their product data. A data supplier who fulfils these higher, content-related requirements will be certified as a "Premier Data Supplier" from June 2021. The new quality certificate for data suppliers builds on the established and well-known "Certified Data Supplier" status.
New guidelines
Today, more than 700 brands are represented in the TecDoc Catalogue, one of the world's leading replacement parts catalogues for the automotive aftermarket. It comprises more than 110,000 vehicle types, 6.6 million item data from more than 700 brands, 254 million links and 48 article groups. Celebrating over 25 years of global recognition, the TecDoc standard ensures the highest data quality, comparability, efficiency and transparency in the global automotive aftermarket.
To ensure the highest possible quality of TecDoc data, TecAlliance checks the product data supplied by the parts manufacturers every quarter against defined quality criteria. The evaluation results are communicated to the parts manufacturers to support them in the continuous improvement of their data.
Since last year, TecAlliance has been working on the further development of the set of rules for data suppliers in order to constantly increase the data quality in the TecDoc Catalogue. New validations and KPIs for data quality ensure that TecDoc data aligns even better with the information needs at the points of service.
Two certificates for excellent quality
Data suppliers who meet the TecDoc standard and TecAlliance's quality requirements for maintenance of TecDoc data at a particularly high level will continue to receive the established "Certified Data Supplier" (CDS) status.
In order to also receive the higher-quality certificate "Premier Data Supplier" (PDS), the supplier's product data must meet significantly stricter content-related requirements and take into account the newly introduced KPIs.
With the new quality certificate, TecAlliance honours the efforts of data suppliers whose data meet high quality standards in an exceptional manner, thus contributing to sustainable sales success at points of service.
Starting signal for data excellence
TecAlliance has added new functions and validations to its data management tools to support parts manufacturers in preparing their data. In addition, they will receive detailed reporting on the current status of their data quality, which will help them to improve their data in a structured way.
On 2 March 2021, data suppliers will already be evaluated against the new criteria. However, the results will not yet be published. On 2 June 2021, the "Premier Data Supplier" certificate will be awarded for the first time to qualified companies or brands; this is in addition to the "Certified Data Supplier" certificate. In the TecAlliance data and solutions, the brands will be labelled with the corresponding seals.