A part of the Raymond Group, Ring Plus Aqua demonstrated its product portfolio OEMs at the Auto Expo Component show. Rajesh Rajgor spoke to Sachin Kotwal, Director (Sales and Marketing) to gain insights about the company's product mix and brand positioning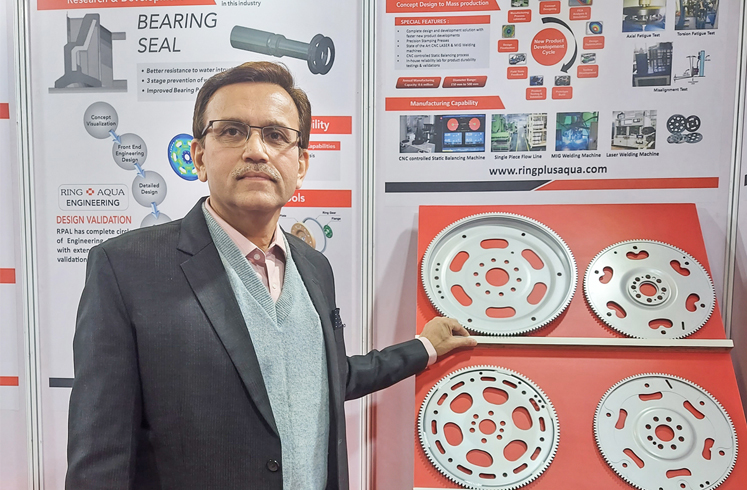 Raymond Group, known more for their textile and lifestyle business, presented its automotive and engineering division – Ring Plus Aqua Ltd. – at the Auto Expo Component show. Established over 35 years ago, the company engages in ring gears used for engines and water pump bearings under the brand name 'Ring Plus Aqua'. The company has three manufacturing plants close to Nashik and is headquartered in Mumbai. "We have products like ring gears which are used in flywheels, flex plates which are used in automatic transmission vehicles and water pump bearings. We are supplying these to most of the OEMs across Tier I regions through distributors or directly," informed Sachin Kotwal, Director (Sales and Marketing), Ring Plus Aqua Limited.
The company participated in the show with the objective of highlighting their existing products and also to understand the requirements of upcoming technologies and needs. "Auto Expo Component 2023 was certainly great in terms of providing visibility and exposure. Going forward, apart from our existing products we are also going to focus a lot on EV mobility. Though it is at a primary stage right now, we are exploring various possibilities to get into that space. We have been growing for the last three years consecutively at a CAGR of 20-25% and we have got a lot of ambitious plans to grow further," Kotwal said. The company, with its strong focus on perfection, uses cutting-edge technology in hobbing for improving productivity and speed of process in ring gears.