A professionally-run family company OKAYA Power is a pioneer in battery manufacturing and one of India's leading brands in the field. The company put up an electrifying display at Automechanika Dubai with its range of batteries and EV charging solutions. Anshul Gupta, Director, OKAYA Power Pvt. Ltd., shares insights on the company's participation at the fair and its exciting future growth plans.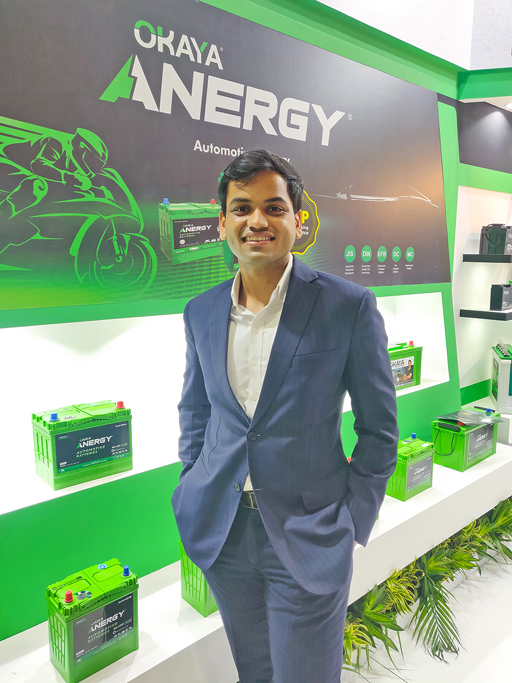 Aim of Participation
We have been exporting our products for the last 6-7 years. Our primary aim of participation here is to meet our customers and partners who have been with us and potential partners in the region. We sincerely believe in made-in-India products and want to showcase our products around the world so that we can bring the same difference in countries worldwide with our product line as we have done in our home market.
Export Biz
Last year we were able to grow our exports to 15% of our overall revenue. We are highly focused on exports and are trying to take the opportunity of the promotions and awareness created by our government that Indian products are worthy of exports and are used all over the world. We hope to increase our export share to around 25% of our overall revenue by the end of FY22. Export orders are booming so much that we have registered a whopping 68% growth in exports this year.
COVID has been a blessing in disguise for Indian manufacturers because many requirements are shifting from China to India due to freight logistics advantage and also faster supply time from India. It is good to see Indian companies make the most of the opportunity by scaling up operations to meet the growing international demand.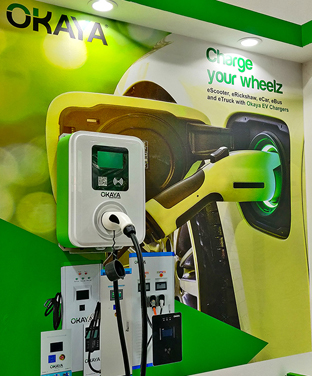 Top Export Markets
Middle East and Africa is our top market, followed by APAC under which Nepal and Bangladesh are specifically very important for us. We currently have around 33 distribution partners around the world, most of whom have been with us for a long time. We have successfully added some new partners here at the show and are looking to further expand our footprint in the MENA region.
Overall business is growing but there is a decrease in margins due to increase in commodity prices. We are looking to close this financial year with a turnover of Rs. 2,000 crores for OKAYA's battery arm.
EV Space
Our strategy has been to diversify into EVs and EV charging station. We have launched our EVs for the global market and have been manufacturing 10,000 electric scooters a month. Now, in order to take the challenge to the industry giants, we have developed our own electric drivetrain including motors, controllers, battery and charging station – making ours an end-to-end EV solution. We officially launched our electric scooters in July 2021 and today have 200+ EV showrooms across the country.