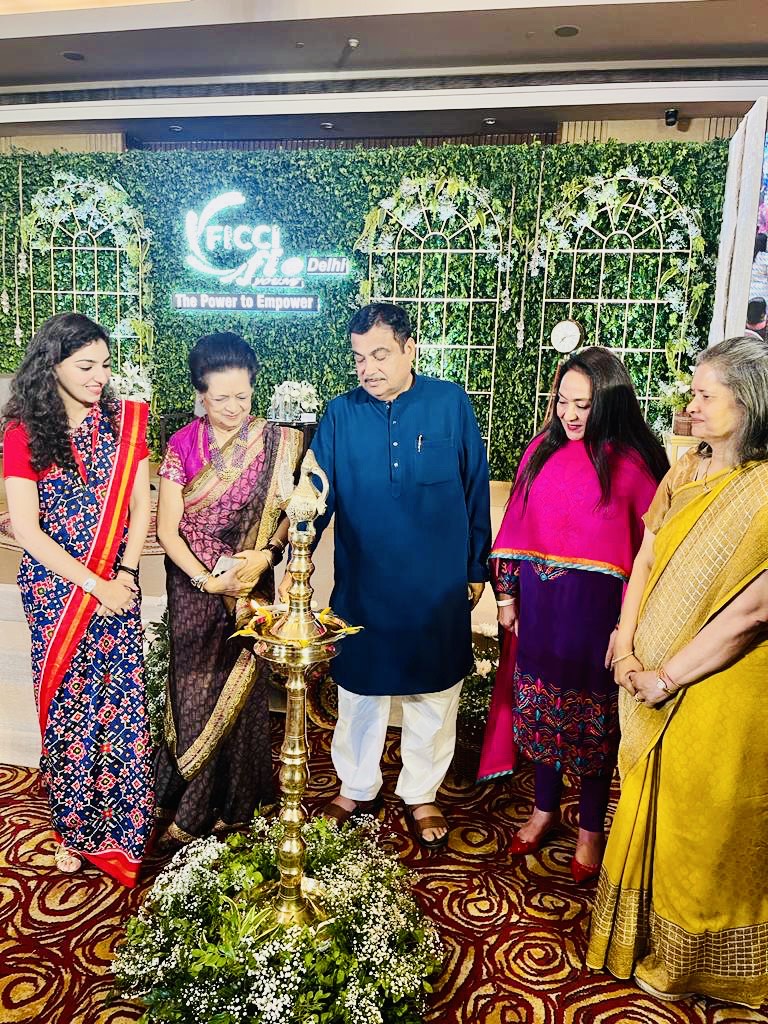 Union Minister for Road Transport and Highways (MoRTH) sought the co-operation of business women and corporates in inculcating a culture of road safety among road users in the country .
" Apart from road engineering, the most important factor for improving road safety in the country is to change human behavior that violates road rules. Till human behavior changes, rules won't be followed. Government alone cannot do this, we need private partnerships," said Mr Nitin Gadkari while speaking at the Young Achievers awards function organised by the Young FICCI Ladies Organisation (YFLO) late last evening .
"In India Five lakh accidents take place each year resulting in 1,5 lakh deaths out of which 60 per cent are youth in the age of 18-34 years . Women entrepreneurs can help promote road safety at school level as well as teach their employees and their families imbibe a culture on road safety and use their logistics and carriers to propagate the message of road safety Education on road safety and enforcement of road safety rules is key to improving safety standards in India." Said Mr Gadkari
"I see knowledge as power. I also see waste as wealth. Appropriate technology is needed to see those end results. Need-based research should be of primary importance in order to be successful in whatever you do. One should think ahead, because green hydrogen is the fuel of the future. Petrol is becoming precious and we need alternative fuels. I think of a dozen alternative fuels such as biodiesel, natural gas, ethanol, methane, propane, electricity and hydrogen which are currently under development or in production to power vehicles of the future and some are even available." Mr Gadkari said.
"Women should also work towards improving ecology and the environment. The Ministry of Road Transport in a bid to improve air quality in the national capital Delhi is developing the six-lane Urban Extension Road (UER) II which will be the capital's third Ring Road. It is likely to be operational by the end of this year" said Mr Gadkari .
"The UER II or National Highway 344 MPN will take commuters from cities in Haryana and Punjab to Delhi airport within 20-30 minutes instead of the two-hour journey.
With UER II, we will divert all North and West traffic from Delhi roads. This will help ease traffic on city roads and also decrease pollution as mostly commercial vehicles ply on these routes… More than 1 lakh commercial vehicles come from Rohtak, Sohna, Panipat" said Mr Gadkari .
"The roads on this stretch have been constructed using garbage from Ghazipur and other landfills in Delhi. At present, officials have used almost 20 lakh tonnes of waste from the landfills. The waste is processed at micro plants near the construction site in Alipur and Karala.Within the next two years, we will transform the landfill shape from mountain to flat land" he added.
"FLO with 19 Chapters and 9000 members across India represents women entrepreneurs and professionals through our mandate of empowering them and equipping them with skills and capacities to become equal contributors to the Indian economy." said Ms Jayanti Dalmia, National President, FICCI Ladies Organisation speaking on the occasion
"YFLO has been instrumental in working towards the economic empowerment of women and promoting entrepreneurship for the last 19 years. The role of YFLO has never been more relevant and important for the gender inclusive growth story of the nation. We intend to work towards a more inclusive future and I am sure that our efforts will lead to effective and informed policy solutions that will empower women, make a positive impact and change many lives. " said Ms Gaytri Rai , Chairperson, YFLO.
About 20 young achievers including business women, entrepreneurs, sportswomen and social workers were awarded during the award ceremony.