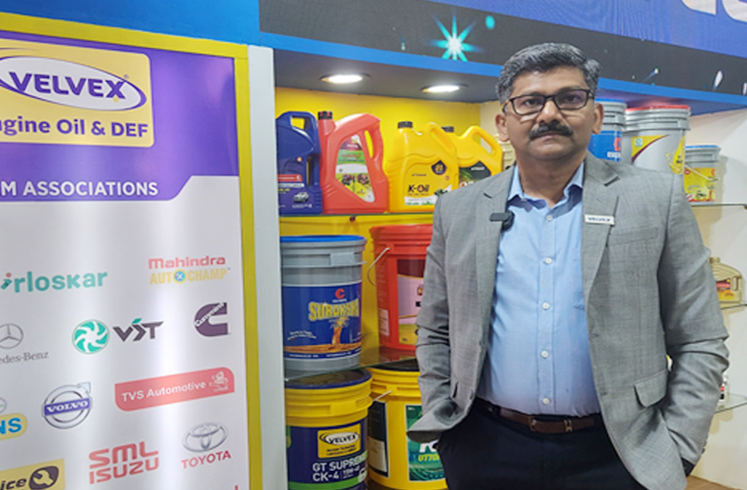 At Auto Expo 2023, Nandan Petrochem Limited (NPL) displayed its wide range of engine oils, Adblue solutions and EV fluids. Hrishikesh Kulkarni, CEO, NPL, spoke to Rajesh Rajgor about how their solutions are gaining reputation in different vehicle segments
At the recently held Auto Expo 2023, Nandan Petrochem Limited (NPL) promoted its Velvex brand and highlighted the fact that it offers solutions rather than merely offering products. The company manufactures a wide range of products for off-road vehicles, farm tractors and heavy-duty vehicles. The solutions on the market are suitable for both BS VI and BS VI Version 2, which will have cleaner emissions, higher fuel efficiency and maximum returns from the vehicles. "On the lubrication front, we provide cutting-edge products like the CK4 oils and the SP oils, which are the most recent generation of lubricants for effective engines," said the company's CEO Hrishikesh Kulkarni.
"We are offering solutions that are more in terms of reducing downtime for the industry and also offering fuel efficiency, especially for the off-highway and tractor segment," he added. In addition to displaying its Adblue solutions, the company also displayed engine oils and lubricants. With the second iteration of BS VI, smaller engines up to 1.5 litres will also be accommodated and the business will offer Adblue packs in smaller quantities. "We have already transitioned to smaller Adblue pack sizes, which will be offered in the passenger car market," Kulkarni said.
Innovation and Growth
Lastly, Velvex is also looking at the EV market and is ready to launch EV fluids for cooling the batteries. "We are ready with the product. And with engine oils, Adblue and EV fluids which are our three basic area of product offerings, we look forward to moving on to the zero emission and carbon zero roadmap," he said. As for the company's outlook and growth prospects, for the past two years, NPL's Velvex brand has been expanding and earning a solid reputation. Innovative, tailored solutions have helped NPL strengthen its brand recognition even more. "Fortunately, our brand has developed and has increased by more than 20% for the last couple of years," Kulkarni said.
"The visibility and acceptance for this brand is such that we expect to sustain and improve the growth momentum in the next couple of years," he added. Primarily, NPL is diversifying its offering and introducing additional specialised products for commercial use with brand Velvex. "In addition to looking at lubricants from the next generation SP OW16 oils, we have also introduced our own coolant. The EV fluids that will soon be needed for the consumer car sector are now under our focus. We are completely extending the product offering and extending our reach. All these strategies will undoubtedly spur growth," he concluded.