Building on its commitment towards sustainable motoring, Maruti Suzuki India Limited today showcased the Concept Electric SUV eVX at Auto Expo 2023. With this, the company has reinforced its vision of developing sustainable powertrain systems through continuous technological development and innovation. The 'Emotional Versatile Cruiser,' – Concept eVX is a mid-size electric SUV concept designed and developed by Suzuki Motor Corporation, Japan offering futuristic SUV design elements with an upright posture and commanding high-seating. The Concept Electric SUV eVX will be powered by a 60kWh battery pack offering up to 550km of driving range.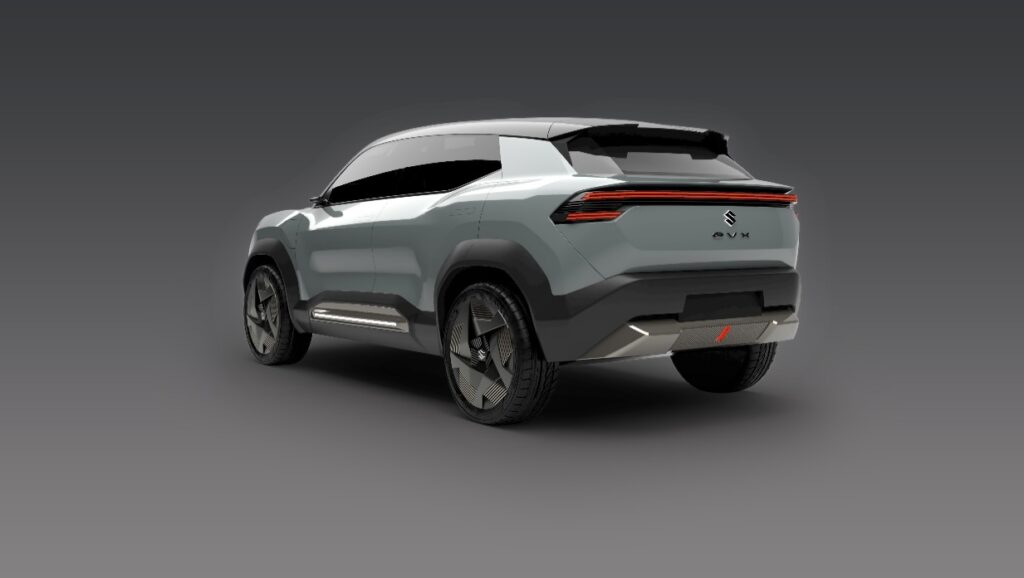 Adding to this, Mr. Hisashi Takeuchi, Managing Director & CEO, Maruti Suzuki India Limited, said, "For over 4 decades, Maruti Suzuki has been spreading the Joy of Mobility in India and fulfilling the aspirations of millions of Indian families. Along with our parent company Suzuki Motor Corporation, we remain highly optimistic and committed to the long-term growth story of India. With specific emphasis on Atma Nirbhar Bharat, we have committed ourselves to bring new products, technologies, investments and set up new facilities in India. We believe in exploring a full spectrum of technologies like hybrids, CNG, bio-CNG, ethanol and electric to support Government of India's twin objective of reducing oil-import bill and Carbon Net Zero by 2070. Our approach towards electric vehicles is holistic with scale and localization. The Concept eVX is Suzuki's first global strategic Electric Vehicle, and I am excited that it debuts here in India. It brings exciting urban SUV styling through its sharp design language and as a Battery Electric Vehicle it purposefully reinforces our commitment to environment friendliness and sustainability."
Commenting on the global premiere of Concept Electric SUV eVX, Mr. Toshihiro Suzuki, Representative Director and President, Suzuki Motor Corporation, said, "Today, I have an exciting announcement. I am delighted to unveil the Concept eVX, our first global strategic EV. We plan to bring it to market by 2025. At the Suzuki Group, addressing global warming is a priority. We are promoting a range of global measures to reduce greenhouse gas emissions generated from our business. One key measure is reducing CO2 emitted by using our products. Here in India, as announced in March last year, we will invest 100 billion rupees in the production of BEVs and their batteries."
Inspired by the overarching concept of an 'Emotional Versatile Cruiser,' the Concept eVX's unmistakable progressive SUV silhouette is instantly distinct from that of a conventional SUV. The eVX's upright posture, horizontal hood, commanding high seating, maximised cabin size, long wheelbase, large wheels, high ground clearance, and signature LED light elements are unmistakable design elements derived from Suzuki's SUV heritage. Meanwhile, futuristic design elements have been engineered to deliver high levels of aerodynamic efficiency by lowering the drag coefficient, distinguishing it as a car with advanced technology
The company has displayed an array of 16 vehicles at the Expo, including the Grand Vitara, XL6, Ciaz, Ertiga, Brezza, WagonR Flex Fuel, Baleno, and Swift among others.
Through the years, Maruti Suzuki has implemented numerous measures to enhance environment friendly operations. The Company has established a system of 'Circular Mobility' for sustainability in all avenues of its operations ranging from product design, manufacturing, vehicle dry wash at dealerships, vehicle despatches, and end-of-life vehicle management. The company has been keeping sustainability at its core for all its operations.