Eicher, a brand under the highly successful Volvo-Eicher Commercial Vehicles (VECV) JV, has been quietly revolutionising the fortunes of numerous transporters and logistics companies across the country. In this exclusive interview with Anuj Chadda, owner of Shree Chadda Roadlines in Chandrapur, Maharashtra, N. Balasubramanian discovers how Eicher has propelled the company to new levels of growth and expansion, establishing itself as an integral and long-term partner for the future
Back in the 1970s, when Anuj Chadda's father and his two uncles migrated to Chandrapur from Punjab's Shikarpur district, their first job was with a powder factory. Soon, though, they realised that there lay better opportunities in truck ownership. And so with financial support from their sisters, they purchased a second-hand truck, marking the beginning of their entrepreneurial journey. In the 1980s, they secured a breakthrough contract with a cement company, now a unit of the Aditya Birla Group. This milestone led to the establishment of Shree Chadda Roadlines in 1982.
Evolution and Diversification
Initially though, the venture operated under a different name, and it was only in 2008 that the name was changed to Shree Chadda Roadlines. The enterprise started gaining momentum in 2002 when Ambuja Cement set up a factory in Chandrapur district. Over the years, the single second-hand truck paved the way for a fleet of 40 and then 60 trucks. By 2010, the company owned approximately 215 trucks. In 2014, Shree Chadda Roadlines ventured into coal trading, coal liaison and coal transportation. Following the onset of the pandemic, it entered the over burden (OB) mining business in 2021.
Now the group's fleet has expanded to 1,000 trucks, including excavators, payloaders and various machineries essential for the completion of OB operations. In the wake of the pandemic the group's turnover has soared to around Rs. 500 crore, achieving its highest-ever turnover of Rs. 900 crore in 2022. "The post-pandemic era witnessed a coal shortage in our country, prompting the government to aggressively focus on mining. Existing players faced financial strain due to the pandemic but we managed to remain relatively strong financially. While our cement business experienced slow growth, our coal business thrived," says Anuj Chadda, Owner, Shree Chadda Roadlines.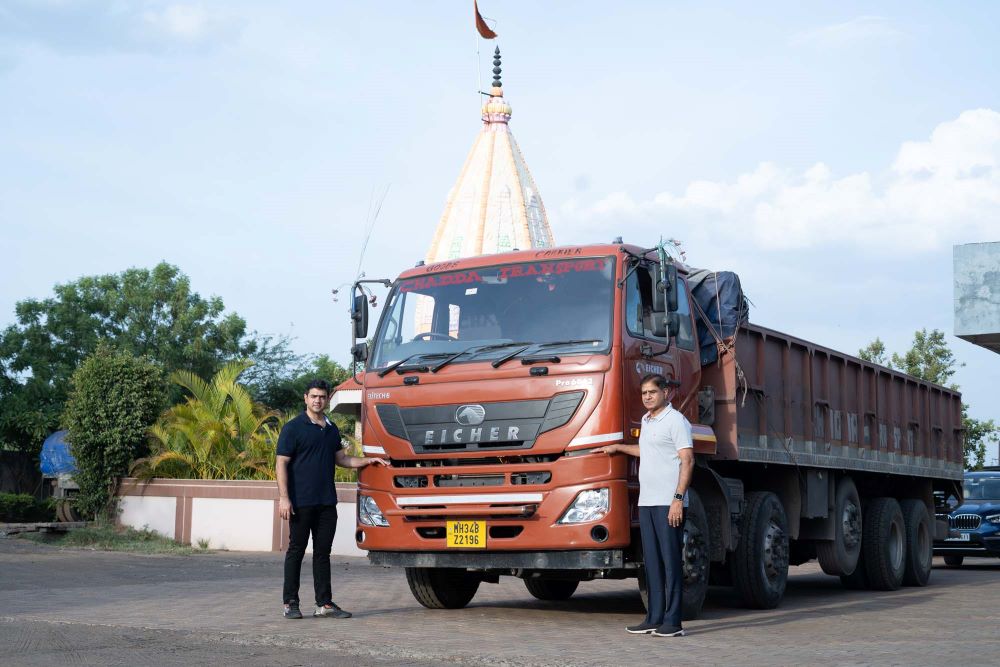 The government permitted the transportation of coal during the pandemic and allowed powerhouses to operate. As such, the company seized the opportunity and secured its first OB mining contract in 2021. Since the existing players were exhausted, it secured tenders at favourable rates, mostly with additional percentage benefits and no negative impact. Approximately 40% of the company's revenue comes from OB mining, 20% from the transportation of cement, 15-20% from coal trading and the remainder from coal transportation. "We adhere to a clear operational radius of 500 km one way with Aurangabad district marking our furthest point. Profitability beyond this radius is limited," Anuj informs.
The company's fleet consists of 250 deep mining trucks, nearly half of which are from Volvo. Additionally, it owns 200+ Eicher trucks, primarily consisting of 6055 and 6022 models. This fleet mainly comprises 14-wheelers and 18-wheelers.
Eicher Partnership
The company inducted its first Eicher truck in 2019, just before the pandemic. "We chose Eicher because their 14-wheel vehicles provided good mileage. Eicher has a technological collaboration with Volvo. Initially, we purchased ten 14-wheel 6042 trucks from Eicher and after 2-3 months we received positive feedback from GPS data, indicating that the trucks were performing well and the drivers were satisfied. Based on this positive experience, we continued to place orders with Eicher and have recently acquired around 50 trucks of the 6055 model. We also have a fleet of 60-80 trucks specifically for mining purposes. Overall, Eicher trucks have demonstrated good performance and their sales and service departments have been supportive in meeting our needs", he says.
Aftersales Support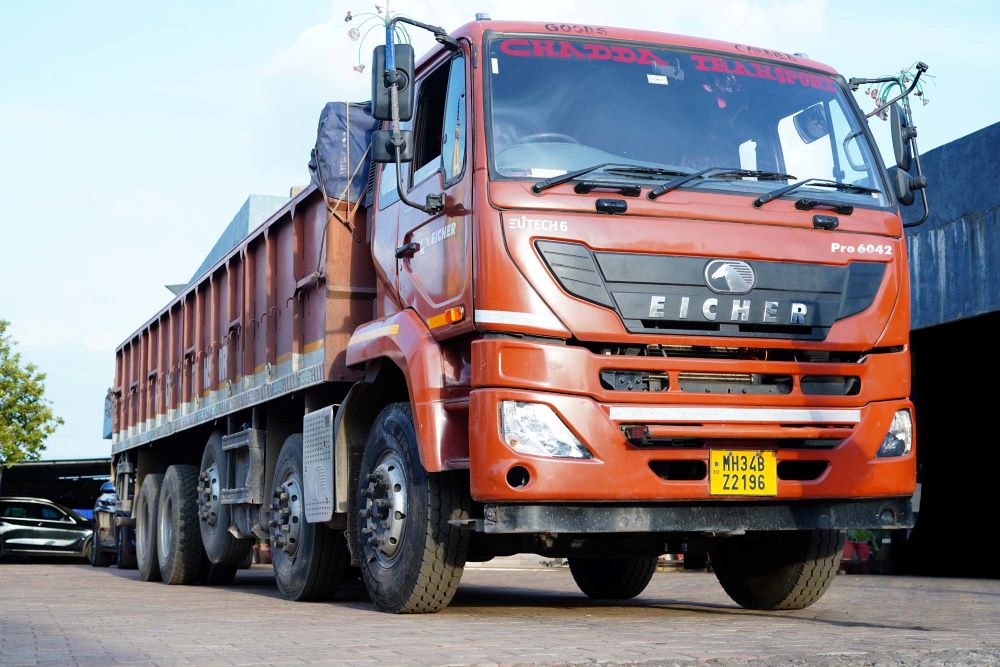 Regarding aftersales support, Shree Chadda Roadlines has not encountered any issues since it has signed an annual maintenance contract (AMC) with Eicher. As a prominent transporter in the region, Shree Chadda Roadlines is happy with how supportive Eicher has been through its technical personnel, sales executives, and state and national level service. "Up to 95-98% of the issues are resolved by Eicher immediately. There may be 2-3% of issues that need attention but then that's common with any truck manufacturer irrespective of the brand," Anuj states. And as he testifies, Eicher promptly addresses any issues that Shree Chadda Roadlines reports.
Shree Chadda Roadlines' drivers are trained to achieve the best fuel mileage, typically achieved by driving within the 1,500 rpm band. They have mastered this technique, resulting in excellent mileage. Initially, the drivers had found it challenging to drive Eicher trucks and so the OEM sent a team of its experienced drivers to impart training, which certainly helped Shree Chadda Roadlines' drivers to improve their skills and identify faults, whether in the vehicle or with their driving style.
Fleet Management Solutions
The journey of Shree Chadda Roadlines' into fleet management telematics began with Eicher's telematic solution. Eicher was the only brand to provide data about average fuel consumption while other brands offered none or limited telematics. "We considered Eicher's telematics as the standard benchmark and started implementing it in our operations. At first, we wanted to verify if the fuel consumption displayed by the GPS was accurate or if there could be any discrepancies. Our investigation revealed that the fuel consumption data provided by telematics was indeed accurate. We had discussions with our drivers to make them believe in the reliability of the telematics system and demonstrated that the information displayed on the dashboard aligned with what was shown in the telematics' reports," Anuj elaborates.
Initially, the drivers were sceptical and claimed that the data was not true. However, in today's situation, both the drivers and the management understand the importance and accuracy of the telematics system. In the past, without any means to verify the trucks' performance, drivers would sometimes take advantage of the situation and falsely claim that there were issues with the vehicle. This led to unnecessary expenses on spare parts and services. With the implementation of telematics and GPS, maintenance costs have decreased to some extent, providing the company with cost savings.
"Moreover, we have started to place more trust in our drivers because we can now compare the data from two drivers using telematics. For instance, if one driver's tyre performs well while another driver's does not, we inquire about the issue and investigate the driving habits of the drivers. Telematics also facilitates route checking. Previously, drivers would claim to have taken a different route and charge extra money but now, thanks to telematics, such practices have ceased. Similarly, drivers would sometimes report having paid toll tax but telematics has provided us with clarity on these matters. The crucial advantage is that we can hold drivers accountable," he explains.
Plans and Opportunities
The future ahead poses several challenges as inflation continues to rise. Government regulations are being introduced for emission standards in the trucking industry. In addition to the increasing cost of trucks, the prices of spare parts, tyres and other related items are also on the rise. It remains uncertain how far these cost increases are justified, especially considering that trucks are becoming more expensive. Therefore, within the next three to four years, there must be an alternative to diesel. While there is currently talk about liquefied natural gas (LNG) and electric vehicles (EVs), Anuj personally does not see LNG as the future while EVs are certainly not the solution.
"The future belongs to hydrogen trucks. This is a time for alternative fuel solutions. Based on recent discussions I have had with different OEMs, it appears that hydrogen trucks may hold the key to the industry's future. Only when we transition to a new fuel source will we witness a significant transformation in the industry. The crucial questions are: How sustainable will this change be? Will it lead to a reduction in transportation costs? For us to thrive, the cost of transportation must come down," Anuj says.
Achieving this goal can be attributed to various factors. For instance, if diesel were included in the Goods and Services Tax (GST), the accruing benefit could be passed on to the companies. For the trucking business, the main competition comes from the railways. Further, railway transportation being a government-owned entity, there are various direct benefits that it enjoys. Also, railways do not have to include depreciation on their balance-sheets because the funds they use are not their own but derived from the government and the people. They operate on a profit and loss basis but the extent to which the government considers this is uncertain. "To effectively compete with them we need our rates to decrease without compromising our profits. Therefore, the transport industry requires a solution that can bring about a reduction in rates or make diesel more affordable. Without some form of change, I believe this industry will face an arduous path ahead," he opines.
Landmark Turnover
Shree Chadda Roadlines is confident of achieving the magical mark of Rs 1,000 crore turnover in the current financial year. This is due to its strong presence in the OB mining segment and the government's emphasis on coal production. The country experienced a shortage of coal last year, leading to increased imports. To address this issue, several new coal mines are being established, especially in the Chandrapur district, also leading to an expansion in the cement production sector. "However, despite the market's positive outlook, we are mindful of the increasing inflation rate, which affects costs such as spare parts, tyres and household expenses," Anuj concludes.