Leading automotive supplier brand, Delphi-TVS Technologies has achieved a milestone of producing three million Common Rail systems from their manufacturing facility in Oragadam, Chennai. The first batch of the Common Rail system was started in the year 2009. This achievement comes in addition to the production of five million rotary pumps.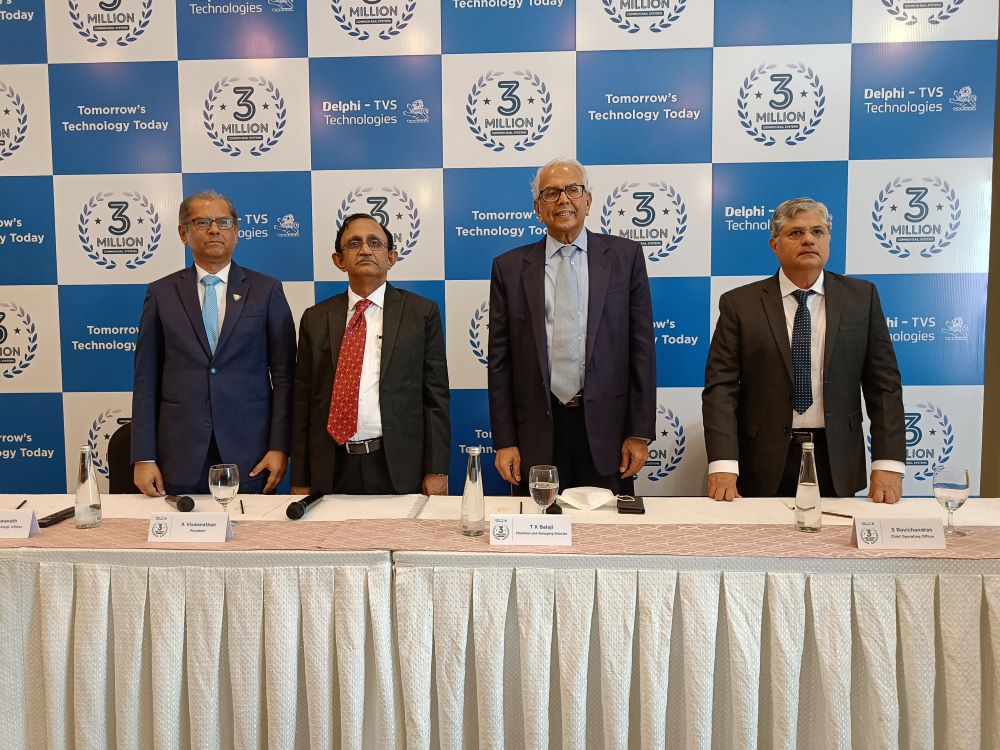 The company will also be commemorating this milestone achievement at their Oragadam plant tomorrow, 12th March. The event would be attended by the Additional Chief Secretary of Tamil Nadu Government – Industries Department, Mr. S. Krishnan IAS and Senior Management personnel of our customers. The celebration will include felicitating customers and releasing a souvenir to mark the occasion.
Delphi-TVS Technologies caters to all sections of the diesel engine market including passenger cars, commercial vehicles, tractors, construction equipment vehicles and industrial engines. The company's manufacturing facility is also possibly the only manufacturing site in the world that makes Common Rail pumps, injectors, rails and filters, all under one roof. Four out of ten diesel vehicles made in India use our system
Speaking on the occasion, Mr T K Balaji, Chairman and Managing Director of Delphi-TVS Technologies said, "We offer state-of-the-art Global Technology coupled with Indian frugal engineering to optimise products for our customers. Our relevance to the Indian market with innovative and cost-effective solutions has helped customers to choose Delphi-TVS Technologies and reach this milestone. It is a reminder that we need to continue delighting our customers with superior products."
Sharing his thoughts, Mr A Viswanathan, President of Delphi-TVS Technologies said, "Delphi-TVS has the technology that supports manufacturing Common Rail systems to meet the Indian and the global emission norms for the next generation of diesel fuel technology. We have also been exporting our products to European and Korean OEMs for the last 8 years. Our technical centre with full turnkey capabilities has developed all the BS VI solutions for the Indian market. We are also well positioned for the next round of tractor emission norms TREM V that will require Common Rail Systems."
Delphi-TVS Technologies is a prominent supplier of automotive and diesel fuel injection systems to a wide range of major customers, such as Tata Motors, Ashok Leyland, Mahindra and Mahindra, JCB, Renault, Escorts Group, TAFE, and others. The company has an extensive aftermarket service network of 350 service centres across the country.