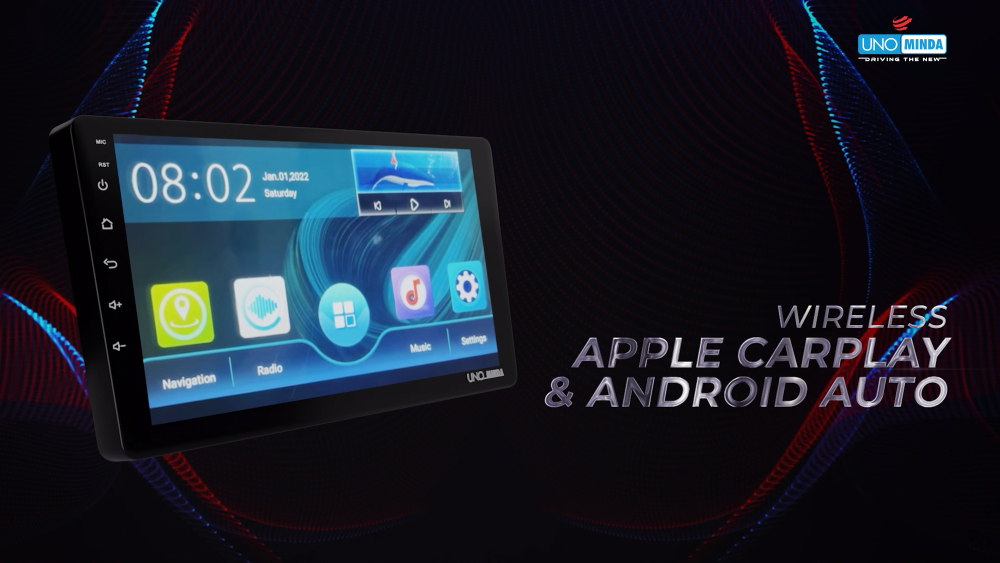 Uno Minda Ltd., a leading tier 1 supplier of proprietary automotive solutions to OEMs, has announced the launch of its car infotainment system, WTUNES-649TAACP – 9 INCH UNIVERSAL ANDROID PLAYER in the aftermarket. Aimed at meeting the demands of car owners and car enthusiasts alike, this universal Car multimedia powered by a powerful T5 processor system, supports wireless connectivity with Android Auto and Apple CarPlay. Other standout features include the latest Android 11, 4 GB of RAM, 36-band equalizer, and a 360-degree camera controller, among many others.
Both Android and iOS users can enjoy seamless access to their favourite apps, make calls, send messages, and use navigation services with this 9-inch universal car infotainment system that has an intuitive user-friendly interface. To make the experience more personalized and enriching, the WTUNES-649TAACP is powered by a powerful T5 processor along with 4 GB RAM, and 64 GB internal memory, so users can install and play multiple apps and media files in split screen without worrying about facing any lags.
Keeping in mind the user's entertainment needs during traffic jams or long waiting hours, the system integrates popular media apps such as YouTube and Spotify into the car's interface. Additionally, catering to the diverse preferences of music enthusiasts and delivering exceptional sound quality on the road, the infotainment system sets a new benchmark of innovation by providing a 36-band audio equalizer that can leverage the golden finger touch to fine-tune their music for a superior sound experience.
Speaking on the occasion, Mr. Rakesh Kher, CEO,Aftermarket Division, Uno Minda Ltd. said "Uno Minda's is known for setting new benchmarks of innovation in the automotive industry, and hopefully, the WTUNES-649TAACP universal infotainment system carries on the legacy. Combining a user-friendly interface with cutting-edge features and controls, we have made a huge stride this time. Hopefully, our consumers will enjoy the intuitive interface and the 36-band equalizer."
Along with on-the-go entertainment, the designers have prioritized user safety and convenience by incorporating a built-in 360-degree camera controller that allows users to seamlessly view their surroundings from all angles using multiple cameras.
Uno Minda WTUNES-649TAACP infotainment system actually ticks all the right boxes and is similar to OEM spec infotainment system which is available in the market at a MRP of Rs. 34,990/-