Toyota Kirloskar Motor (TKM) today announced the introduction of 'Wheels on Web' (WOW), an Online Retail Sales platform for Bangalore region. This new platform offers customers, a seamless virtual experience by enabling them to book, purchase and get delivery of their preferred Toyota models at the comfort of their home. Further, WOW provides a real-time information of the status of their booked Toyota product, to augment credibility, transparency, and confidence among the patrons.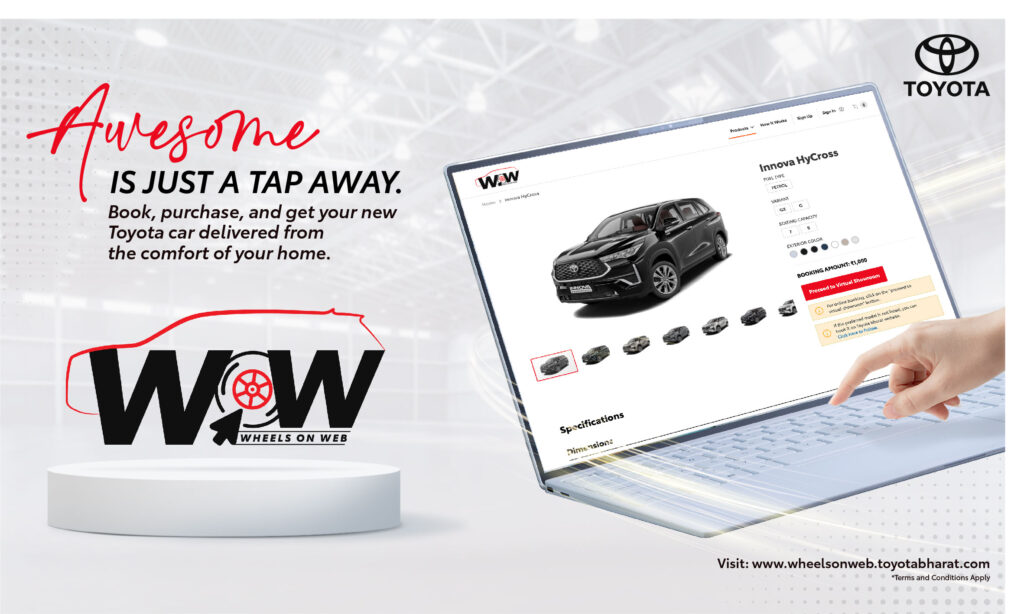 The "Wheels on Web" is a Business to Customer (B2C) platform that reflects the company's core commitment to enhance customer experience in its digital space, enabling hassle-free car buying with innovative features and services.
TKM indicates that its digital contribution to sales has increased by 5 times and the company's e-bookings has substantially increased by 20 times as compared to past years. TKM's virtual showroom continues to gain popularity with close to 1.3 million customers exploring it annually. With the launch of 'WOW', TKM aims to offer an even more enhanced digital experience for its customers. To start with, the platform offers many models like HyCross (gasoline), Hilux, Legender, Camry, Fortuner, and Innova Crysta (GX) facilitating easy and much convenient buying experience for Bangalore region.
In 2021, TKM launched its virtual showroom to provide its customers' – a digital platform to access and explore its various models and accessories, facilitating 360-degree immersive experience from the comfort of their homes. With this new development, the virtual showroom is well integrated with 'WOW' that presents an absolute digital experience to customers, to know and own the Toyota vehicles & services (service packages and extended warranty) with utmost ease.
"In line with our core philosophy of 'Customer First', we are continuously striving to deliver ever-better services to the consumers. We believe that our newly launched 'WOW' (Wheels on Web), online retail platform, will revolutionize the car buying experience in India, said, Vice President, Sales and Strategic Marketing – Mr. Atul Sood from Toyota Kirloskar Motor.
Further, he added, "Our objective here is to provide value-added services to enable convenient car purchasing processes, facilitating end-to-end transaction including secured online payments as a one-stop-shop. With the availability of our varied models on this platform, we are confident of meeting the growing needs of the consumers at large".
TKM continues to strongly focus on enhancing the smooth digital experience for its customers and with "Wheels on Web" platform being an integral part of such business plans, it is set to provide a unique, convenient, and reliable online car buying experience for the consumers.