A car enthusiast having received a superlative alignment and balancing of his Jeep is gaga over the tyre shop in Kolhapur, Maharashtra. Of course, he went to one that is known for its Hunter alignment and balancing equipment. Not only does this make the recipient happy but also the workshop owner, besides Nikhil B, Vice President, Marketing & HR, Madhus Garage Equipment. He shares with Sarada Vishnubhatla many more such examples and also explains why the Hunter brand is the most sought after by garage owners in India today.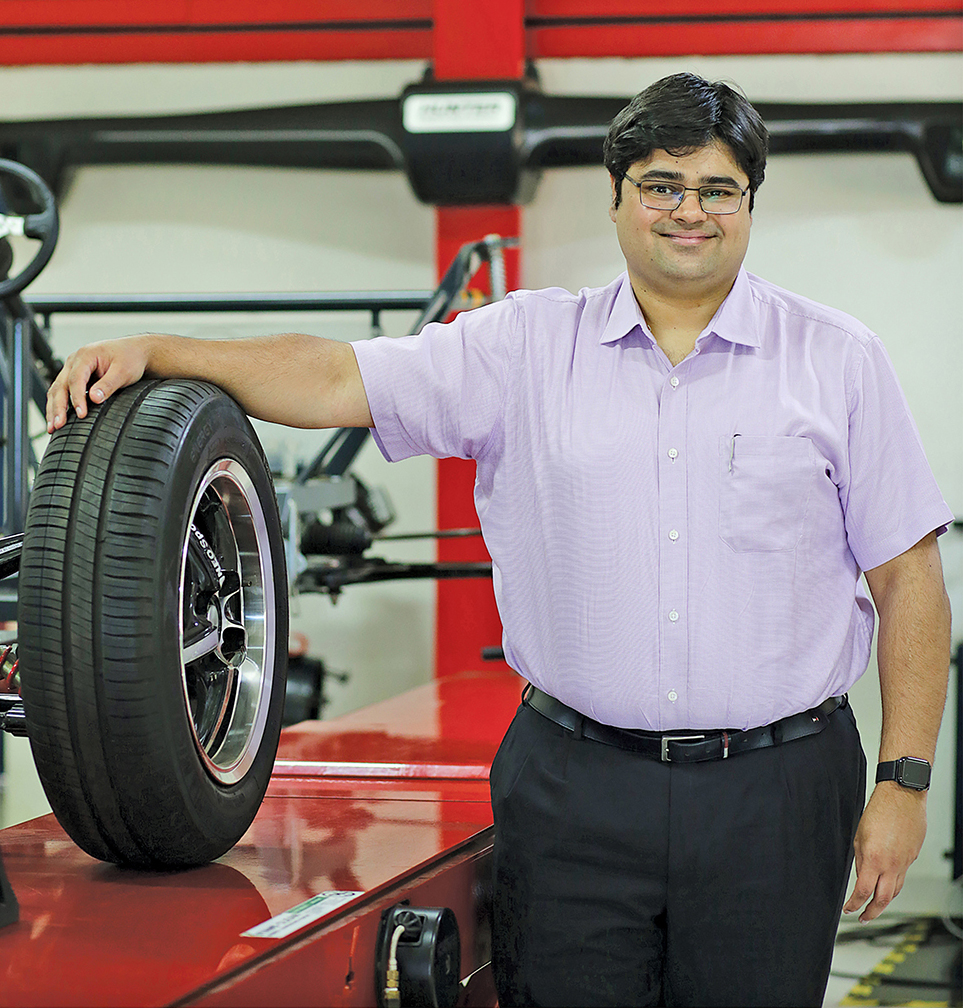 Do you know that Hunter is a surefire cure to neck and shoulder aches? Surprised you may be but it is true. A well-aligned and centered steering wheel eases pressure on the elbow, shoulder and the neck muscles and eliminates related health issues in the future. And, Hunter does its job when it comes its alignment equipment. It means no more crooked steering.
Nikhil B – Vice President, Marketing &HR, Madhus Garage Equipment shares: "This is but one of the many reasons why a consumer wants Hunter alignment and other equipment. Madhus has been selling and servicing Hunter equipment in India for the last 2 decades and maintains a stock of over 70,000 spare parts that are valued at for Rs. 4 crores for all the equipment sold during this time. It is a premium brand and is well recognized and highly respected in the Indian market. And, we have multiple plans to achieve that."
The team at Madhus ensures that they work towards their all-encompassing vision for Hunter in India – which is to take the brand to every nook and corner of the country. Under the leadership, their customers receive the best performance from Hunter equipment while also ascertaining that they never have quality or operational issues ever with it. The officials also monitor the state-of-the-art training centers that Madhus has established in Bangalore, Delhi NCR and Pune.
He shares: "In the last decade or so, the alignment and wheel service industry in India has seen Hunter commanding the high-end price point yet being highly sought-after when compared to competition which have had to down price their products. We are embarking on an initiative to spread awareness with more customers about what Hunter can do for them by way of flawless performance, speed and increase in productivity. Our customers can access us at www.hunterindia.com/locator where the locator tab shows them the availability of Hunter equipment anywhere in India."
Ubiquitous Brand Hunter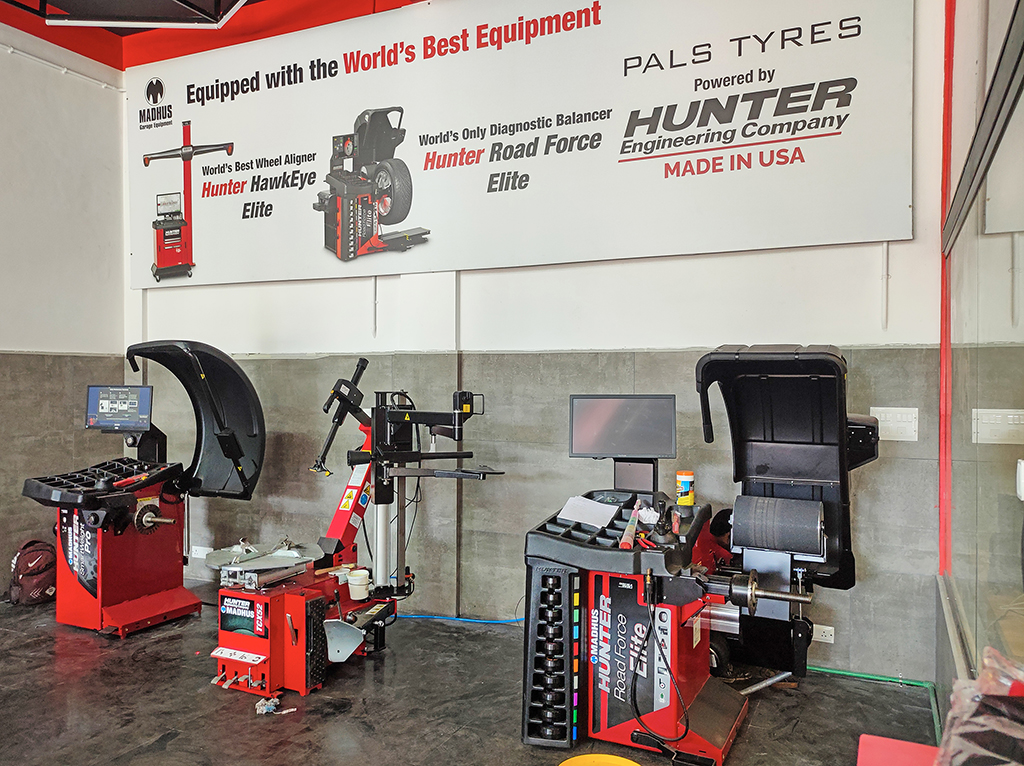 It is no exaggeration that in the automobile community, Hunter commands a special place. For them, vehicle problem warrants seeking Hunter alignment equipment. And in their bid to serve their customers tirelessly, Nikhil and his team are spearheading aggressive promotion of the brand on popular social media platforms, besides tying-up with car club events.
Nikhil says: "We have plans for 360-degree marketing drives. This is in alignment with the fact that customers are known to ask mechanics to let them know where Hunter alignment equipment is available. And our website is exactly for them."
The missing link in a customer's understanding about wheel alignment is his appreciation of the difference between a good alignment and a bad alignment of his vehicle. Also, his lack of understanding of the benefits with higher tyre life and better fuel economy.
Hunter brand is omnipresent primarily because Madhus' strong sales team is consistently scoping out new customers such as car dealerships and offering product demonstrations. They facilitate installing the equipment at the customers workshops in different cities where they get to use it for say 72 hours and find out for themselves the advantages of using Hunter equipment.
Nikhil proudly recounts:
"The customers experience the accuracy with which Hunter alignment equipment works in comparison to what they have been using. In the stipulated time when they are using Hunter, they also experience fewer complaints from their customers. Customers also appreciate that more work gets done with speed."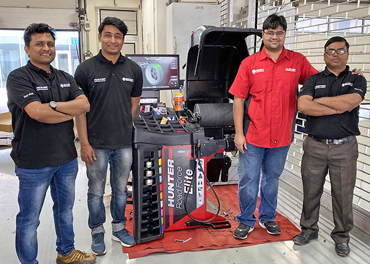 Robust OEM Network
The best part is that Madhus is officially approved by every single high-end car manufacturer in India. And, the company's dream is to soon become the default option even for the mass market car brands. Going ahead, Nikhil and his team are creating a wider network to let the market know the advantages of working with Hunter. On the other hand, Madhus has tied-up with popular supercar clubs that have members hailing from across India to host Hunter's servicing excellence at their event locations. It helps that Nikhil himself is a car enthusiast and is quite known in various car clubs. Hence, Madhus has been able to spread awareness about Hunter services amongst the members and that is what makes up his long-term sustainable plans.
Nikhil shares their other marketing efforts: "As part of our offline marketing initiatives, our branding graces shops and showrooms of customers who own Hunter equipment. Our YouTube page carries all the Hunter equipment videos, including customer testimonials. Then, Hunter Engineering India page on Instagram is dedicated to show installations in customers shops."
Hunter – Right Investment
Hunter equipment lasts long. Some customers boast of Hunter machines that they purchased 16-18 years ago and which are still functioning extremely well.
Nikhil is happy that "Our old customers are pleased that Hunter machines still retain the accuracy and the reliability. To this day, the equipment is taken as a benchmark by the workshop owners."
It is the right investment because Hunter equipment is future proof.
He explains: "It means that Hunter equipment can serve modern automobiles available in India today. For major global brands, their latest models which are launched in India need advanced alignment technology which Hunter can provide. It is also the world's fastest equipment as against other products in the market. In fact, we have moved into a different league from the rest. Typically, Hunter alignment equipment can finish the entire process, including the measurement, adjustment, and getting the car out in 7-12 minutes. For big workshops which have a good load of vehicles coming in a day, Hunter enables them to take double the number of alignment jobs which translates into more revenue for the workshop owner."
Also, Hunter alignment equipment comes with a 3-year warranty on electronic parts and payback period is maximum 6 months.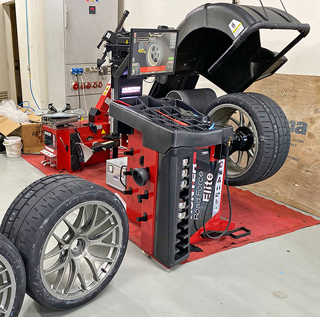 Hunter For Everyone
Hunter Engineering Company upgrades technology every 3 years. Impressively, the company files roughly 25 patents every year in the US. Whenever Hunter releases a new product, Madhus is practically the first to place an order for it.
Nikhil shares an example: "Recently, we introduced quick grip wheel adapter which saves about 80% of the time consumed to mount the target to the particular wheel. Last year, the company launched a smarter way of wheel balancing. This year, new SmartWeight Elite wheel balancer will be launched."
Hunter caters to every customer – be it someone with a tight budget or owns a small workshop. If they dream of owning a Hunter, the company and Madhus make it come true.
He talks about them: "We help seekers of pre-owned Hunter machines by putting them in touch with those who are upgrading and can let go of basic models. We offer them demonstrations and training so that when they buy Hunter machines, they already get a head start. Whenever they are ready to buy Hunter, we are there for them. We value the relationship and the trust they place in us."
Brand Hunter is extremely powerful in the market, especially the open market. It is because the brand is known to give consistent results in terms of alignment. It is also because customers can benefit from the negligible long-term cost of ownership with Hunter that offers minimal breakdowns.
Long-term durability, minimal maintenance, instant profit with increased productivity and high resale value – are all what makes Hunter brand the most reliable and Madhus is only too happy to cater to the discerning customers with the world's best alignment technology.