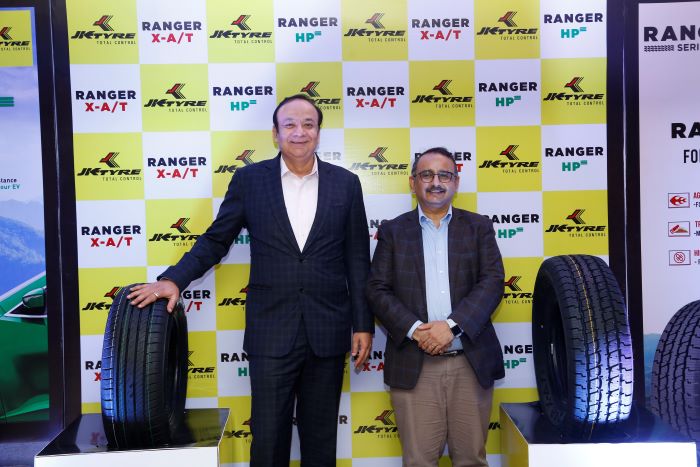 JK Tyre, India's leading tyre manufacturer and frontrunners of introducing breakthrough technology, today unveiled two new additions in its SUV tyre segment- Ranger HPe and Ranger X-AT which are tailor made to handle extreme road conditions. The launch is in sync with the company's ongoing endeavor to identify and cater to its customer's needs and provide highly advanced products that will further strengthen their existing product portfolio. Mr. Anuj Kathuria, President (India), JK Tyre & Industries unveiled the products in the presence of company officials and other guests.
Amongst the cutting-edge technologies offered by JK Tyre, 'Ranger' is a multi-terrain, high performance SUV tyre series meant for all adventure enthusiasts. The new tyres featuring the most advanced technologies are developed specifically to cater to the unique mechanics and driving dynamics of modern-day SUVs.
As the automotive industry continues to evolve owing to the rapid growth of the electric vehicle (EV) sector, the new Ranger HPe developed with "XPolymer3" technology is designed to cater to the specifications of EVs by providing low rolling resistance as well as high level of driving comfort. The superior grip and handling with reduced noise even at higher speeds gives the customers an enhanced driving experience.
The Ranger X-AT offers top performance even in the harshest driving conditions. Developed with technology that improves steering stability and durability, the tyre provides comfort, excellent traction and resistance to wear, both for on and off-road driving.
"As India is on its way to becoming the global automobile manufacturing hub, the tyre industry too is expected to grow exponentially. With our technology prowess and capability to anticipate future demands, we are expanding our product portfolio quite aggressively across all segments. Chennai is an important market for us as it is home to one of our highly automated radial tyre plants that produces high-end tyres for passenger cars and commercial vehicles. The new high-performance, safe and versatile products will upgrade our consumers' driving experience," said Mr. Anuj Kathuria, President (India), JK Tyre & Industries Ltd.
With customer centricity and product excellence at the core, the new launches by JK Tyre are a testimony to the company's relentless efforts to deliver the best product quality and experience to its customers.