Eicher Trucks and Buses has launched its Pro 2000 Series of Light Duty Trucks in UAE and Middle East region. Eicher Pro 2000 series, with a host of next-gen features aimed at significantly improving profitability for owners through best-in-class fuel efficiency and superior uptime. This new range of highly reliable trucks comes equipped with Smart features that help improve operating efficiency as well as enhance driver safety and comfort. This new range of trucks has been thoroughly tested to deliver best in class performance for customers in the UAE. The modern Eicher Pro2000 series delivers a power of up to 150HP and is designed to meet application-specific customer needs with variants of Eicher Pro2055XP, Pro2065XP, Pro2075XP, Pro2080XP, Pro2095XP and Pro2080XPT.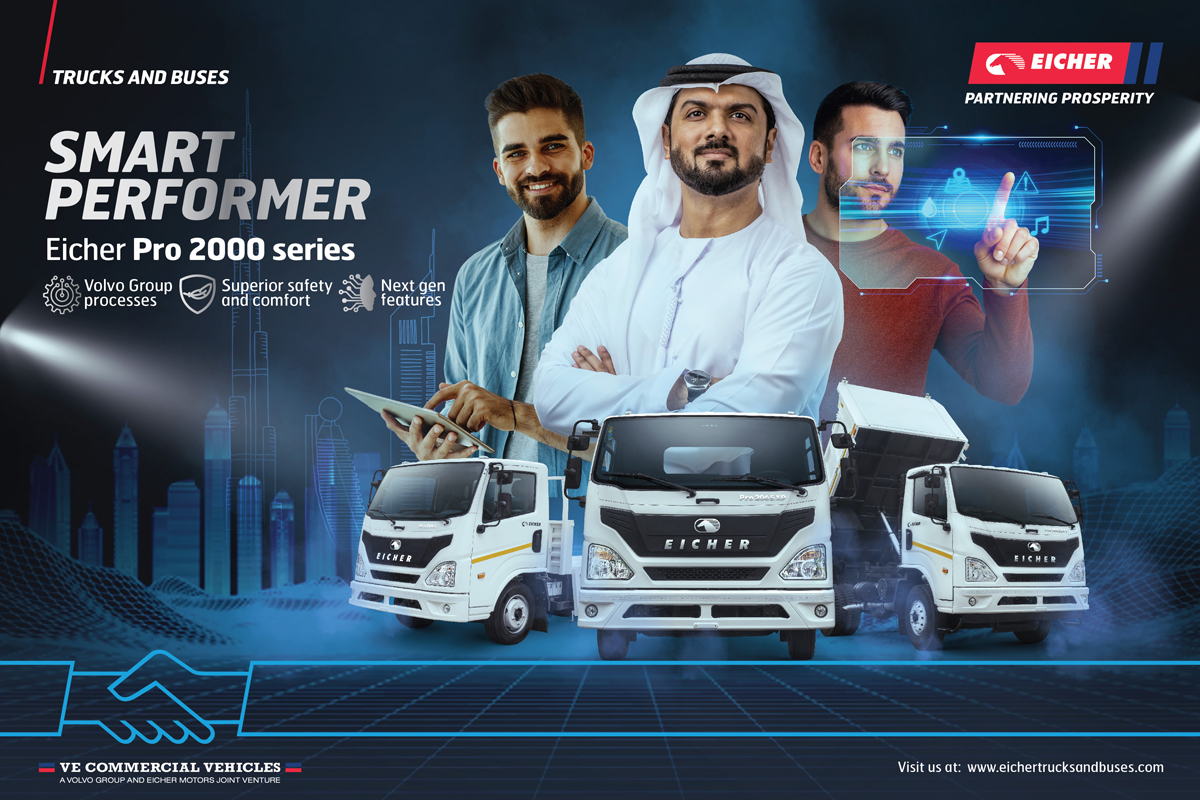 "In line with our vision of driving modernization in the CV industry, we are delighted to launch our new range of Eicher Pro2000 trucks. These trucks have been designed to deliver superior value proposition to customers in the region with host of smart technologies that enhance operating efficiency and focus on driver comfort and safety. " said, Mr. Vinod Aggarwal, MD & CEO, VECV.
With this introduction of Pro 2000 series, Eicher as a brand intends to play a role in the region's development and would take care of the logistics and transportation needs of the market. This would further enhance the growing contribution of India and is in line with the ongoing effort of strengthening business relationships UAE.
With a vision of driving modernization in commercial transportation, Pro 2000 series is a modern range of trucks tailored to the unique customer needs in the region. Eicher Trucks and Buses will be supplying this new product range through their every increasing network of channel partners in Middle East region.
Speaking on the occasion, SS Gill, Executive Vice President, International Business, VE Commercial Vehicles Ltd., said, "With the introduction of Smart Performer Eicher Pro2000 series of trucks, focus is on enhancing operating efficiency and driver productivity for both inter-city and intra-city distribution. These trucks are equipped with Smart features such as fuel coaching, MBooster+ and cruise control for enhancing fuel efficiency, and features like steering mounted controls, intelligent driver information system (IDIS) and touch-screen infotainment that enhance driver productivity. These comfortable, safe, and dependable trucks offer superior uptime with longer service intervals thus further increasing profitability for our customers."
The company's regional partners will cater to all the customers' sales and servicing needs and are geared up to provide a differentiated customer experience through their widespread network. Currently Eicher Trucks and Buses has presence in over 40 countries across the world, and this footprint has been expanding supported by a strong network of distribution partners.
Eicher Pro 2000 series – Tech Specs
150Hp with a range of 2800-3200rpm
Torque- 400Nm @1200 ~ 2500rpm- 490Nm @1400 ~ 1800rpm
6 ton-10 ton GVW
Cargo Body length options from 10 ft. – 19 ft.
Smart Features for Fuel efficiency: Fuel Coaching, MBooster+, Cruise control, energy saving features
Smart Features for Uptime: Engine Management System, Intelligent Driver Information System (IDIS), Enhanced service intervals up to 40,000 kms
Smart features for Driver Safety and Comfort: Walk-through Cabin, enhanced visibility, steering-mounted controls, 18cm touch-screen infotainment system with blue-tooth connectivity