The Bosch Automotive Aftermarket division will be presenting a wide range of innovations and new developments for the workshop market at Automechanika in Frankfurt from September 13 to 17, 2022. These put independent and multibrand workshops in a position to carry out diagnostic, maintenance, and repair work on even the latest vehicle models effectively and to a high standard of quality. New testing and diagnostic tools from Bosch, equipped with cutting-edge measurement methods, allow testing in accordance with current legal requirements.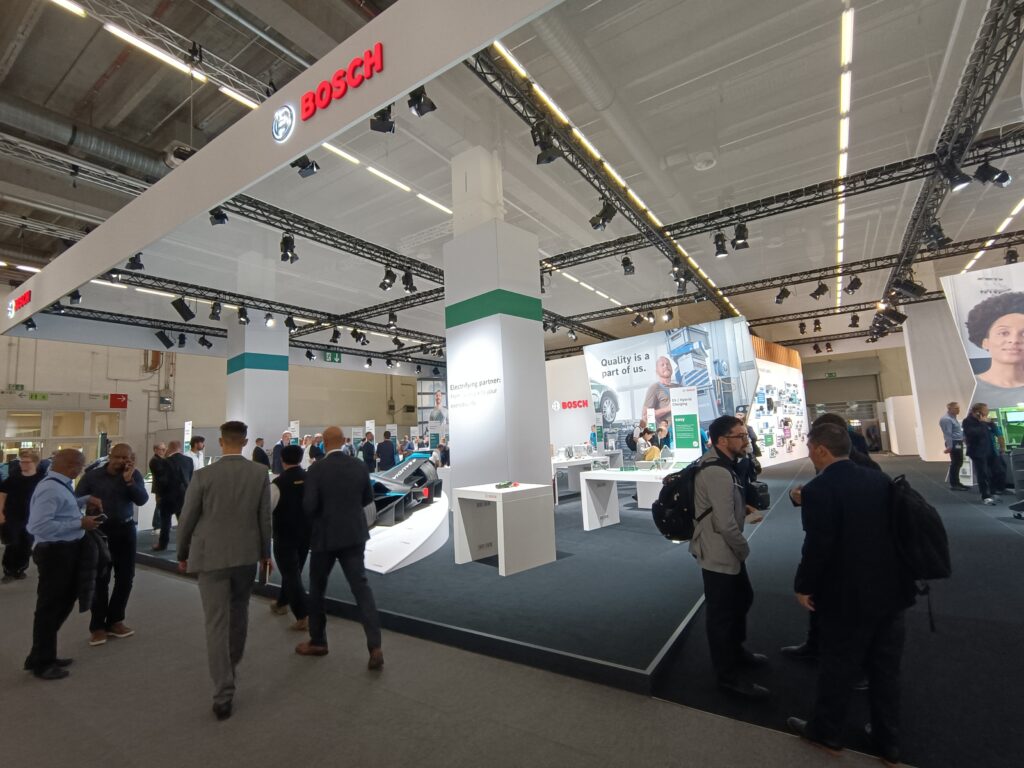 "Never in the history of the automobile have workshops had to know their way around so many technologies at once. Up to now, they have had to be well versed primarily in combustion engines. Now these engines are being joined by a variety of hybrid powertrains and electric motors. And fuel cells are about to make their appearance. Bosch stands as a reliable partner to workshops as they grapple with all these enormous technical challenges," said Rupert Hoellbacher, the president of the Bosch Automotive Aftermarket division, at the Automechanika trade fair in Frankfurt.
Precise and efficient maintenance of today's and tomorrow's automated vehicles – now even faster
Bosch has developed the DAS 3000 for the exact adjustment and calibration of the sensors and camera systems that support modern driver assistance systems on vehicles of different makes. The tool permits precise calibration of assistance systems after servicing or repair work. The most time-consuming process is target positioning, where the calibration device is precisely and correctly aligned with the vehicle in accordance with the manufacturer's specifications. ADAS One Solution is the new software that reduces the time taken for this by more than 50 percent compared with conventional measurement methods. Embedded in Bosch's Esitronic diagnostic software, this new positioning software guides users through the calibration board setup process, with graphic animations showing them exactly the target and actual positions of the calibration boards around the vehicle.
Bosch integrates access to protected vehicle data from Ford and Porsche as well as Tesla into the Esitronic diagnostic software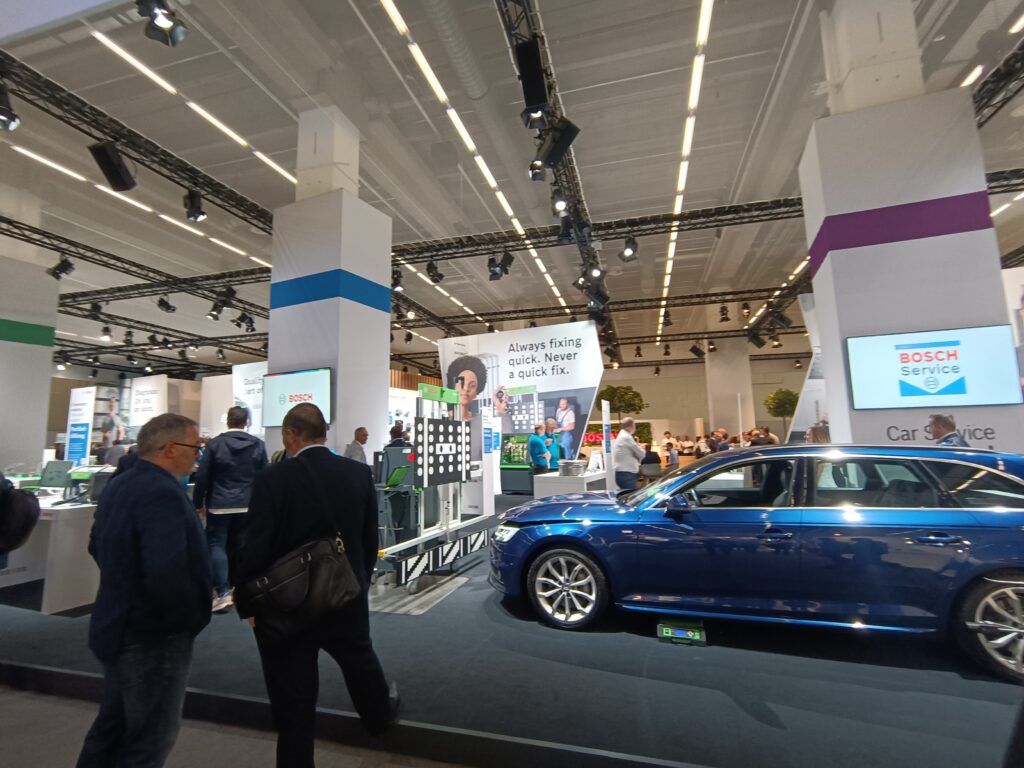 Especially for independent and multibrand workshops, the regular updates of the Bosch Esitronic 2.0 Online diagnostic software mean that they are now in a position to efficiently and reliably service and repair even the latest vehicle models. In the shape of Secure Diagnostic Access (SDA), Bosch has developed a standardized solution that permits the protected diagnostic data of various automakers to be accessed directly from Esitronic 2.0 Online. This means that workshops can now also use their diagnostic software and control-unit diagnosis license to access the protected data of Ford and Porsche vehicles, regardless of whether automaker solutions are available locally. They can then carry out work on features such as driver assistance systems. Prior to this development, it was already possible to use Bosch SDA for hassle-free access to Fiat, Alfa Romeo, Lancia, Abarth, Chrysler, Jeep, Dodge/RAM, Mercedes-Benz, and Volkswagen Group vehicles.
Moreover, since August, Esitronic users have been able to get help when working on Tesla vehicles. Following the latest Esitronic update, Tesla S and X models can be hooked up to Bosch diagnostic testing equipment via their OBD interface provided the workshop has a valid control-unit diagnosis license. Further Tesla models will follow.
Robust, handy tablet PC for mobile workshop use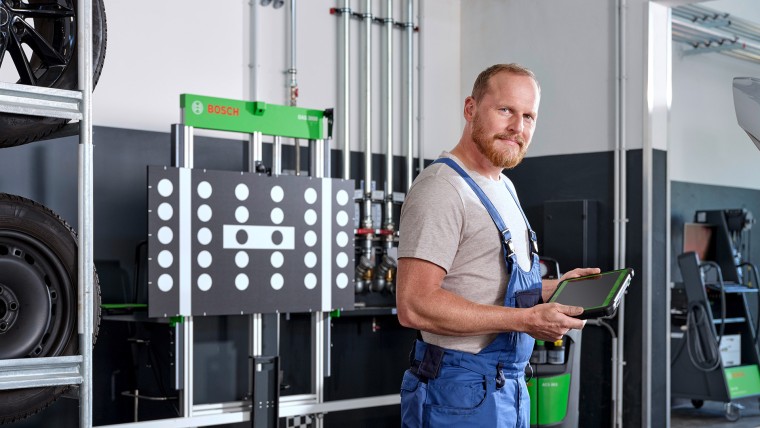 Bosch has developed a successor to its tried and tested DCU 100. The new DCU 120 diagnostic control unit offers improved features and enhanced technology. The large 11.6-inch screen/capacitive touchscreen makes the new tablet PC extremely easy to use. Light finger pressure is all that is needed to operate the touchscreen. In addition, the high-quality display provided by the large full-HD screen makes it easy to read the contents of Bosch workshop software. The powerful microprocessor ensures that all Bosch software packages such as Esitronic, as well as software for testing and diagnosing driver assistance systems, connected repair, vehicle systems analysis, and emissions analysis, operate reliably. The DCU 120 can also handle the PassThru functions that allow workshops to retrieve automakers' diagnostic data. This makes the new tablet PC ready for future workshop applications and systems. At roughly five hours, the DCU 120's battery life is twice as long as its predecessor's. Together with a robust design to protection rating IP65, this makes the Bosch device especially ideal for mobile workshop use.
High measurement accuracy for exhaust emissions testing with the BEA090 particle counter
From January 1, 2023, regular exhaust emissions testing of all Euro 6/VI diesel vehicles must also measure the number of particles in the exhaust. The new Bosch BEA 090 particle counter performs this task using the particularly precise CPC condensation particle counting method. It complements Bosch's existing emission analyzers, such as the BEA 550. Th CPC method is also suitable for future, stricter particulate measurement methods, and hence for long-term use by workshops and testing organizations. Via Bluetooth, the BEA 090 uses the proven BEA PC software to connect with the emissions analyzer, from where it is operated.
Economical testing of common-rail injectors
New emissions standards mean that the precise testing and calibration of the common-rail injectors installed in modern diesel engines is becoming increasingly important. Bosch's new DCI 200 single common-rail injector test bench can accurately and reliably test common-rail injectors for passenger cars and commercial vehicles. What's more, thanks to a new measuring system, the DCI 200 can also be used to test injectors equipped with the latest injection-control systems, such as valve-closing control and needle-closing control. In addition to the modern measurement technology, the DCI features efficient and ergonomic workflows and an intuitive operating concept. It takes less than 15 minutes to test a clamped injector.
Universal tire pressure monitoring sensors simplify inventory management for workshops and the aftermarket
The new QUICK FIT universal tire-pressure sensor covers more than 90 percent of all vehicles in the EU with just one sensor and four commercially available valve variants. This means that wholesalers and workshops can serve a very large share of the vehicle market by stocking just four parts numbers for the replacement of defective tire pressure monitoring sensors. For programming the QUICK FIT sensors, Bosch recommends its new TPA 300 programming tool, which was developed specifically for the rapid and simple vehicle-specific configuration of universal tire-pressure sensors. With regular software updates for device functions and the vehicles and sensors covered, workshops will always be up to date with the TPA 300.
New windshield wiper with integrated spray function
Bosch presents the Aerotwin J.E.T Blade, a new windshield wiper with spray nozzles integrated into the wiper blade. The result is better cleaning without bothersome spray mist, and thus also better vision and greater safety. Ex works, a number of Ford, Mercedes-Benz, Tesla, and Volvo models already feature wiper blades with an integrated spray function. The new Bosch Aerotwin J.E.T. blade is now available for these vehicles.
FILTER+pro cabin filter for fresh and clean air in the vehicle
With its extensive portfolio of cabin filters for the aftermarket, from standard filters and carbon filters to the newly developed FILTER+pro, Bosch now covers 96 percent of all vehicles in Europe. For electric and hybrid vehicles, market coverage is also very high, at 93 percent. Bosch has made further significant improvements to its proven FILTER+. The new FILTER+pro, which will have displaced its predecessor in the product range by the end of 2023, not only deals with allergens, pollen, fine particulates, noxious fumes, and bacteria, but also effectively combats viruses and mold. Besides ensuring cleaner air in the vehicle and thus fewer allergic reactions, the cabin filters reduce window fogging and minimize deposits on the inside of the windshield, which can contribute to dazzle.
Multifunctional charging cable for all electric vehicles
For drivers of electric and hybrid cars, the problem is a familiar one: they have to keep two different cables in the trunk, depending on whether they are recharging at a domestic 230-volt socket or at a charge spot en route. The new, Bosch Flexible Charging Cable is suitable for charging both from a domestic socket (if the premises are not equipped with a wallbox charger) and from a charge spot en route. As the control and safety technology is integrated in the charging cable's connectors, there is no need for an extra control box. This alone reduces the weight of the cable by 40 percent. The flexible charging cable for plug-in hybrid and electric vehicles augments the Bosch electromobility portfolio.
Planning, booking, and administering technical training courses on the new Bosch internet platform
In its standardized web design, Bosch Automotive Training Solutions, which Bosch developed for all markets worldwide, now gives workshops a modern and easy-to-operate training management tool. For example, the workshop can use Bosch Automotive Training Solutions to create clearly structured training plans for all associates, manage classroom-based technical courses in Bosch training centers, and book e-learning courses and places in live webcasts online. In the future, training certificates for completed training courses will be accessible on Bosch Automotive Training Solutions at any time as well as any invoices for training courses purchased online.