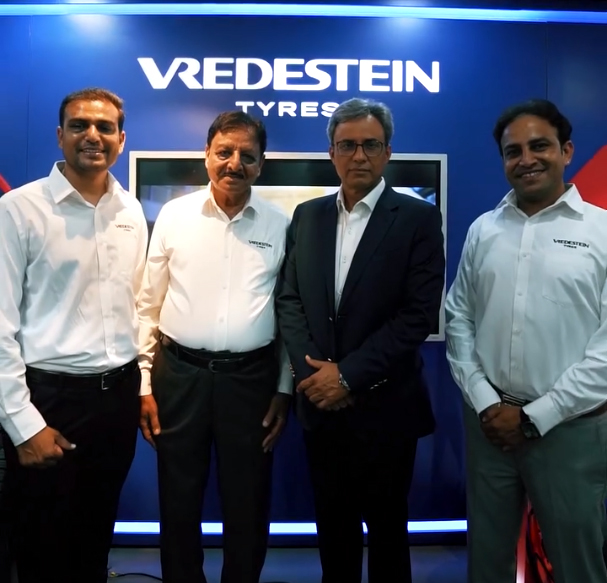 Bhopal became the next destination for Vredestein brand's exclusive outlets in the country, with Apollo Tyres Ltd inaugurating the second branded retail outlet for Vredestein brand of tyres in India at Arihant Tyres, outside DB City Mall in Bhopal, in central India, which is also a hub for other premium tyre brands.
The outlet was inaugurated by Rajesh Dahiya, Vice President, Sales and Service, Apollo Tyres Ltd along with Ashok Jain Pitalia, Proprietor, Arihant Tyres, in the presence of car and bike enthusiasts from the region.
Speaking on the occasion, Rajesh Dahiya, Vice President, Sales and Service, Apollo Tyres Ltd, said "Bhopal is fast emerging as a premium tyre market with consumers preferring high performance tyres for their premium cars and superbikes. Arihant Tyres, with its rich experience of two decades, along with its enviable clientele at its 4 outlets across the city, is the perfect fit for Vredestein product range, targeted towards the enthusiastic explorers, for whom the ultra-high performance vehicles are a reflection of themselves. We are confident that a presence in this high footfall zone and enhanced brand visibility, will be a win-win situation for both, Arihant Tyres and us."
This specialist counter for Vredestein, follows a modern up-market retail format of selling tyres – ensuring ample visual appeal, comfort and convenience to customers, and providing opportunity to learn about the product's applications and performance before making the final purchase. They, thus bridge the gap between tyres being a low involvement category product and the need for expert guidance, to enable customers buy the right tyres, suited to their vehicle, driving style and usage.
The Company has been using its vast network of business partners, especially premium tier I counters, to sell the Vredestein brand of tyres. After Bengaluru, this is only the 2nd specialist counter that has opened today in Bhopal for Vredestein tyres.
A premium European brand, Vredestein tyres, is manufactured at Apollo Tyres' state-of-the-art facilities in India, and caters to the premium and luxury segment in passenger cars, while the two-wheeler tyres from the brand caters to the growing superbiking segment in India. Vredestein brand is synonymous with premium styling and ultra-high performance, which are the two most important factors considered by the owners of luxury cars and superbikes.