Automechanika Frankfurt, the world's leading trade fair for the automotive aftermarket, has identified the smartest driver among its exhibitors and visitors who participated in an FIA Smart Driving Challenge (FIA SDC) Subevent. Doing so, Automechanika Frankfurt has contributed to promote safe and eco-friendly driving.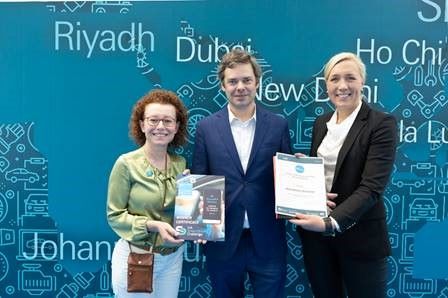 Swedish Artificial Intelligence
"As we are an international meeting place for key players in the automotive aftermarket industry, sustainability is high on our agenda. Taking part in this challenge helped us to raise awareness of the importance of a safe, sustainable driving style and enhanced our own international event networking by engaging exhibitors and visitors alike in the months prior to the event," said Olaf Mußhoff, Director of Automechanika Frankfurt.
The goal of Automechanika Frankfurt's FIA SDC Subevent was to help exhibitors and visitors assess their impact on road safety and CO2 emissions when at the wheel and invite them to adopt smart driving in an enjoyable way.
"Partnering with leading international events such as Automechanika Frankfurt is the perfect opportunity to encourage key players in the industry to demonstrate the importance of safe and sustainable driving. We need to work together and act quickly to improve our road environments, save lives and tackle climate change," said Onika Miller, FIA Secretary General for Automobile Mobility and Tourism ad interim.
The FIA SDC, developed by Greater Than and the FIA, is the world's first challenge rewarding smart skills at the wheel. It is a global competition where everyday drivers can challenge each other and themselves to become smarter on the road.
Companies, Mobility Clubs and other organisations can join the FIA SDC and launch their own challenges to encourage employees, members, sponsors, or users of any kind, to adopt a safer and more sustainable driving behaviour.
By joining, motorists can quickly learn how to drive smarter, lower their environmental impact and reduce their risk of being involved in a crash thanks to the analysis of their driving patterns in real-time carried out by the AI technology used in the challenge and developed by Greater Than.
"We're thrilled that Automechanika Frankfurt has been able to identify the contribution they've made to sustainable mobility by encouraging exhibitors and visitors to take part in the FIA SDC. Large industry events are the ideal opportunity to engage and raise awareness of important topics such as road safety and its relationship with the environment. I encourage other companies behind key events to follow Automechanika Frankfurt's lead and use their extensive connections to support this important mission," said Johanna Forseke, Chief Business Officer at Greater Than.
Automechanika: at home worldwide
With 13 events in 13 countries, Automechanika is the world's most successful B2B trade fair brand. The brand represents some 20,000 exhibitors and 600,000 trade visitors. The newest addition to the international trade fair brand was when Automechanika Astana in Kazakhstan opened its doors for the first time in March 2019. The very first Automechanika took place in Frankfurt in 1971, when it was launched as a replacement for the International Motor Show (IAA) that was cancelled that year on account of the economic crisis. As the automotive industry has become increasingly globalised, Automechanika has followed suit by continually adding new venues worldwide since the 1990s. Together with some 120 partners, supporters and leading associations from the automotive aftermarket, Messe Frankfurt now organises the event in 13 countries across four continents. Every one of the 13 Automechanika trade fairs is tailored to the requirements of its region. The trade fairs are supplemented by extensive supporting programmes featuring training, networking events and special areas of emphasis, making each of them the place to be for business interactions, professional development and a comprehensive overview of the market.