Commercial vehicle services are getting modernised in India on account of the BS-VI norms. These have to compulsorily come to the workshops for getting fully serviced and such facilities are not available at many places. The efficiency of all commercial vehicles lies in their operations so that the life of the tyre and the engine can be enhanced. Hence, awareness for commercial vehicle wheel alignment is spreading rapidly. Regular wheel alignment for every 15,000 km results in 50% average tyre cost savings and approximately 5% fuel cost savings. EAGLE 4i is a product suited for commercial vehicle wheel alignment.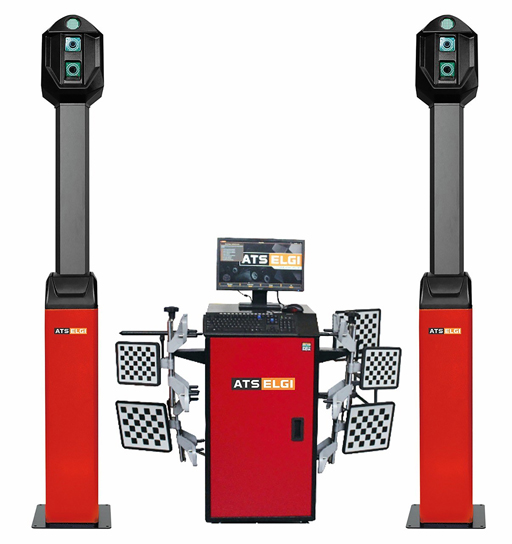 This product can do the alignment in less than three minutes. Until now, wheel alignment for commercial vehicles (CVs) the world over was done using sensor technology. This means mounting electronic sensor heads on all the wheels to measure alignment angles which takes minimum 45 minutes to complete. With the EAGLE 4i commercial vehicles' alignment can be measured using the latest 3D technology and that too with no electronics on wheels but only chequered target plates which are easy to mount.
It takes less than three minutes to measure up to four axles simultaneously and subsequent axles till 16 metres can be measured by swapping the target plates. With the new EAGLE 4i a user can benefit from reduced spares and service cost since complicated electronic sensors are eliminated completely from the wheels. Several features from EAGLE 4i result in many direct and indirect benefits such as less service and spares cost, manpower savings compared to old sensor type wheel alignment and quick ROI as the time taken to complete wheel alignment is less compared to the old sensor-type wheel alignment.
The salient features of the Eagle 4i include:
• Simultaneous measurement of four axles
• No electronics on wheels
• Capable of measuring trucks with wheelbase up to 16 metres
• Machine vision system automatically recognises the targets that are installed on the wheels
• High resolution wide scope cameras
• Auxiliary target display for target setting
• Four compensation modes available. Forward rolling compensation is first-in-class in this segment
• Compact and easy targets, no need to calibrate, and easy to handle
• Wheel adapters are self-centering with the mobile central part fit of 12"-24"
• In addition to HCV, ATS ELGI truck wheel aligner is capable of measuring LCVs and PCVs with wheel base of more than 2 metres
• Frame reference, baseline reference and axle reference are available
• Wi-Fi remote control ensures easy operation.