The ADR Group has been at the forefront of innovation, offering groundbreaking solutions that have reshaped the industry in the ever-evolving world of axles, especially car carrier axles. Michele Panuccio, the Chief Operating Officer (Asia–Pacific and Middle East) of ADR Group, shares their journey of innovation and remarkable success in the Indian market in this exclusive article with Rajesh Rajgor.
In July 2018, ADR Axles India introduced its Road Products brand SAE SMB in the Indian market, selling an impressive 1,300 road axles for trailers within a mere seven months. Since then, the SAE-SMB brand has risen to prominence in the Indian trailer industry. The success story of SAE-SMB in the Indian trailer market can be attributed to their unwavering commitment to safety, quality, and innovation. Even amidst the challenges posed by the tumultuous year of 2020, they introduced car carrier axles that comply with CMVR regulations. These axles, with capacities of 9 and 10 tons equipped with mechanical drum brakes, are tailor-made for car transportation.

Since their launch in January 2020, these axles have gained significant traction in the market. LOHR India, one of their esteemed customers, played a pivotal role in the initial trials and testing phase. Subsequently, SAE-SMB supplied these axles to major car carrier fleet owners across India, solidifying their position in the industry. This groundbreaking product (car carrier axles by SAE SMB) has been in the market for over three years, with positive feedback from customers.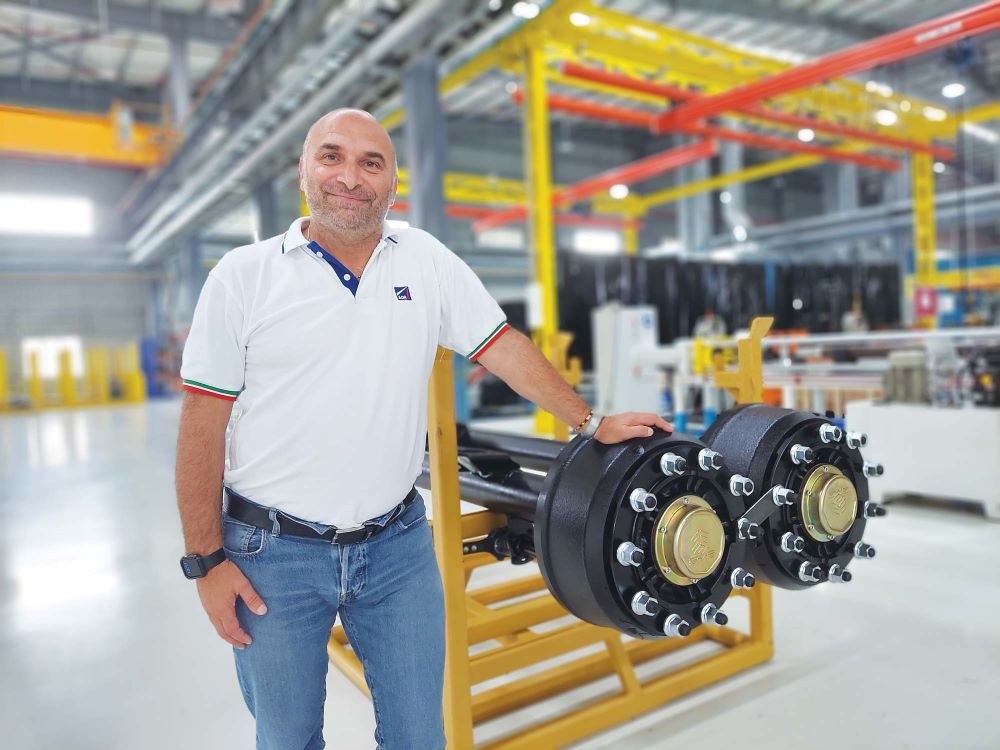 Michele Panuccio, COO (Asia–Pacific and Middle East), highlights their achievements, saying, "The emphasis on safety, coupled with quality and innovation, has propelled our success. With over 3,000 units sold in this product category, our car carrier axles are strongly present in the car carrier market in India. The leading manufacturer in this segment, LOHR, exclusively uses our axles. Therefore, our market share is substantial, particularly in this segment."

ADR Axles India has now introduced a novel car carrier axle, aptly named the 'Gold version'. It stands out with its distinctive gold-colored tin plate cap and comes equipped with a suspension system, offered as a kit. This innovation provides extra suspension choices for car carriers. Panuccio elaborates, "This is a new product and has a distinctive feature with a gold-colored tin plate for the cap, hence the name 'Gold version'. Additionally, we have incorporated a suspension system, and customers can purchase it as a kit, providing extra suspension for the car carrier."

Setting New Standards

The 'Gold version' of ADR's car carrier axle is more than just a visual enhancement; it represents a commitment to excellence. The gold caps not only catch the eye but also reflect a new era of innovation and performance. This transformation is not merely cosmetic; it brings with it a range of benefits that elevate ADR's car carrier axles to a whole new level.
"We've had great success with LOHR, and they have exclusively chosen our product. We've even customized it for their needs, making it flat. With these improvements, we anticipate not only retaining our relationship with LOHR but also expanding our sales team to promote this new product with suspension. This is a game-changer for us," informs Panuccio.

Flexibility is a cornerstone of ADR Group's approach. They cater to a diverse customer base, allowing them to choose between regular maintenance checks or longer maintenance intervals, depending on their specific requirements. This adaptability extends to customers who design their trailers, including the axle and suspension components. ADR Group collaborates closely with these premium customers to meet their unique needs.

To enhance the product's appeal further, minor modifications have been introduced, including the use of a special grease to get a four lakh-kilometer maintenance warranty. These measures reflect ADR's unwavering commitment to delivering a product that not only meets but exceeds customer expectations. The Gold design represents a significant advancement in the alignment of car carrier axles at SAE-SMB. Through the implementation of a unique rim design and the repositioning of the bearing, this innovation necessitates a negative offset hub. This intricate adjustment ensures that the axle aligns exceptionally well with the wheel, resulting in superior performance and heightened safety standards.

"Our unique strength lies in scalability. We have a high production capacity and the ability to adapt to market demands quickly. At present, we are producing 300 units per month, but our production line has the capacity to churn out much more than 1,000 road units per month. We are well-prepared to meet the evolving needs of the market. Additionally, we highlight our expertise in the agricultural sector, where we have a strong global presence. While our focus in India is primarily on commercial vehicles and off-highway equipment, we acknowledge that the Indian agriculture trailer market presents opportunities for growth," observes Panuccio.

Certifications and Export Opportunities

Regarding certifications and approvals, ADR Group has successfully secured Homologation for their brake systems, demonstrating their adherence to rigorous European standards in terms of quality and safety. However, there is an ongoing examination of regulations concerning single axles. They are actively exploring potential changes and improvements in this area, indicating their commitment to staying abreast of evolving industry requirements and ensuring their products remain compliant and cutting-edge.

"We'd like to highlight a significant achievement – our recent certification in India. Our factory has received KBA (Kraftfahrt-Bundesamt) certification, enabling us to produce to the same standard as in Europe. This certification is an honor for us, as it demonstrates our commitment to maintaining quality standards equal to those in Europe. While we may not sell more, our aim is to uphold the same high standards as our group's factories in Europe," adds Panuccio.

This certification is not only a mark of quality but also opens doors for potential exports. Panuccio shares, "We can now export products to markets where the certification holds value. This extends to countries in Europe, offering a competitive advantage and ensuring customers worldwide receive the same level of quality."
In its relentless pursuit of quality, ADR SAE SMB is in the process of obtaining ISO 9001 certification. This milestone is anticipated to be completed by the end of the year. The certification process underscores ADR's commitment to ensuring the highest quality standards for its customers. Drawing from past experiences, the company is determined to maintain consistent quality throughout its operations.

Streamlining Supply Chain and Production

As for the supply chain situation, it has considerably improved since the challenging times of the pandemic. "We had the opportunity to assess and select reliable suppliers during that period. Today, we've established robust supply chains, which are aligned with our targets. Approximately 80% of the components are now localized, reducing our reliance on imports. While we aim to increase localization further, some critical components will continue to be sourced from Europe to maintain consistent quality standards," shares Panuccio.
ADR Group's unwavering commitment to maintaining high-quality standards and adapting to the specific needs of the Indian market has been instrumental in their success. They are eagerly looking forward to further growth and expansion, both domestically and globally. Additionally, ADR Group is delighted to introduce Antonio Strafallaci as the new General Manager for their Indian operations. With his fresh perspective and innovative leadership, ADR Group is poised for an exciting future in India and beyond, fueled by their continued dedication to excellence.
"Our commitment to maintaining high-quality standards and adapting to the Indian market's specific needs has been instrumental in our success. We look forward to further growth and expansion, both domestically and globally. We are delighted to introduce our new General Manager, Antonio Strafallaci, who brings a fresh perspective to our team. With his leadership and our continued dedication to excellence, we are poised for an exciting future in India and beyond," concludes Panuccio.