Vijayanand Travels (VT) has made a milestone announcement by placing the largest order in India for 550 Intercity buses from Volvo and Eicher. The approximate worth of the order is estimated at 500 crores, which includes 500 units of Eicher Intercity 13.5m AC and non-AC sleeper coaches and 50 Volvo 9600 luxury sleeper coaches.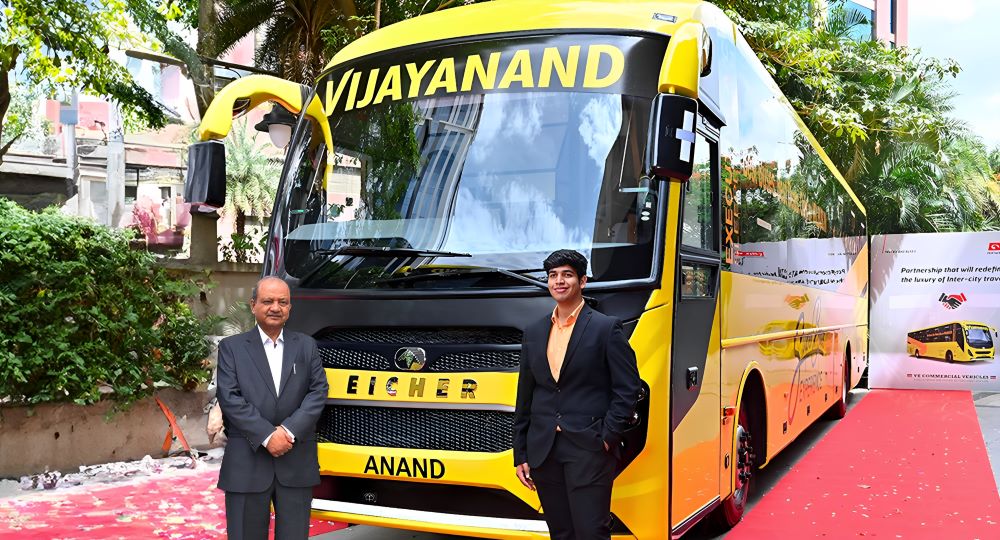 Vijayanand Travels has been associated with Volvo & Eicher to source the best-in-class buses that underline world class quality, safety, and passenger comfort to enhance the luxury bus travel experience in India. In line with the Make in India initiative, these buses are manufactured entirely at the state-of-the-art facilities in Hosakote and Pithampur.
Expressing his optimism over the announcement, Shiva Sankeshwar, Managing Director, Vijayanand Travels Private Limited, said, "We are currently at a very crucial juncture of our growth story. Keeping our grand legacy as a backdrop, we want to establish pan-India operations in terms of fleet size, geographical reach, & intercity connectivity. The brand initiatives & new investments are a testament to our new vigour and renewed energies for national dominance. We hope that our association with Volvo and Eicher will continue to grow & flourish"
Emphasising the consumer centricity of the company, he further added, "Our consumer centric approach coupled with value propositions be it services or offers, has made us the No.1 player in the market. Our flat 15% discount offer introduced 2 years ago across all segments has become a massive hit among our consumers and we will continue to elevate our customers travel experiences in future too"
Commenting on the partnership, Vinod Aggarwal, MD & CEO of VECV, stated, "As a successful 15 year Joint Venture between Volvo Group and Eicher Motors, VECV is best placed to provide industry-leading comfort, safety, and travel experiences to passengers through the Volvo and Eicher bus ranges. We are delighted to receive this follow-up order from Vijayanand Travels Private Limited. At VECV, we continue to live our commitment to shaping the future of the Indian bus industry through the Volvo and Eicher range."

This move from Vijayanand Travels is an indication of the robust expansion plans in the coming times to become a PAN India brand. Vijayanand Travels currently operates in six states: Karnataka, Maharashtra, Andhra Pradesh, Telangana, Gujarat, and Goa.
Eicher Intercity 13.5m
Launched in 2021, Eicher Intercity 13.5m bus comes with a sharply sculptured Tall Boy design. These fully air-conditioned buses maximise comfort and safety for passengers. The range is built on the Eicher 6016 S LPO 13.5 m chassis and is equipped with the reliable 5.1 litre VEDX5 engine derived from Volvo Group's global powertrain family. Capable of delivering maximum power of 240 HP and flat torque of 900 Nm @ 1200-1600 rpm, the powerhouse delivers unmatched performance for drivers and best-in-class fuel efficiency for operators while getting passengers quickly to their destination.
Volvo 9600 Sleeper coach
Volvo 9600 platform has been derived from an award-winning European design and has already been setting significant benchmarks in luxury and comfort by operating successfully in key routes across the country. The distinctive tall boy design marries fine aesthetics with generous space to easily accommodate 40 sleeper berths and comes with 8.5 cu.m of luggage space. At the heart of the Volvo 9600 platform is the fuel-efficient Volvo D8K (8-litre) engine, delivering a power of 260kW (350hp) @ 2200 RPM and a torque of 1350 Nm @ 1200-1600 RPM. The fuel-efficient engine along with its purpose-developed drivetrain is designed to minimize Total Cost of Ownership (TCO) and maximize uptime for bus operators. The chassis includes the I-Shift automated manual gearbox, electronic braking system (EBS) Hill start aid and Electronic Stability Program (ESP) systems.