Toyota Kirloskar Motor (TKM) today announced its first-ever initiative of 4×4 experiential drives for the motoring enthusiasts from across the country. Set to be held in four zones (regional level – North, South, East and West), with a 'Grand National 4×4 X-pedition' by Toyota is being planned this year. These drives have been designed to engage with country-wide 4×4 SUV community, offering exciting and thrilling off-roading experiences. Through this initiative, TKM aspires to connect participants with their sense of adventure and inspire them to push boundaries, explore new horizons, and thereby delivering 'Mass Happiness'.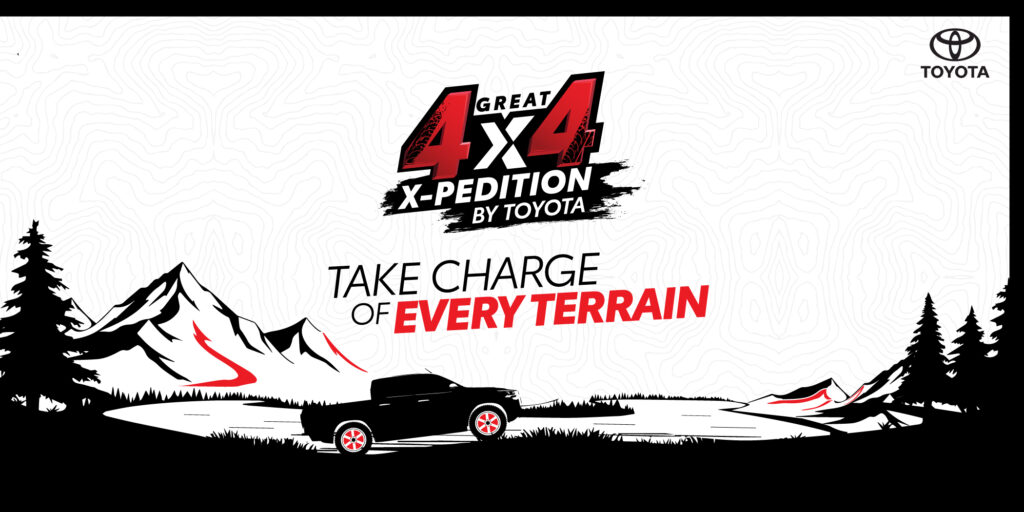 Each of the zonal events will feature a convoy of SUVs including the proud owners of legendary Hilux, Fortuner 4×4, LC 300, and the Hyryder AWD (All Wheel Drive). Furthermore, the uniqueness of this experiential drive involves the participation of other SUV brand owners who will be a part of the first ever Great 4×4 X-pedition organised by Toyota in India. With a view to offer extreme off-roading, TKM has created additional 4WD tracks with many challenging obstacles, covering articulation, side inclines, rambler, deep ditch, slush, rocky bed and so forth.
Globally, Toyota is renowned for its robust line-up of SUVs and boasts of a strong and versatile 4×4 offering in India as well. The Hilux, Fortuner 4X4, LC 300 and the Urban Cruiser Hyryder with their commanding presence have earned some of the biggest fan base, all thanks to a notable combination of advanced style, unmatched toughness and powerful performance perfectly suited to make every journey a remarkable one. This flagship event of Toyota further creates ample opportunities to strengthen this association and offers new experiences through curated drives both on-road as well as off-road.
Notably, with the rising trend for motorsport and adventure seekers in the rapidly growing SUV segment, an unbreakable bond has been created with those who desire more, be it for business purposes or the fun-filled moments with family and friends. With this, Toyota's primary focus is to connect with the 4×4 fraternity and create awesome experiences with the unique capabilities of varied SUVs from its product line-up. Needless to mention, the company's passion in motorsport (Toyota Gazoo Racing e-Motorsport in India debuted in Aug 2020) continues to be one of the key attributes, driving this Great 4×4 X-pedition initiative, enabling the brand to connect with motorsports enthusiasts by providing them exhilarating drive opportunities. Going forward, the aim is also to create an exclusive group of such 4×4 enthusiast fan club, enabling continued engagement in off-roading activities.
The first regional event is scheduled to be held, in the Southern part of India. Starting from Bangalore and moving to cover the serene locations of Hassan and Sakleshpur between 26th – 28th of May 2023. The carefully chosen route will offer a chance to explore the scenic beauty through the journey, covering historical points. The participants will be in for an off-roading treat in a safe and supervised environment, additionally designed 4WD track experiences and outdoor recreations.
Furthermore, in line with Toyota's core commitment towards sustainability and giving back to the society, this Great 4×4 X-pedition will also engage the participating 4×4 enthusiasts to contribute to social causes, whilst on this thrilling experiential drive. Taking this opportunity to spread awareness and encourage their social interventions, a host of eco activities such as restoration of the local ecosystem through waste collection and disposal and tree plantation has been planned towards conservation of natural biodiversity.
Speaking about Toyota's first-ever Great 4×4 X-pedition, Mr. Atul Sood – Vice President, Sales and Strategic Marketing of Toyota Kirloskar Motor said, "Toyota believes in bringing unlimited experiences to its customers. In this direction, Toyota's 4×4 Great X-pedition is designed to create a new platform and connect with the 4×4 enthusiasts group, enriching their experiences by providing them an opportunity through unforgettable journey with us that will remain etched in their memories for life. Furthermore, TKM's foray into 4X4 drives in India will allow the SUV enthusiasts to unleash the true potential of their proudly owned vehicles and further enhance their active outdoor lifestyles."
Going forward, TKM will continue to enhance the motorsport engagements which plays a crucial role in pushing the boundaries bringing in newer & advanced technologies, driving innovation, and building ever-better cars. Through the Great 4×4 X-Pedition, TKM hopes to inspire more people to pursue their discerning passion for motorsports and experience the thrill of driving 4×4.