Tata Motors, one of the world's leading commercial vehicle manufacturers, today took a significant leap forward in promoting sustainable mobility with the launch of the new, revolutionary Ace EV in Nepal, with its sole authorised distributor, Sipradi Trading Pvt. Ltd. The new Ace EV, an advanced, zero-emission, four-wheel small commercial vehicle (SCV), is a green and smart transport solution ready to serve a wide variety of intra-city applications. The launch of Ace EV in Nepal marks its debut in the global market and promises to redefine eco-friendly transportation. The first fleet of the revolutionary Ace EV was delivered to its customers in Kathmandu. The electric version of the ever-popular Ace is an eco-friendly mobility solution for environmentally conscious companies.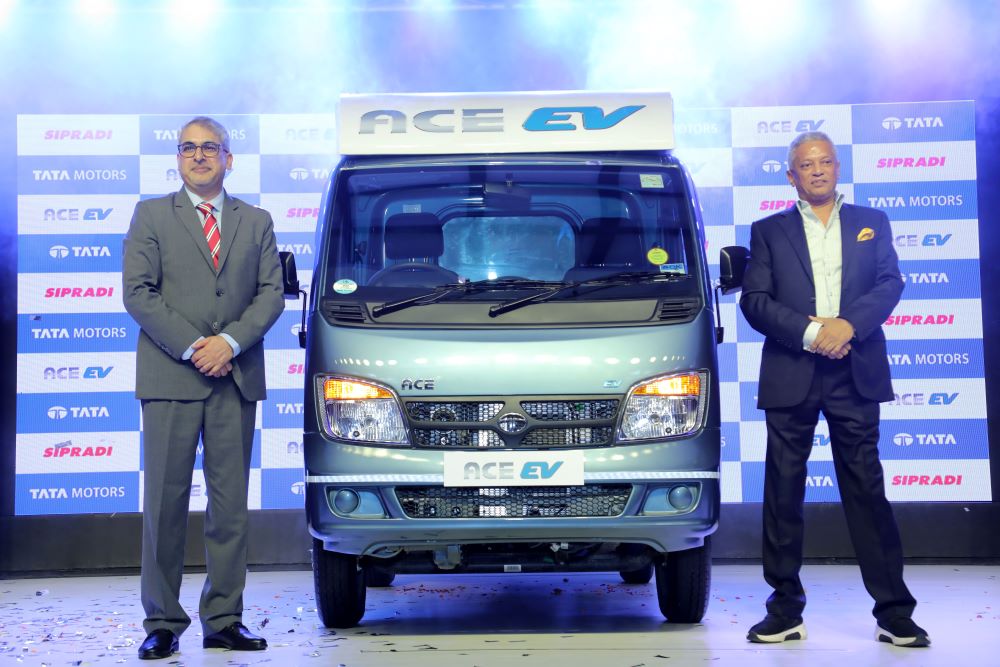 Commenting on the momentous occasion, Mr. Anurag Mehrotra, Head – International Business, Tata Motors Commercial Vehicle Business, said, "Electrification of passenger and cargo transport is an irreversible trend. At Tata Motors, our commitment to accelerate the adoption of cleaner and greener transport solutions is gaining greater strength. The introduction of the Ace EV marks a major milestone in our journey to deliver zero-emission cargo mobility in Nepal. With Sipradi Trading Pvt Ltd.'s strong sales and service expertise and their dedicated support for many decades, the electric commercial vehicle will play a pivotal role in shaping net-zero goals of businesses in Nepal. The Ace EV is designed and engineered to perfectly suit the requirements of intra-city cargo transportation and will deliver superior value proposition to all stakeholders who are driving towards a carbon-neutral future. Nepal flourishes with clean electricity through its hydroelectric projects, and the launch of the new Ace EV will further complement the country's stride towards clean energy. We are much encouraged with the support and response received from our customers in Nepal, with whom we begin this journey of zero-emission cargo mobility."
Speaking at the launch, Mr. Siddhartha SJB Rana, Executive Chairman, Sipradi Trading Pvt. Ltd., said, "We are delighted to launch the Ace EV with Tata Motors and it marks the beginning of the new era in Nepal's eco-friendly transportation. For decades, Tata Motors and Sipradi Trading Pvt Ltd. have been working together to deliver quality-led mobility solutions in Nepal, and consistently delivering outstanding vehicles that have earned the trust of the Nepalese market. Tata Motors has always been ahead of the curve in delivering top-of-the-line products. Ace EV embodies our shared vision for a sustainable future in the country. We are confident that this remarkable vehicle will contribute towards a cleaner, greener Nepal."
The new Ace EV, co-developed in rich collaboration with its users and supported by a diligently curated ecosystem, offers a holistic solution for e-cargo mobility. In addition to addressing the core need of timely cost-effective and efficient last-mile deliveries, the Ace EV also serves the future commitment and aspirations of its conscientious customers to achieve net zero carbon footprint. The fleet of Ace EV will be supported by a dedicated team of experts for 24×7 support and state-of-the-art Electric Vehicle Support Centres (EVSC). The vehicle also comes equipped with a feature-rich telematics system for real-time vehicle tracking and efficient fleet management.