C Ashokhan started his career in the automobile spare parts trade by joining India Motor Parts and Accessories Ltd. (IMPAL) in January 1984. With his sincerity and commitment to the assigned job, he got promoted to the post of Sales Officer. In 1992, he joined Premier Auto Electric Ltd. (PAE) as Senior Sales Officer and was assigned to develop business around Coimbatore. With his hard work and dedication, Ashokhan added to his portfolio many loyal dealers and supporters. In 1999, with the support of M N Auto Products (P) Ltd. and Roots Industries India Ltd., he started his own distribution set-up at Coimbatore.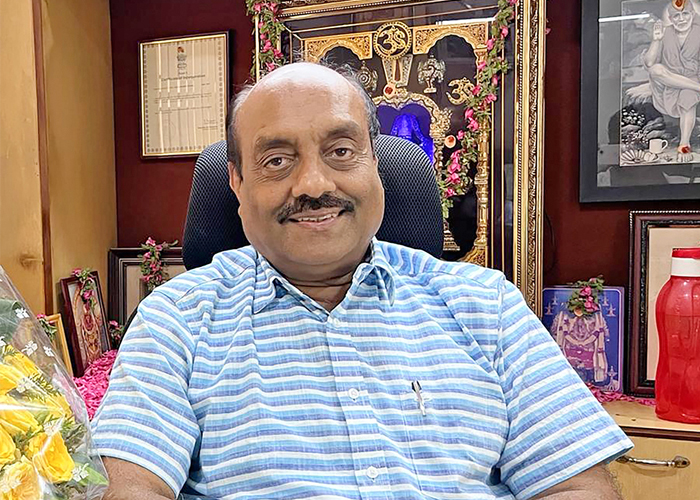 This was in the name of Sri Guruvayurappan Automobile Stores. With the experience gathered from the two companies where he had earlier worked, Ashokhan decided to operate an ethical business with genuine products. Initially, he started with automotive electrical products and slowly added more brands and supportive staff for the expanding operations. Currently, Sri Guruvayurappan Automobile Stores is a distributor of an array of leading brands such as Roots, Super, Osram, Finolex, Amaron, Total, Valeo, Varroc, Fenner, Bosch, Rolon, INL, Gabriel, NSK, Uno Minda, NGK, Suprajit, etc.
With a workforce of over 100 dedicated team members, the group has achieved a landmark turnover of Rs. 100 crore during 2021-22. Ashokhan attributes this success to his team, dealers and suppliers. His two brothers, their sons and his two sons actively participate in the day-to-day activities of his business. He feels proud that the next generation has also entered into this field – all set to take the venture into new directions while exploring emerging opportunities. Over the years, Sri Guruvayurappan Automobile Stores has built up a reputation for timely service and quick availability of products across Tamil Nadu with absolute transparency in business.
The company has been honoured with an award for aftermarket excellence by Osram Automotive along with awards for excellence in service from Amaron, highest volume contributor of the southern zone in two-wheeler range of products from Total and best debutant distributor by NGK, among others. Apart from managing the business, Ashokhan is an active member of the Indian Chamber of Commerce and Industry (Coimbatore), The Coimbatore Motor Parts Dealers Association and Rotary Club (Spectrum). He strongly believes that the automobile spare parts trade will witness an upward spiral in the coming years. Ashokhan is therefore planning to implement digital apps and set up more branches for the convenience of dealers.