Meeting V K Divekar, Director, Marketing, Perfect Alloy Components at the Automechanika trade show was insightful for multiple reasons and Sarada Vishnubhatla lists them out.
Perfect Alloy Components (PAC) has been participating in the Automechanika trade show at Frankfurt for the last two decades. Since their inception in 1979, the Shivamogga-based manufacturer of valve seat inserts and turbocharger parts, PAC has been catering to major OEMs in the domestic markets. And in the last five years, PAC has made deep forays into international markets as well.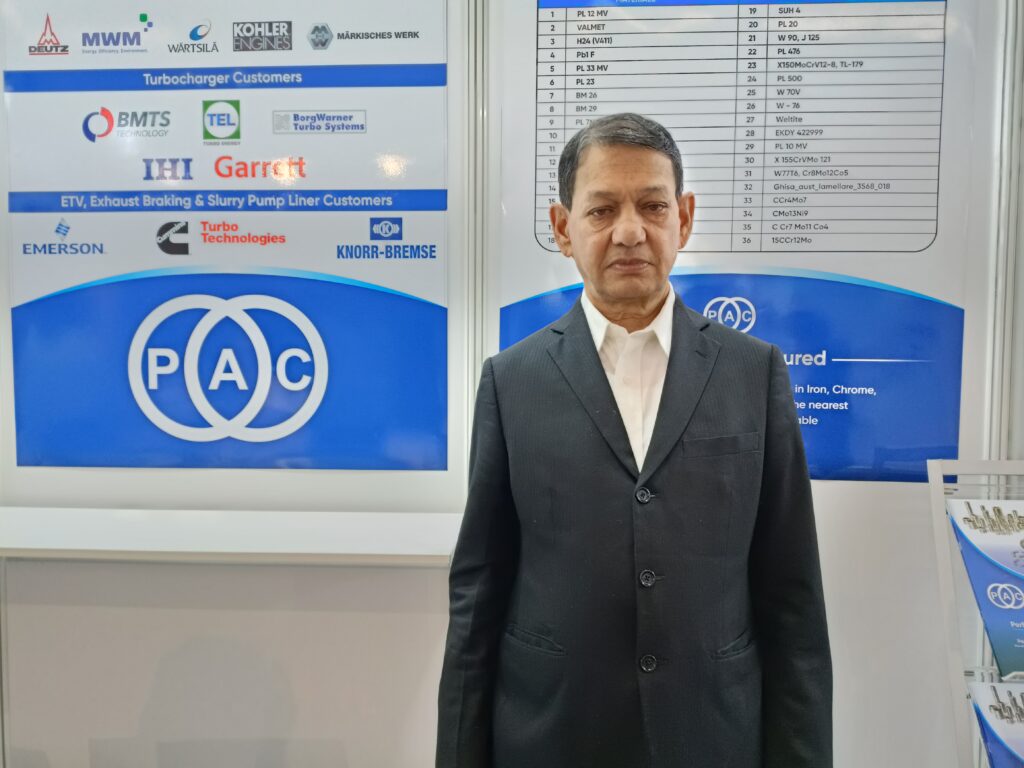 V K Divekar, Director, Marketing, Perfect Alloy Components shares: "Automechanika, Frankfurt is a crucial trade show for manufacturers like us. It is a dynamic meeting ground to not only update our existing customers but also showcase the best of our products to new potential ones. And 20 years is a long period to establish a few lasting business equations."
PAC exports over 50% of their production to countries around the world, including US, UK, Canada, Germany, Holland, Italy, Spain, Japan, Korea, Malaysia, Singapore, and a few others. Their keen focus on quality and their commitment to offering customer satisfaction has made them a name to reckon with. PAC can produce more than 65 grades of alloys in iron, chrome, nickel, and cobalt base materials.
Divekar says: "As always, our expectations from the show are to get updated with the latest global trends and to let our prospective customers know that not only PAC but India is on par with them. Also, we are happy to participate in-person here in 2022 after the gap years that the COVID pandemic has forced on us."
PAC showcases a wide product range at the Automechanika trade show. He elaborates on the new products and trends that the discerning audience expects: "With Euro norms climbing from 4 to 6, and even 7, we can understand that the fuel applications are engaging better and advanced technologies. Hence the expectations from the customers are becoming increasingly more demanding. They are now opting for CNG vehicles and currently, EVs are a hot favourite. So, for the EV segment, PAC has developed a new material for the turbochargers which is compliant with Euro norms 6 and 7."
Divekar continues to share the speciality of PAC products: "Our valve seat inserts and turbocharger parts are manufactured for practically all the IC engines for most of the Indian manufacturers in India." PAC began manufacturing turbocharger parts since 2008, and Divekar adds that: "We are proud of the fact that we are the single-largest source of them for our clients."
He further feels: "We are expecting the markets to open further because more so now, the European market is looking for Indian products. It is so because they are gradually looking at shifting from China and hence are sourcing parts from India. We can literally feel the increase in the demand even as we speak. In fact, the demand has doubled, which is a good sign for India."
With PAC's products gaining more and more traction globally, Divekar is confident of PAC's exponential growth in the European and US markets in the coming times.