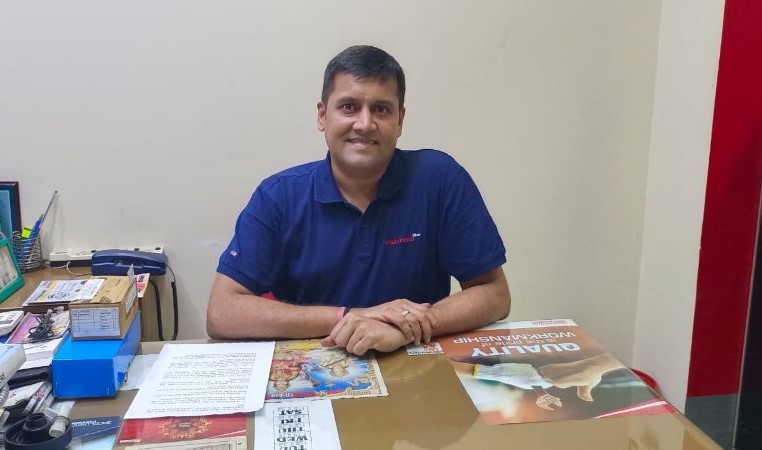 ML Automobiles, Chennai is a name to reckon with in the aftermarket industry. After making a niche for itself as a distributor of M&M genuine spares and selling parts for models of Willy Jeep – 1942 model to XUV 700 2023, the company has taken a firm grip on this sector. In an interview with M. Stephen of Aftermarket and Service, the company's Managing Director Abhishek Jain elaborates about his journey so far and the various new trends and policies that will impact the sector
We would like to start with a background about your company such as when and who started it and the journey so far. 
To start with, my company M L Automobiles boasts of a seven decades' old history started by my grandfather Shri Madanlalji Tholia in 1952.  Later my father, Kamal Kumar Jain, took over the operations in 1974 and spearheaded the company to new heights by creating an awareness and availability for Mahindra's spares in Tamil Nadu. Now I am heading the operations of M L Automobiles. I joined this company in the year 1997, under the training and guidance of my father for several years. I have been able to gather and gain the confidence to face this competent and challenging retail market. Ever since my father took over the operations of M L Automobiles in 1974 we had migrated from a wholesale dealer to a totally retail outlet focussing on end customers, travel operators, fleet owners and state and central government suppliers.
In the history of your company, what were the important milestones or turning points which really defined the growth and future?
We have gained the confidence of the customers and we offer all varieties of spare parts in a wide range of Mahindra' vehicles. This has always been our secret of growth till date. Even today we sell parts for models of Willy Jeep – 1942 model to the XUV700 -2023 model. We at M L Automobiles never say no to any of our customers for any part of Mahindra vehicle and we go to any extent to procure and supply the same from anywhere in the country. We have won several awards and recognitions from Mahindra in the yearly conferences held by the the company several times. We have always been customer-centric, which has been the largest factor for making us the most popular brand in Tamil Nadu for Mahindra Genuine Spares. Word by mouth publicity done by our customers for the availability of spares and services rendered by us has defined our growth. The main reason behind any retail to succeed is to deliver anything and everything at the time the customer wants.
Currently which are the key brands and the product range handled by your company?
We mainly focus on Mahindra Genuine Spares. We maintain a product range of almost 14,000 stock keeping units (SKU) of Mahindra and I think this is the largest in the state. We are spread across 20,000 square feet in Chennai. We have 90% of spares available with us at any time for almost 40+ models and 400+ variants. This range of spare parts with extensive parts knowledge and availability of spares has always been a key reason for our success. Apart from Mahindra, we also deal with other major OEM suppliers like Rane, Brakes India, LUK, MSL, Sona, Talbros, TEL, VIR, Bosch, Minda, Lumax, EVL, Monroe, Gabriel and IPL. This helps us to cater to anything and everything the customer wants in Mahindra. We know what we sell. Whether it is the service that we render to our customers or the spare parts we sell, we are confident that the customer will never get a wrong product.
Which are the markets or regions covered by you for the principals you represent? 
We are distributors for Mahindra Genuine Spares for Chennai, Kanchipuram, Vellore and Tiruvanamalai. Our head office is situated in Chennai and we have two branches, one in Kanchipuram and the other in Vellore. As we have a wide range of spares always available with us and the confidence and expertise in delivering the right spares sharply within 24 hours in any place in Tamil Nadu, this has helped us to get orders from all the 38 districts of Tamil Nadu. The customer has the confidence that if he is unable to get the parts anywhere else, he can surely get it from us. We cater to several companies' airline operators, fleet owners, mining companies, and ports and multi-brand workshops from Kerala, Karnataka, Andhra Pradesh and Telangana.
Do you supply orders outside Tamil Nadu?
Yes, we do. If there is a vehicle breakdown anywhere and we get an enquiry we try our level best to see to it that the part is despatched immediately. I am currently supplying to many e-commerce companies who are buying parts from me and various distributors from several parts of the country and also supplying to various parts of the country to either end users, workshops and at times to even retailers. There are no restrictions for them. It is the same concept we apply when there is a vehicle breakdown. There is no harm in supplying spare parts, which I can't say no to. There might be company restrictions, but they understand, until and unless you do not disturb the other distributors. We at times supply spares to retailers of other states which might not be available at that point of time with their local distributors. So, this is how it works.
Over the years with the entry of many Indian and global brands, how has the aftermarket business transformed?
Earlier there were no brands in India. There were very limited brands, limited products, and limited lines and so we had good options. We had the focus. Today all the manufacturers are marketing many products in their brand name. For example, if you take bearing manufacturers, they are now marketing oil sales, brake pads and lubricants. Electrical parts manufacturers are into marketing brake pads, brake shoes and cables, etc. So, whoever it might be, whether it is buyer, distributor, retailer or multi-brand garages or end user, they have a lot of options for every product in the market for engine, clutch, suspension, steering, electricals and gearbox. Therefore, it has become challenging to focus on one particular brand or on particular products, and at one point it is misleading also.
The automobile market is getting challenging, competitive and complicated with so many models, brands, variants, and products. Every car manufacturer is launching new models, updating old models, and adding facelifts. It is getting difficult day by day to manage inventory. Until 2019-2020 for BS II, BS III and BS IV range of vehicles we could sell parts apart from OEMs and other brand as per customer requirements and also about 50% of the parts used to be common, but now with the launch of BS VI after 2020 the inventory has gone up as the percentage of common or interchangeable parts has reduced and the parts range has increased. In the BS VI range, till now we are more dependent only on OEMs. With the variety of models growing, the old models are vanishing and new models are coming up and we need to really focus and have control on inventory.
The market is now slowly moving towards electric vehicles. But it is going to be difficult in future because from petrol to diesel BS II, BS III, BS IV, BS VI and now electrical, the contribution is increasing. In June-July 2022 it was 6-7% but now in March 2023 the percentage has grown to 14-15% and in the coming months it can go to 25%. And now the next big thing coming next month is the scrapping of government vehicles that are 15 years old and later private vehicles also. So, the older the vehicle more will be the requirement of parts, and we will get more business. But now if they scrap the old vehicles, we may not get that business and once EV conversion takes place, the requirement level for spares will go down. Thus, to compare, in IC engine and petrol engines there are almost 14,000 parts but now after the entry of EV there will only be 700-800 parts. So, there will be change, but let us see how we transform ourselves.
Given the major transformation from petrol and diesel engines to EVs, how do you see this change in technology? How will this impact the aftermarket business and how are you preparing your business for this change?       
As it is, our aftermarket business is hampered after the launch of BS VI. Not every mechanic has got the tool to do the high-end scanning, flashing or error checking. Either you must have a high-end workshop where you have all the scanning machines and tools, else you have to go to the company. So, what has happened now is that 30% of the customers are going back to the company. Whether the company has got parts or people or not, vehicles have started going to them and so that parts' requirement doesn't come to us.
And slowly this scenario is deteriorating. The variants have increased and so inventory has increased. With new models coming up we need to update our stocks. We are now monitoring our movement of stocks every quarter and focussing on parts which are not moving. Earlier we used to stock parts both in quantity and variety but post the pandemic we have started to control our inventory by reducing the quantity and increasing the variety and ordering every day.
Do e-commerce platforms like Amazon or Flipkart impact your business? Are you offering your products on online sites through which customers can place orders? How are you using technology for the future of your business?        
Of course Amazon, Flipkart are among many others that impact our business. There are much bigger players also. There are Spares Hub, Boodmoo, Motorparts, etc. There are 3-4 players who are really doing very good and we of course work with them. The only drawback is they make it too open for the customer, whether they have the parts or not. Their delivery time is very bad and it hampers the business outlook in general. They just quote the part on the basis of old prices and a customer comes and argues with us pointing out that the online prices are low. We have to then explain that the prices have revised and also e-commerce sites work on 0% inventory module so that they don't have to incur much cost on managing inventory nor do they have loss on inventory for holding old stocks.
In technology, digital marketing is the biggest platform. We have Whatsapp groups for our customers, advertisements and new product launches, all communicated through Whatsapp. We give regular training to our mechanics under the Mahindra mechanic training programmes where our mechanics go and learn, attend product launches, understand new products and new prices and learn about the benefits of Mahindra Genuine Oil. We have got almost 3,500+ multi-brand workshops and mechanics in our directory. There may be customers buying right from Rs 1,000 up to lakhs per month.
What are your future growth plans for the business and what are your expectations on the future transformation of the aftermarket business in India?    
I am into retailing, a distributor retailing through B2B, B2C, B2G, etc. Today, what we have realised is the customer doesn't want to travel from far off places to G P Road to buy spares. So, he prefers buying whatever is available in the surrounding area irrespective of the brand. We are therefore targeting prime areas, high potential and low market (HPLMS) share areas in our territory and have decided to open dedicated Mahindra stores (Mahindra Mshoppe) where genuine spares can reach all. I started a store in Kanchipuram in December 2019 and a second store in March 2020 in Vellore. Another is in the pipeline in Poonamallee. We could not expand further due to the pandemic. So, now we are focusing on opening stores in districts to cater to mechanics and workshops in a surrounding radius of 15 km.
Poonamallee is my target opening. Thus, the areas highlighted by me are Kanchipuram, Vellore, Tiruvannamalai, Tiruvallur, Poonamallee and Red Hills. There are 1,200 mechanics in the 8-10 km area surrounding Poonamallee from Avadi, Tiruninravur, Tiruvallur, Porur, Kundrathur, Kovur, 100 Feet Road, Poonamallee, Maduravoyal, Ayapakkam, Alapakkam, etc. In that belt we have got the names of about 1,000 mechanics who can buy there. Their present complaint is that they are unable to get Mahindra original spare parts in their vicinity. They are either forced to come to G P Road or buy products of other brands. We have done a project report to understand the impact of opening a Poonamallee branch in April 2023 on Tamil New Year's day.