Maruti Suzuki India Limited (MSIL), announces the launch of its upgraded Light Commercial Vehicle – Super Carry. Built for those who value superior quality and performance, the Super Carry is now powered by Maruti Suzuki's 1.2L Advanced K-Series Dual Jet, Dual VVT engine.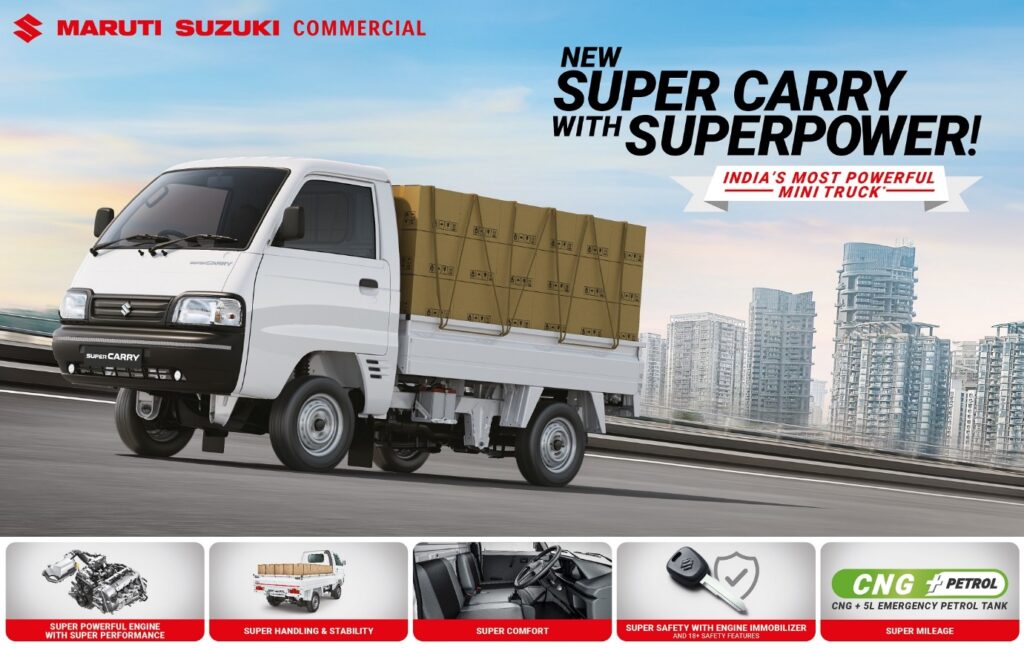 Maruti Suzuki's Super Carry mini-truck is powered by a 4-cylinder engine that now delivers improved performance with Max Power of 59.4kW (80.7PS) @ 6000rpm and 104.4Nm of Max Torque @ 2900rpm in the petrol model. The new engine is mated to an upgraded five-speed manual transmission that offers improved gradeability which enables customers to drive up steeper gradients than earlier.
Speaking about the new Super Carry launch, Mr. Shashank Srivastava, Senior Executive Officer, Marketing & Sales, Maruti Suzuki India Limited, said, "Maruti Suzuki has always believed in offering products that exceed customer expectations. The Super Carry, built for the unique requirements of the Indian mini-truck customer, has been accepted well in the commercial vehicle segment with more than 1.5 lakh units sold since its launch in 2016. The new Super Carry will continue to offer an excellent value proposition to customers. We are confident that it will prove to be an ideal companion for our commercial customers and partner in their success."
With the launch of the New Super Carry, Maruti Suzuki has also introduced a new CNG Cab Chassis variant. The mini-truck is also available in CNG Deck, Gasoline Deck and Gasoline Cab Chassis variants.
The New Super Carry is a dependable mini-truck equipped with a range of safety features such as front disc brakes, reverse parking sensors and seat belt reminders, along with a new engine immobiliser system. Aiding driving comfort is a larger steering wheel with lighter operation, to enable better manoeuvrability. Car-like smooth gear shifts and improved ride comfort further enhance its appeal.
The new Super Carry continues to offer spacious interiors with a flat seat design for overall comfort during driving and intermittent breaks. Further, the Super Carry S-CNG variant maintains its unique proposition of having a 5L emergency petrol tank, offering peace of mind to customers.
The versatile mini-truck, "Super Carry" is sold exclusively through Maruti Suzuki's 370+ commercial outlets spread across 270+ cities. It redefines utility and is a practical offering used across multiple applications including e-commerce, courier, FMCG and goods distribution amongst others.