Hendrickson, a leading global manufacturer and supplier of medium and heavy-duty mechanical, elastomeric and air suspensions, integrated and non-integrated axles, and other commercial vehicle systems, has launched its innovative air and mechanical suspensions and axles for trailer applications in India. With a rich legacy of 110 years in driving technology, design, and innovation, Hendrickson continues to set new benchmarks in providing customized components and suspension systems for the global commercial transportation industry.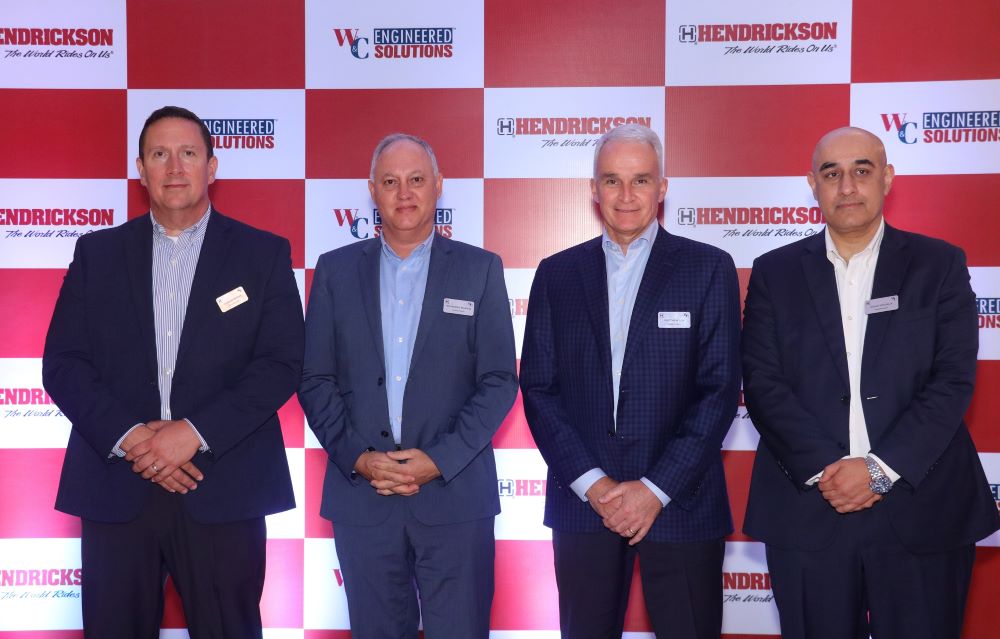 Hendrickson (a Boler Company) forayed into India in 2006 through a Joint Venture with Tata AutoComp Systems and in 2011, incorporated a 100% subsidiary named Watson & Chalin India Pvt Ltd to expand its manufacturing footprint for truck and trailer products and serve as a manufacturing base to support global customers in Europe, Middle East and Asia.
Hendrickson presently has sales and distribution facilities and/or state-of-the-art manufacturing and research and development centers in the United States, Canada, Mexico, Colombia, United Kingdom, Germany, Austria, Romania, France, Poland, Turkey, India, China, Japan, Thailand, Australia and New Zealand. With its manufacturing facilities for truck and trailer axles and suspensions, Hendrickson is committed to delivering cutting-edge products tailored to the local geography and terrain in India.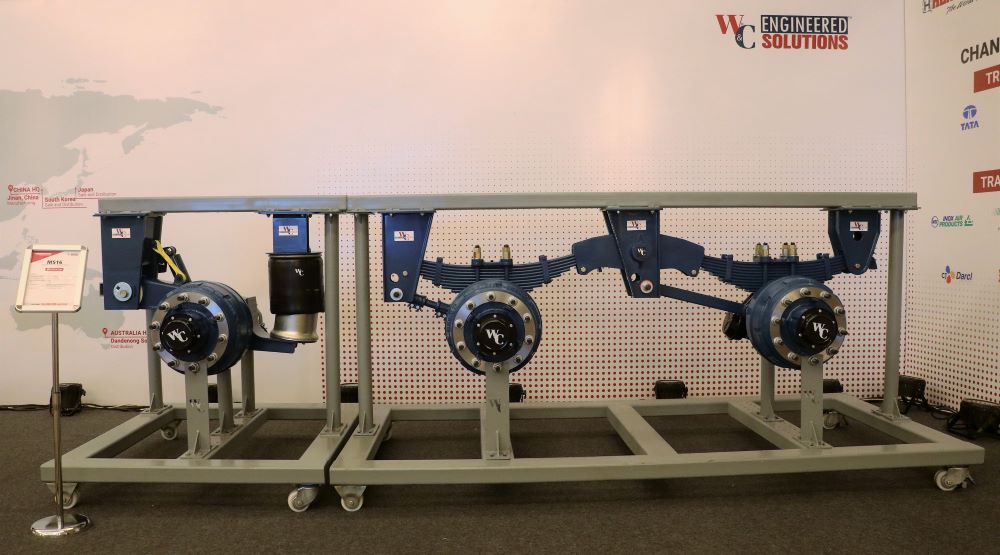 Expressing his delight about the launch of these innovative products in India, Matthew Joy, President, and Chief Executive Officer of Hendrickson, states, "Today, we are excited to introduce these innovative Ride Solutions for trailer applications in India, with the goal of serving and supporting the industry's evolving needs. Every day, millions of Hendrickson suspension systems and components worldwide carry loads of freight and raw materials, showcasing our commitment to providing durable, lightweight, and high-performing suspension systems and components. Our global presence and dedication to delivering products and services that benefit manufacturers, fleets and owner-operators worldwide are key factors in our success. Our tagline, 'The World Rides on Us' encapsulates our brand's spirit and reflects our 110- years of innovation" added Joy.
Richardo Martin, Vice President of International Operations, adds, "Over the years, we have become a force to reckon with in the industry. Our entrepreneurial attitude fosters a culture of innovation, encouraging all our associates to discover, invent, and modernize. This philosophy enables us to create state-of-the-art products and establish ourselves as an industry leader. We work closely with fleets and truck and trailer manufacturers worldwide, collaborating on new product development. In addition to our innovative products, we provide extensive technical support and training services to ensure the proper installation, operation, service, and maintenance of Hendrickson equipment and aftermarket components. Our 'Innovation Built In' philosophy extends throughout our global network of operations and employees. We are committed to serving the transportation industry with cost-effective ride solutions that enhance productivity and profitability".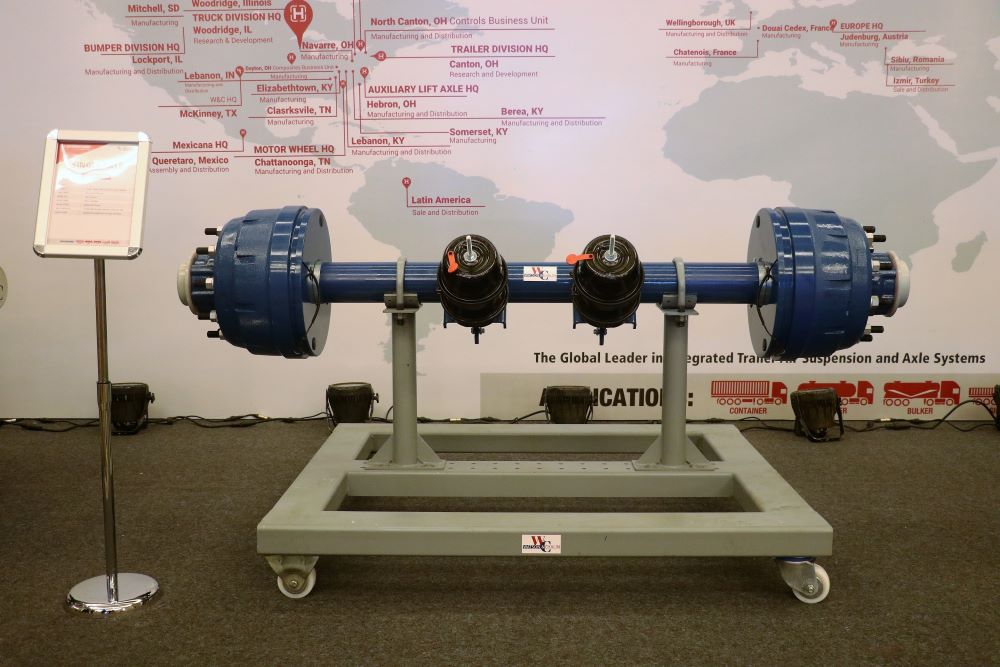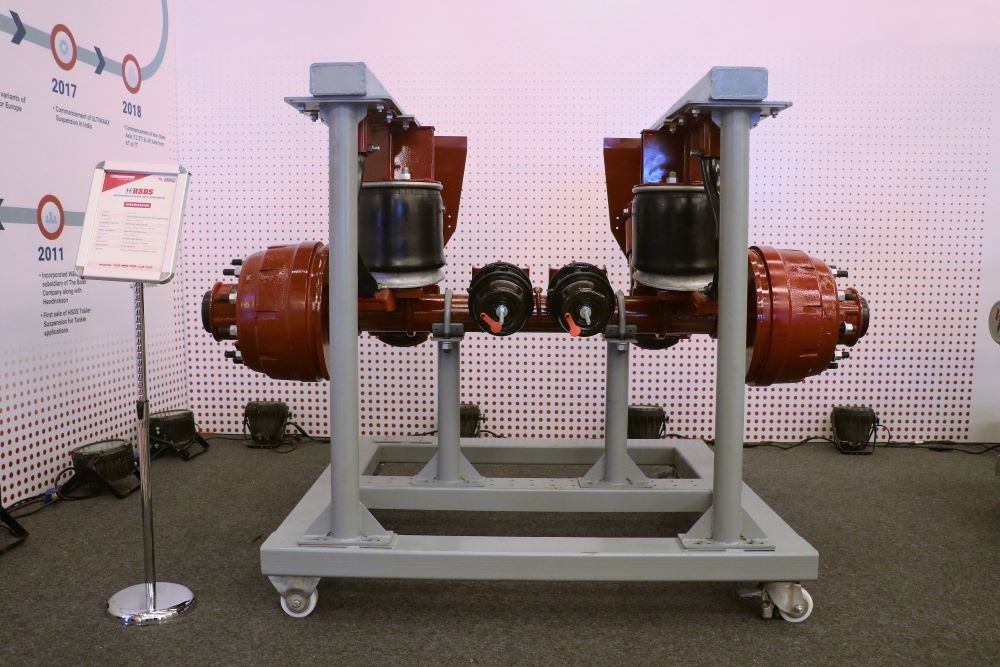 Hendrickson India's commitment to innovation and advanced technology is evident in the unique features and patented technologies incorporated into their products for Trucks and Trailers. As Mohit Khosla, Whole-time Director & Chief Executive Officer for India & Middle East, states, "We are happy to introduce these cutting-edge products in the Indian market. In India, we are committed to continual improvement, ensuring customer trust and safety. We have gained the trust of OEMs, fleets, and owner-operators, thanks to our advanced innovative patented technologies. We are rapidly transitioning into India's leading axle and suspension system manufacturing company for truck and trailer applications. With the introduction of our new Air and Mechanical Suspensions, we reaffirm our dedication to delivering rugged, high-performance and cost-effective solutions. These products offer outstanding ride quality and control for various types of trailers on Indian roads, including flat beds, containers, tankers, bulkers, sidewall trailers, and tip trailers. These suspensions will be manufactured locally as part of the Make in India initiative of the Government of India and will be the lightest systems in the market offering un-matched payload and operating efficiency advantages to their customers. Especially designed and applicated for the Indian terrain, these suspensions exemplify our unwavering commitment to excellence and our mission to drive technology, design, and innovation in the commercial transportation industry.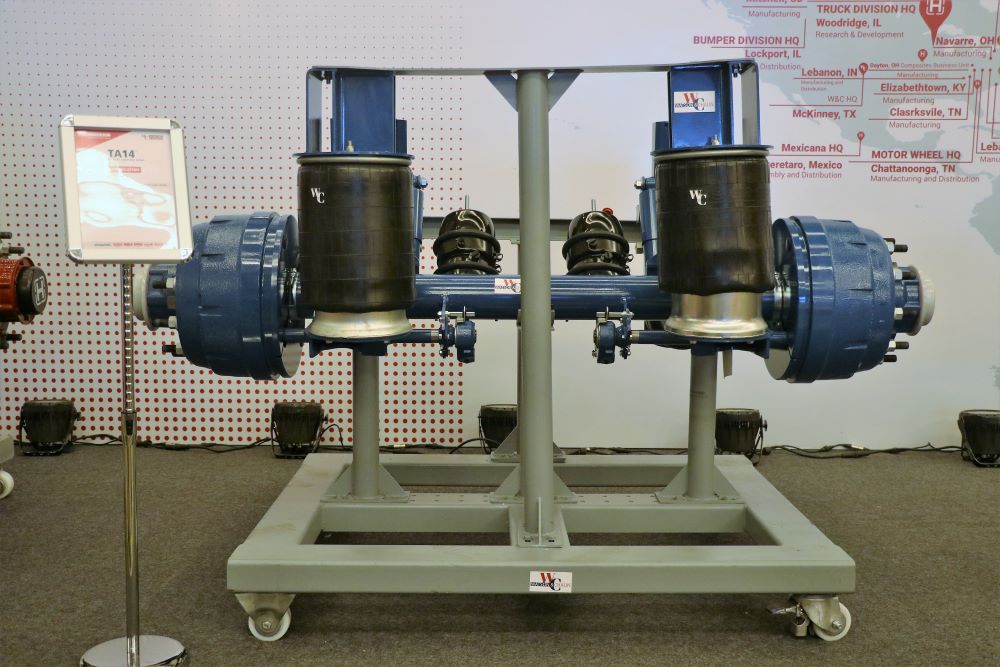 The Indian market currently witnesses an annual demand of about 40,000 trailers, with mechanical suspensions accounting for about 70% of the market share. The migration to air suspensions has commenced and will gain momentum as the road infrastructure continues to grow and customer expectations demand the adoption of new technologies.
To cater to this growing market, Hendrickson in India is introducing a dual brand strategy of bringing premium products under the Hendrickson brand and cost-effective, locally manufactured products under the Watson & Chalin brand. These options will offer solutions to a wide base of customers all having different business challenges that need to be addressed."
Hendrickson Severe Duty Suspension (HSDS®)
Since its introduction in 2011 on Indian roads, the HSDS® system has been a premium and trusted solution for various heavy-duty trailer applications, including flat bed, containers, tankers, bulkers, sidewalls, and tip trailers. The HSDS® system incorporates a very light-weight design, enabling highest payloads and offers maximum reliability and durability. The HSDS system comes in capacities varying from 12T to 14T for the Indian market.
The HSDS system uses a Tyre Inflation and Deflation System (Tiremaax Pro), which increases tyre life by maintaining optimal tyre pressure without human interface. This feature significantly reduces operational costs and increases productivity.
With long recommended service intervals, the HSDS® system minimizes vehicle downtime. The HSDS® system incorporates premium shock absorbers and large diameter air springs, providing superior suspension performance, stability, and load-carrying capability. These components contribute to a comfortable and controlled ride.
The HSDS system uses patented Tri-FUNCTIONAL bushings, which play a vital role in providing ride stability and ride quality. By enhancing durability and minimizing wear, these bushings contribute to the bottom line of customers by reducing maintenance cost.
TA 14 – Heavy Duty Air Suspension
The TA 14 Heavy Duty Air suspension is designed for Indian applications keeping in mind the Indian road conditions and the changing face of infrastructure in India. This suspension comes in Top and Low Mount variants offering numerous options to the customers based on their application requirements. This suspension is the lightest suspension system amongst its peers in the market and offers higher payload capability.
Its technologically advanced design coupled with state-of-the-art manufacturing processes (including friction welding and robotic welding) result in a superior ride quality for drivers and minimum vibrations to cargo. The TA 14 Heavy Duty Air Suspension offers high reliability, durability contributing to reduced vehicle downtime, minimum maintenance requirements and best in class operational efficiency. This suspension system features dynamically balanced brake drums, enhancing tyre life and ensuring optimal braking performance.
This suspension has been applicated to operate in the harshest of operating conditions and is suitable for various applications including flat bed, containers, tankers, bulkers, sidewalls, and tip trailers.
Single Axle – Heavy Duty Trailer Axle
The Single Axle is a high-quality axle designed for Indian and global markets. This Single Axle can be coupled with any Air and Tandem or Tridem Mechanical Suspension system,
providing a reliable solution for various applications.
The Single Axle is manufactured using a high-strength alloy steel tube, ensuring better durability and long service life. The Single Axle uses friction welded spindles (a
manufacturing practice only adopted by Hendrickson and Watson & Chalin in India for Trailer axles) which results in lowest weight and superior product life. This Single Axle comes with
AIS 113 certified brake liners, meeting industry standards for braking performance and ensuring safer operation.
The Single Axle uses a patented dust filter technaology for extended wheel end life, and
dynamically balanced brake drums for increased tyre life. It includes an outboard drum for easier servicing and heavy-duty bearings for reliable performance in demanding conditions.
MS 16 – Heavy Duty Mechanical Suspension
The MS 16 Heavy duty Mechanical Suspension is rated at 16T capacity and is designed to meet the diverse needs for on-road and off-road applications offering exceptional load-carrying capability and performance. The MS 16 Suspension is available in tandem and tridem configurations and features a heavy-duty leaf spring assembly. Its robust construction ensures optimal performance and durability.
The MS 16 Suspension is manufactured with cost-effective, locally manufactured, high-quality components such as equalizers with thicker side plates and highly durable polyurethane bushes in the torque arm. These features contribute to low maintenance costs, reduced downtime and increased operational efficiency.