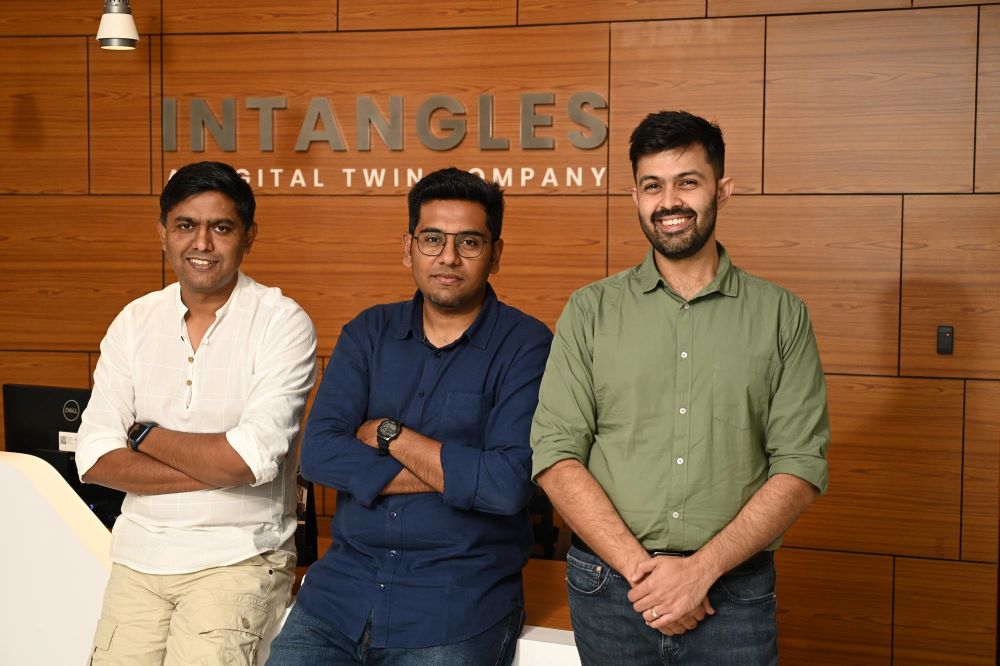 In a discussion with Intangles' leadership team, Rajesh Rajgor explores the company's pivotal role in revolutionising operational efficiency across the global mobility landscape. Propelled by predictive analytics and digital twin models, Intangles' triumph in India becomes the catalyst for global expansion, prioritising adaptability and technology-driven ingenuity.
Intangles stands at the forefront of a revolution in the mobility sector, spearheading a transformation in performance metrics. Leveraging cutting-edge digital twin models and the power of machine learning, the company delivers insights into every facet of the industry, encompassing vehicle health, driver behaviour, fuel management, and beyond. Guided by visionary founders and a dynamic team, Intangles' predictive analytics capabilities are a game-changer for fleet operators. They empower these operators with proactive maintenance strategies that enhance operational efficiency. In an era where the demand for predictive analytics is surging not only in India but also on the global stage, Intangles emerges as a formidable competitive advantage. Its real-time analytics and predictive insights constitute an array of proprietary machine learning models backed by a combustive recommendation engine that increases operational efficiency for fleet owners by enabling proactive preventive measures. The Intangles connected ecosystem provides vehicle performance data, offering unparalleled visibility and a boost to financial performance.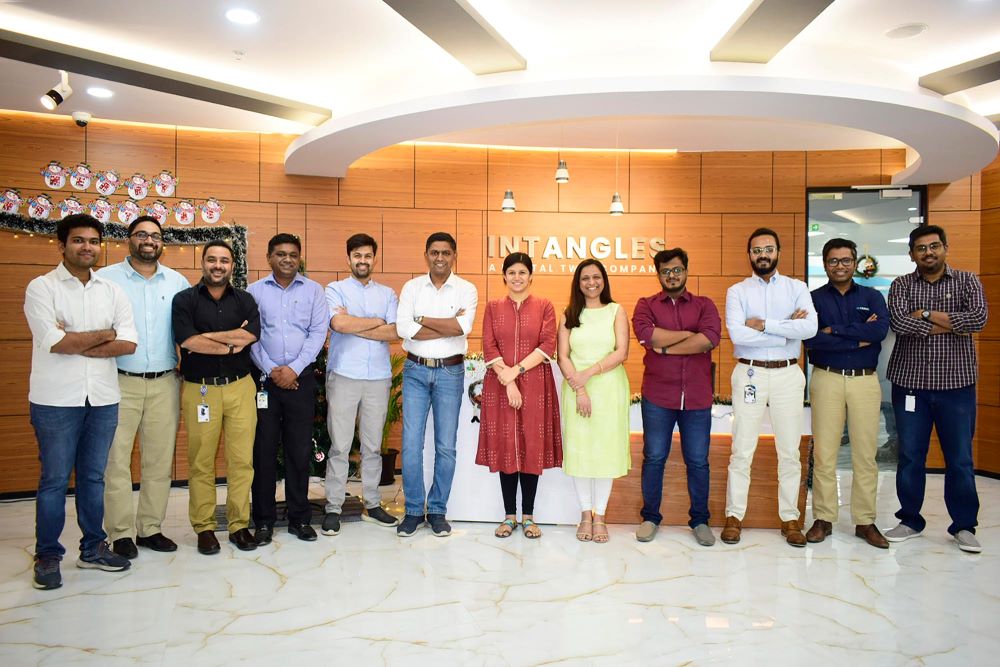 Harnessing Indian Market Insights for Global Impact
Anup Patil, CEO and Co-founder of Intangles, emphasises the pivotal role that the Indian market has played in shaping and refining their solutions. He highlights how the intricacies and challenges of the Indian logistics industry have honed their capabilities to address a wide range of inefficiencies. He elaborates, "The Indian market has been our training ground, providing us with invaluable insights that transcend borders and apply universally. The profound understanding we have gained from navigating the Indian landscape serves as a solid foundation for tackling challenges on a global scale."
The transformative impact of Intangles' proactive approach within India's telematics sector cannot be overstated. As Anup elaborates, "We undertook the vital task of educating the market on the immense value of reliable and accurate data. We ushered in a change in the overall operational efficiency of fleets and fortified it with a robust system. Prior to our entry, telematics solutions were primarily adopted as a response to regulatory obligations or mandates rather than as a direct response to the pressing KPI issues that businesses faced. Leveraging the power of predictive AI, we ensured that fleet operators could proactively address maintenance needs, thereby saving them from losses incurred due to breakdowns and pilferage. We built an ecosystem that promoted efficient driving practices and dispelled myths that had previously clouded the market, both for fleet operators and drivers."
He believes that their proactive stance is compelling fleet operators to challenge the status quo, heralding a new wave of innovation. He states, "Our focus on data interpretation and reliability challenged established players, igniting innovation. As analogous cycles unfold in other markets, a transition towards demand-driven innovation is becoming a reality."
Neil Unadkat, CTO and Co-founder, mentioned an interesting observation of India's advanced integration of telematics data and its seamless applicability on the global stage. He points out, "In several regions, we encountered a disparity where the technological capabilities for processing data were not as advanced as expected. The deep-seated experience and insights that we have gained through our collaborations with Indian fleet operators have equipped us with the ability to craft valuable use cases overseas. This scenario exemplifies the essence of 'Make in India, Make for the World,' transcending geographical boundaries."
Unveiling the Power of Predictive Maintenance
Anup sheds light on the core of Intangles' value proposition – vehicle health and predictive maintenance. He underlines the pivotal role of remote diagnostics as the initial point of engagement in their discussions with fleet operators. However, as these operators engage with Intangles' solutions, they come to realise the comprehensive nature of the offerings that extend beyond vehicle health. He emphasises, "The journey often begins with predictive maintenance, but it evolves into embracing the entirety of our solution set. This transformation is propelled by the substantial value we bring to the table."
Delving further into their unique subscription model that sets Intangles apart – one that offers a bundled package rather than isolated modules – Neil offers insights into their customer engagement strategy. He articulates, "What truly distinguishes us is our unwavering commitment to delivering genuine substance and real value. We do not offer just empty promises; instead, we show tangible benefits through the power of predictive analytics and an array of other features. The pivotal shift from initial scepticism to unwavering trust often hinges on the customer's realisation that Intangles' solutions consistently deliver practical, value-driven results."
Coming to the USA, Alan McMillan, President – Intangles North America, provides insights into the changing landscape of customer perceptions, particularly within the North American market. He illustrates this transformation with a story where a North American customer's initial dismissal of a feature evolved into sheer fascination when they realised its impact on fuel efficiency. His anecdote about a driver choosing to sleep in the vehicle's cabin instead of opting for a motel stay at a parking lot perfectly exemplifies how Intangles' solutions not only challenge preconceived notions but also creatively address region-specific challenges.
He shares, "Interestingly, this customer's initial response was one of indifference towards tracking idling, as they believed their drivers slept in the truck anyway. However, we stumbled upon a unique case where one of their trucks idled for a staggering twelve and a half hours in a motel parking lot. When we presented the customer with this insight, they were astonished to discover that this idling episode had consumed approximately 60 litres of fuel. We provided them with a simple fact: the cost of an overnight stay at the motel would have been CA$30 less than the cost of the fuel consumed during that idling period. This eye-opening revelation instantly captured their attention."
Adaptive Global Penetration: Algorithms for Every Terrain
Aman Singh, Head of Analytics and Co-founder, underlines their distinctive approach that leverages readily accessible data through meticulous collection and crafting tailored analytics strategies. This approach consistently yields insights into vehicle performance and durability. He elaborates, "Our approach revolves around the development of comprehensive machine learning models that take into account a multitude of factors such as usage patterns, market segments, environmental conditions, and power demands. These elements converge to produce algorithmic insights that are finely tuned to the unique needs of our customers. This commitment to precision and customisation extends seamlessly into our global expansion initiatives, where we adapt our platform to accommodate local languages and formats, ensuring alignment with the preferences of end-users."
He further emphasises that venturing beyond the Indian market, particularly in long-haul commercial vehicle markets like North America, necessitates a keen ability to adapt to varying power unit specifications and configurations. He reveals, "Vehicles in these regions often require higher horsepower due to the need for greater speeds, even when under similar loads. In response, we actively modify our algorithms to accommodate these variations, demonstrating a remarkable degree of precision and adaptability. Our strategic collaborations with partner fleets play a pivotal role in capturing the diverse vehicle landscape and continuously refining our algorithms. Our technology design, characterised by its inherent flexibility, allows us to swiftly make adjustments to cater to the specific needs of each market, ensuring that we remain at the forefront of innovation and efficiency."
Platform Localisation and Resource Allocation
Neil highlights their ongoing efforts to make their platform configuration-driven, simplifying the deployment process. He elaborates, "Our platform modifications for seamless localisation take into account variations in units such as miles and kilometres, gallons and litres, and even measurements like Gasoline Gallon Equivalent (GGE) for natural gas equivalence. Aligning local translations and terminologies with our existing platform means that operational readiness can be achieved in a month or less. This streamlined approach serves as a crucial facet of our overarching global strategy."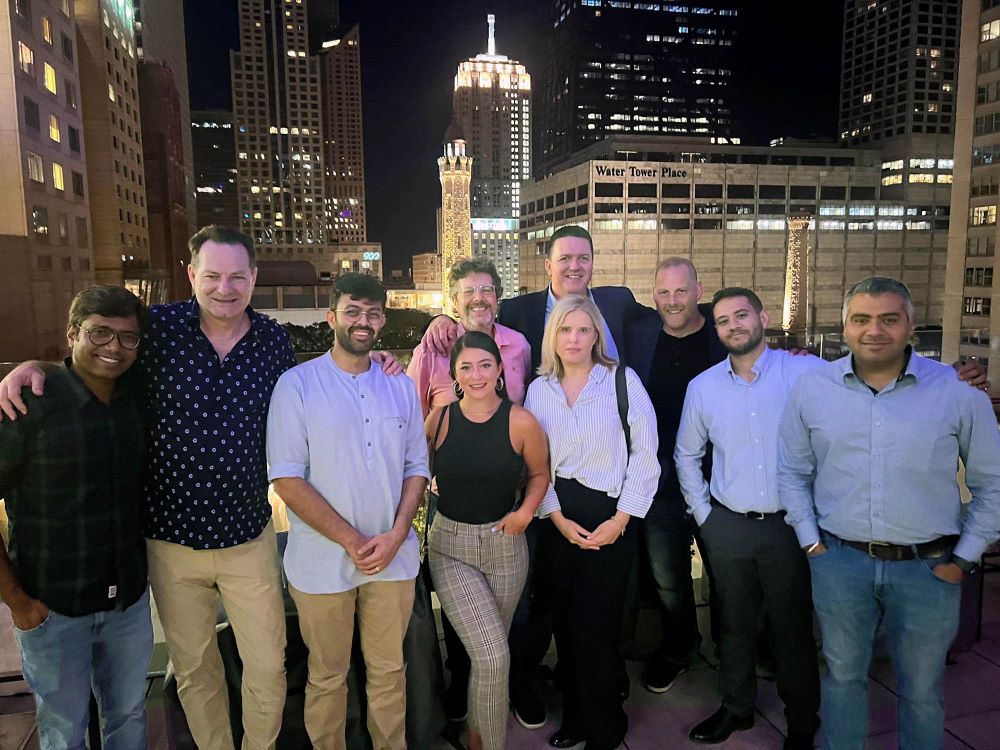 Anup talks about their approach to managing the diverse aspects of different markets, stating, "Our approach begins with a careful assessment of new markets, ensuring that our resource allocation is efficient and prioritises return on investment. Addressing regional preferences is paramount, and we have teams for after-sales services tailored to specific regions. Our pricing strategy is designed for self-sustainability, allowing us to establish a strong market presence before considering further expansion. The presence of market-specific hubs and teams ensures not only efficient operations but also top-notch customer support."
Fostering Customer Trust Through Validation
Jayshri Patil, Head of Embedded Systems and Co-founder, sheds light on the robustness of their hardware architecture, with a particular focus on its ability to effectively handle network losses. She emphasises the importance of end-to-end integration in ensuring the seamless functionality of their solutions. She adds, "Our algorithms are meticulously crafted with a deep understanding of how data behaves at a network level. This understanding is integral to the functionality and accuracy they provide."
Anup highlights Intangles' precision-driven approach, where they prioritise evidence-based results shared with customers during trials. He shares a recent pilot example that illustrated the precision and effectiveness of their solution in preventing breakdowns. He elaborates, "We do not merely present numbers; instead, we provide a level of feature-wise precision that is supported by tangible data. This approach actively involves customers in the validation process, enhances transparency and fosters a foundation of trust."
Diverse Market Adoption and Alternate Fuel Strategy
Aman acknowledges the growing trend of adopting alternative fuels across diverse regions, highlighting the significant use of CNG and LNG in particular. He elaborates, "Surprisingly, even in markets as diverse as North America and the Middle East, we are witnessing substantial uptake. The complexities involved in the adoption of natural gas as a fuel source are multifaceted and require careful consideration."
In discussing the efforts behind customising their platform to cater to the unique characteristics of LNG, he further explains, "In the LNG sector, very few truly comprehend the challenges associated with accurately measuring fuel efficiency. LNG's cryogenic nature can lead to vapour release, resulting in fuel loss, which can be difficult to quantify. However, after rigorous trials and meticulous refinement, we have achieved an astounding 96% accuracy rate in tracking LNG engine efficiency, including accounting for vapour release."
Beyond Borders: Meeting Regional Demands Head-On
Aniket Didolkar, COO, highlights their strategic approach to expansion, with a focus on the promising Southeast Asian market, including countries like Singapore, Malaysia, Thailand, Vietnam, and the Philippines. He points to their successful partnerships with companies like redBus and Chalo Bus in India, which have paved the way for their entry into Southeast Asia. He emphasises a fundamental shift in their business model, transitioning to becoming a revenue channel for partners in the Philippines.
Furthermore, he elaborates on their expansion plans beyond the bus market, with a keen eye on the trucking and goods transportation sectors. He also acknowledges the unique challenges of cross-border transport in the region, where vehicle breakdowns can result in significant downtime and costs.
Manish Kumar, Head of Business Development (MENAT), discusses the global increase in fuel costs and the growing emphasis on energy efficiency and environmental responsibility. In the Middle East, where organisations are collaborating to meet global emission directives, Intangles plays a crucial role in assisting companies in complying with these stringent emissions mandates while also accurately tracking fuel efficiency metrics. Given the transit-intensive nature of these markets, the significance of minimising vehicle downtime cannot be overstated, serving as a primary driver behind the surging demand for their services.
He highlights the relative ease of technological adaptability in this landscape, thanks to vehicle platforms sourced from either Europe or India. Intangles has strategically positioned local teams in place to provide best-in-class customer support, ensuring seamless integration and support for their solutions.
Charting Growth Horizons: Strategy and Targets for Expansion
Anup shares Intangles' strategic approach to market coverage, which currently focuses on three primary regions: the Americas, including Canada, the United States, and Argentina; the Middle East, encompassing Turkey, Saudi Arabia, and the UAE; and Southeast Asia, which includes Malaysia, Thailand, the Philippines, and India. He reveals their plan to stabilise these markets by the end of Q3 and transition into an observation phase. By the end of the fourth quarter, their strategy involves entering the European market directly.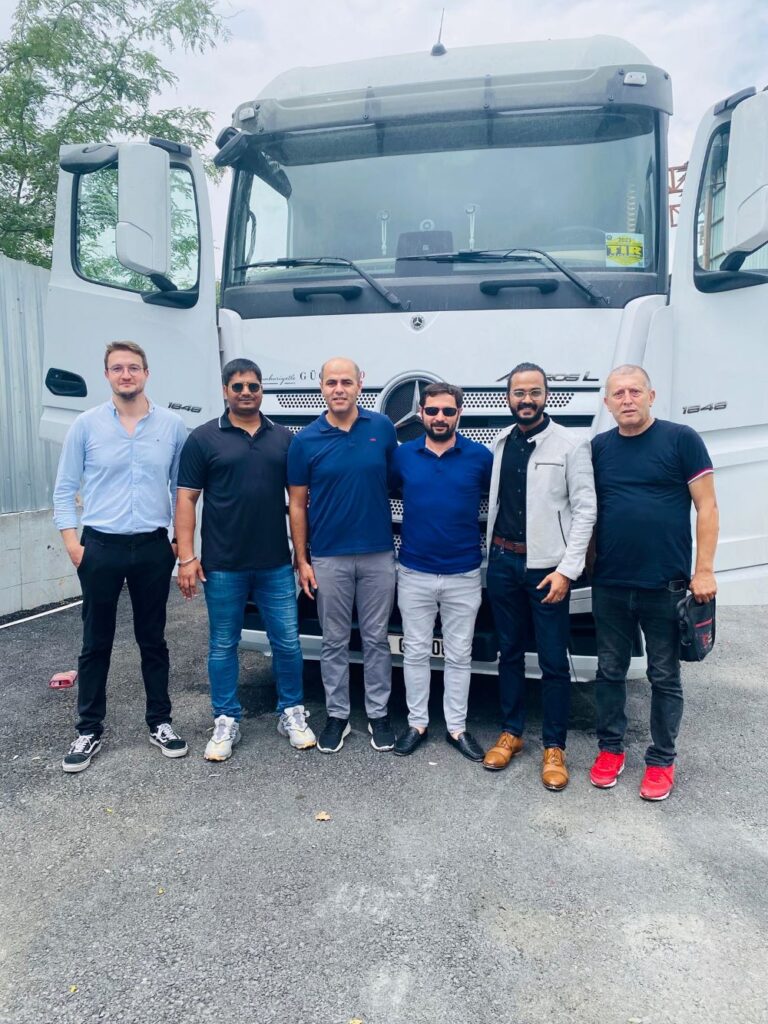 While Europe represents a formidable market, Anup also acknowledges the potential in regions like Australia and New Zealand. He emphasises their commitment to favouring partnerships with local entities over direct operations, aligning with their successful strategy in other markets. The expansion into Europe, where their solutions align well with regional challenges, is expected to unlock common opportunities across the continent, further fuelling their growth trajectory.
Their foray into the agricultural sector, with a focus on tractors and complex machinery like combine harvesters, illustrates their vision for growth and diversification. Alan elaborates on this strategic move, noting, "We are currently observing a significant surge in demand for engine diagnostics and uptime solutions. This demand is particularly pronounced in the United States, where the agricultural sector's intensity closely mirrors that of India. The increasing demand for our solutions in these markets underscores the tremendous potential within the agricultural sector."
Anup unveils Intangles' strategic roadmap for unprecedented growth, emphasising a resolute commitment to a 'two-fold increase in performance' while acknowledging the support of visionary investors who have ardently supported the company's growth trajectory. He mentions, "While our potential for growth was virtually boundless, we took a deliberate path. We made the strategic choice to prepare our entire platform for the global stage, sparing no effort or resources. This audacious move even required us to forego a few opportunities within our domestic market. Our investors, with their foresight, not only provided financial support but have also played a pivotal role in shaping our future strategy. Their unwavering faith in our vision has been the cornerstone of our journey thus far, and it is their shared commitment that now propels us towards our goals."
With a strong foundation in place and a high-performing team, Intangles is poised for remarkable growth. As Anup notes, they anticipate experiencing a 'four to five-fold' increase in their growth rate from the next financial year onward. Their strategic roadmap aims to establish a presence of approximately 150,000 devices in the international market by the end of FY 25.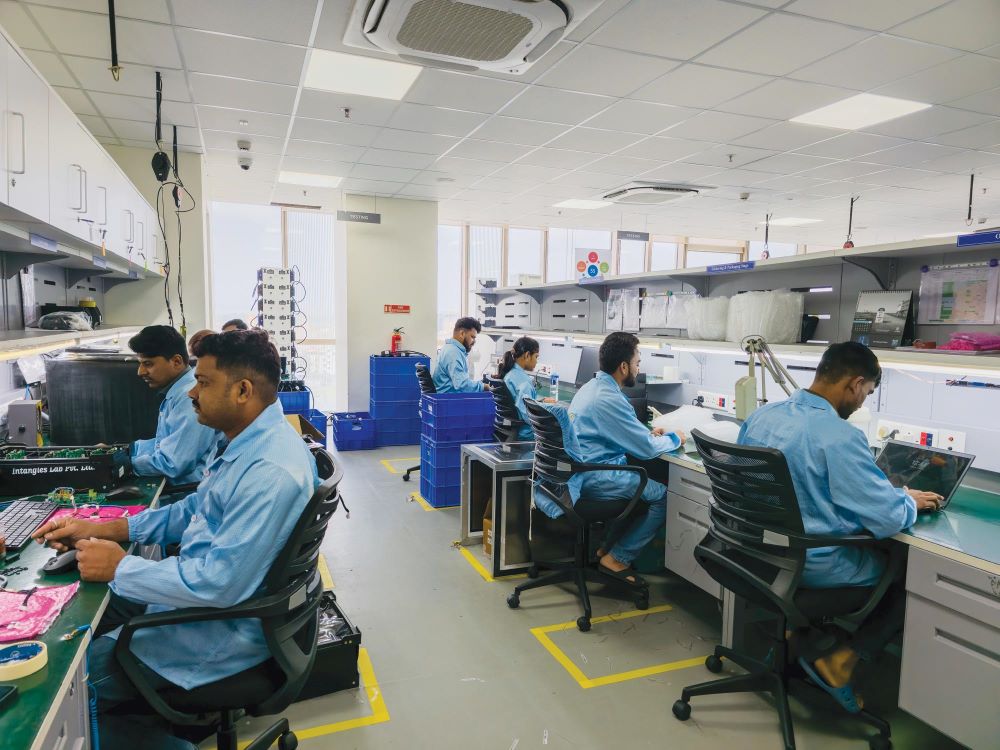 Intangles' journey is a testament to the transformative potential of data-driven solutions in optimising the performance and efficiency of diverse vehicle fleets. Their unwavering commitment to tailoring solutions for specific markets, a holistic approach, and seamless integration of technology with real-world principles underline their dedication to delivering value. As they expand their presence across the globe, Intangles carries with them the wealth of experience gained in the Indian market, which they translate into innovative solutions that resonate with challenges worldwide. Through steadfast collaboration with partners and a deep-rooted understanding of regional intricacies, Intangles stands as a driving force of innovation, poised to reshape and revolutionise the mobility ecosystem on a global scale.