Lieutenant Governor and Chief Minister inaugurate India's largest e-bus deployment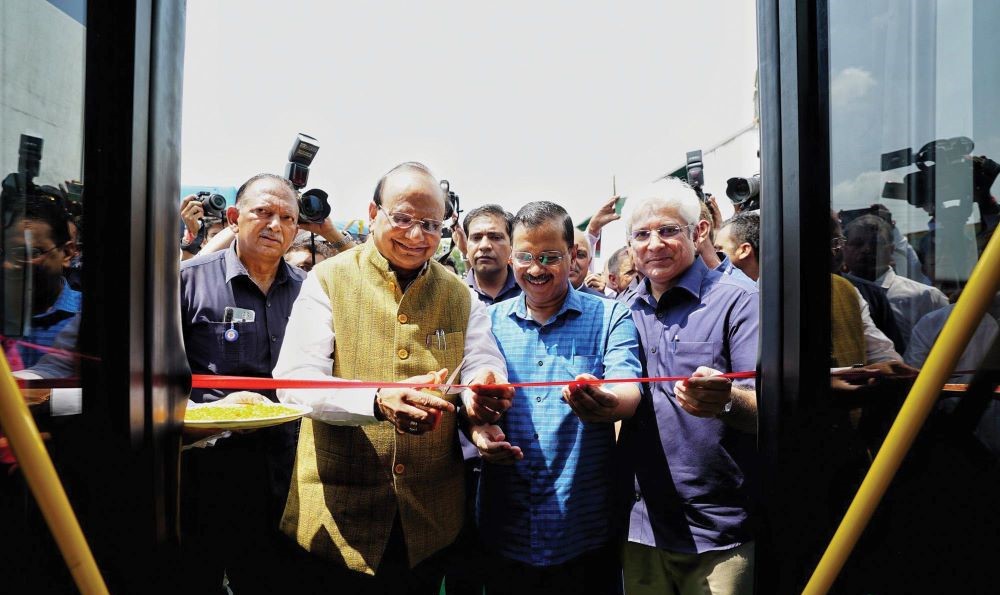 Tata Motors has supplied 400 state-of-the art Starbus EV buses to the Delhi Transport Corporation (DTC), via its subsidiary TML CV Mobility Solutions Ltd, as a part of its larger order from DTC to supply, maintain and operate 1,500 low-floor, air-conditioned electric buses for a period 12-years. In line with the Make in India and Atmanirbhar Bharat initiatives, these zero-emission buses are indigenously built on a next-gen architecture, equipped with latest features, and powered by advanced battery systems. They are designed to provide a safe, comfortable and convenient intra-city commute across the National Capital Territory of Delhi. With this deployment, Tata Motors accomplishes the significant landmark of supplying over 1,000 e-buses across the country.
The fleet of 400 e-buses was inducted and flagged off jointly by Vinai Kumar Saxena, Lieutenant Governor of Delhi and Arvind Kejriwal, Chief Minister of Delhi, on 5th September 2023. Other dignitaries present on this occasion included Kailash Gahlot, Minister of Law, Revenue, Transport, Women & Child Development, Information Technology and Administrative Reform, Government of Delhi, Naresh Kumar, Chief Secretary, Government of Delhi, Ashish Kundra, Commissioner-cum-Principal Secretary (Transport) Government of Delhi and Shilpa Shinde, Managing Director, DTC.
Welcoming the addition of this fleet of zero-emission and silent electric buses, Shilpa Shinde, Managing Director, DTC, said, "DTC is committed to providing efficient, economical and reliable road transport services to the citizens of Delhi. This addition of 400 electric buses will make mass mobility safer, smarter and greener across the National Capital Territory. In addition to providing ready access, more comfort and greater convenience to commuters, these next-gen buses will also contribute in our collective efforts to improve the city's air quality."
Commenting on the occasion, Asim Kumar Mukhopadhyay, Chairman, TML CV Mobility Solutions Limited, said, "We are delighted to partner with DTC in its visionary and progressive approach to make mass mobility green noiseless and emission-free. The induction of these 400 e-buses further deepens our decade long relationship with DTC. We have setup state-of-the-art enabling ecosystems at select depots across National Capital Territory of Delhi to charge, maintain and seamlessly operate the e-bus fleet. We look forward to strengthening our association with DTC by supplying 1100 more e-buses to DTC in a phase wise manner to fulfil the aspiration of making public transport in Delhi clean, sustainable, safe, comfortable, convenient and energy efficient."