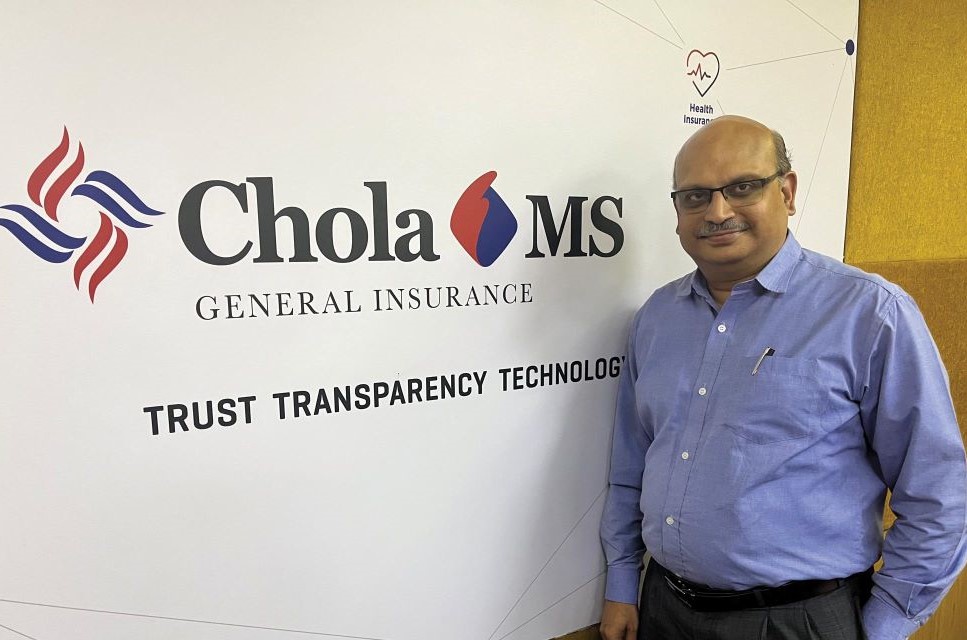 In the dynamic landscape of insurance, Chola MS General Insurance Company Limited, a joint venture between the Murugappa Group and Mitsui Sumitomo Insurance Company Limited, Japan, has grown consistently to expand its 26 states with over 600+ touch points, and a network of over 14,500 garages and 11,000 hospitals. The company's growth rate of 30.3% in Q1 FY24, nearly doubling the industry average, showcases its unwavering commitment to progress. In this interview with N. Balasubramanian and M. Stephen, the company's Managing Director V. Suryanarayanan delves into the intricacies of Chola MS' journey, its strategic foray into new markets, and the industry trends shaping its trajectory.
Can we start with an update about your performance in Q1 of this financial year?
Chola MS has performed well in Q1, achieving a growth rate of 30.3%, which is nearly double the industry's growth rate. This upward trend in growth is evident across all channel segments and line segments including Motor, Fire, Health, and Personal Accident insurance. The growth is pervasive across all segments and is above industry growth.
Moreover, we have strategically entered the crop insurance market. We have secured a cluster in Maharashtra, which is anticipated to generate additional revenue of about Rs.500 cr per annum. As this is an incremental line for us, it represents accretion for the current year and adds to our existing growth trajectory. Our challenge lies in maintaining growth rates at this clip going forward.
Are you satisfied with the Q1 performance, and the direction things are heading?
We are certainly happy with the current growth rate. However, it's important to note that prevailing market trends indicate concerns about pricing. Property pricing remains low compared to the previous year due to the shift away from IIB rates as the benchmark starting from April. Additionally, motor third party premium prices have remained almost the same for last four years with the last meaningful price revision in April 2019. Natural events in Q1, such as Cyclone Biparjoy and floods in July in northern India, has impacted the industry as such. These events have affected all companies and are not reflective of the underwriting standards. The combined ratio for the industry is under pressure and calls for pricing adjustments and belt tightening in terms of containing / reducing expenses of management. However, on a positive note, high interest rates and a throbbing equity market offers the potential for higher investment income, thereby supporting overall profitability.
What drives Chola MS' growth, particularly in the motor insurance segment?
In the motor sector, our expansion is notable in the OEM space. We are now insurance partners with nearly all OEMs, encompassing two-wheelers, cars, and commercial vehicles. In tractors, which aren't typically part of the OEM program, we hold a market share of about 20 percent in new tractor sales. Our strength lies in markets such as Andhra Pradesh, Telangana, Bihar, and Jharkhand. Our presence in public sector banks, such as PNB, translates into substantial tractor insurance in the Punjab market.
Our motor presence encompasses three segments: new vehicles up to 3 years, the 4 to 7 year domain managed by financiers, and the agency business catering to Tier 2 and Tier 3 markets from year 7 to 12 years. This comprehensive coverage extends across 11-12 states through our Chola Insurance Express outlets, with expansion into other markets such as UP, Uttarakhand, and potentially the Northeast. Our coverage spans product categories across vehicle ages, making us a versatile player in this domain.
What major market trends and shifts have you observed post-pandemic in the automotive space?
The pandemic significantly impacted global economic activity, particularly in the commercial vehicle sector. For instance, extended school closures for almost 18 months led to reduced demand for insuring school buses and staff transport. The commercial vehicle landscape experienced a shift towards the 'Hub and Spoke' model, favouring smaller vehicles like Mahindra and Ashok Leyland's Bada Dost, in response to evolving transportation needs. This shift indicates a positive industry trend.
The medium and heavy segments of the commercial vehicle sector also exhibited noticeable growth. The resurgence of intercity bus demand, exemplified by routes like Chennai-Bengaluru, following the reopening of economies, further underscores this positive trend. The overall motor space, encompassing cars and other vehicles, mirrors growth, suggesting a hopeful industry trajectory. While primary sales are currently driving growth, secondary sales are anticipated to surge during the festive season. However, the two-wheeler segment has encountered challenges, potentially linked to the FAME India II Scheme. Overall, the commercial vehicle industry demonstrates signs of recovery and expansion.
In the realm of transportation, a diverse spectrum exists, ranging from large fleet-owning transporters to individual truck owners. In light of this, what steps should the industry collectively take to elevate the overall standards? As a key participant in this ecosystem, what are Chola MS's expectations and insights?
A critical aspect involves acknowledging and addressing support segments that are pivotal to the industry's functioning. These include not only operators and drivers but also an often-overlooked role – that of the cleaner. While cleaners play an essential role in maintaining vehicle cleanliness and hygiene, they often remain on the periphery. It is imperative to integrate them into the broader framework. Every vehicle typically has one or two cleaners who are indispensable, yet their importance in the ecosystem is undervalued. By providing them with adequate protection and benefits, their well-being can be significantly improved.
Cleaners face risks akin to drivers, but their protection is inadequate. Although some workman's compensation might be available, it falls short of offering comprehensive coverage for their diverse needs. Given the prevalence of unorganized sectors within the transportation industry, the welfare of operators' and drivers' families must be addressed. Introducing products that support their children's education could profoundly impact their lives positively.
Despite endeavours to promote insurance during the initial year, a notable number of vehicles remain uninsured, particularly within specific categories like tractors. The infrequent issuance of fitness certificates leads to prolonged periods without insurance, resulting in premium leakage for the insurance sector. Tractors, for instance, tend to be insured during their first year but experience declining coverage from the second year onward due to limited usage within a specific radius. This situation presents challenges in ensuring adequate insurance coverage for these vehicles.
Given the EV boom we are seeing all around, do you anticipate the current financing model to apply effectively to electric vehicles as well?
The industry is observing trends in claim patterns for new vehicle policies. The industry will have to draw experience at scale as the claims ratio for the first year might not accurately represent the overall experience across the life cycle of the vehicle. Notably, battery-related losses have been relatively lower, suggesting a positive aspect. Concerns regarding battery-related issues or customer policies are minimal from the experience seen to date. Chola MS commands approximately 4 to 5 percent of the two-wheeler EV market share, displaying a robust presence across manufacturers and regions in the country.
How can the industry collectively uplift the standards of the entire auto industry ecosystem?
To enhance the automotive ecosystem and make insurance more affordable for the vehicle owners, several areas demand attention:
Availability of Sub Assembly Parts: Ensuring the availability of sub-assembly parts can substantially reduce repair costs and size of the insurance claims. Prioritizing their production can make repairs more feasible compared to full replacements.
Collaboration: Vehicle manufacturers, insurers, and aftermarket service providers need to collaborate to make repair options accessible and cost-effective.
Investing in Training: Training initiatives must be invested in to improve service quality and accessibility for consumers.
What are the prospects for the upcoming quarters?
The next quarters hold promise as we maintain our focus on growth. Our commitment is to grow at a rate of 1.3 to 1.5 times that of the industry. With industry likely to grow at about 15% for the year, Chola MS will be targeting to grow at about 25%.
Our last year's revenue was approximately Rs. 6,200 crores. We're making strides this year and should get closer to Rs.8,000 crores, indicating favorable momentum. Our near-term target is to achieve revenue of Rs. 10,000 crores.
Digital initiatives have yielded positive outcomes, improving self-inspections, surveys, and garage operations. We've gathered substantial data to support our digital endeavours. Expanding our digital services to two-wheelers is in the pipeline, and OEM programs are increasingly integrating digital features.