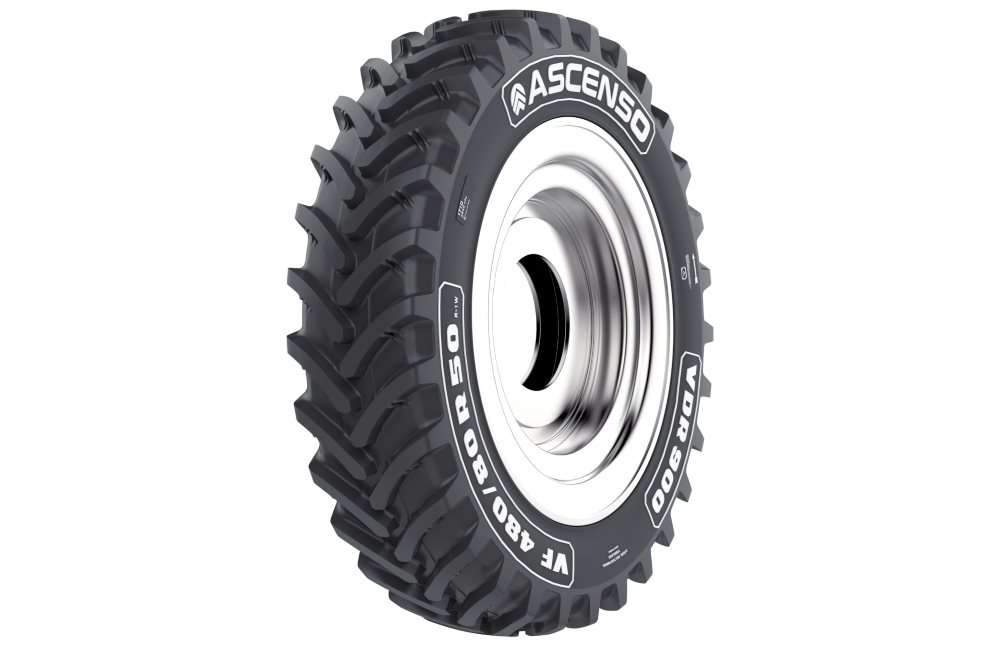 ASCENSO, a leading Off-Highway Tyre (OHT) manufacturer, has launched the VDR 900 (VF) Radial tyre range specifically designed for machines such as Self-Propelled Sprayers, Tractors, as well as Straddle row dual wheels & Row Crops. The VDR 900 (VF) tyres utilize the latest VF (Very High Flexion) technology and High-Performance Steel Belts, maximizing the tyre's flat footprint for optimal weight distribution, reduced soil compaction, and maintained crop yield.
One of the key advantages of the VDR 900 (VF) tyres is their ability to carry 40% more load at the same inflation pressure compared to conventional radial tyres. Alternatively, they can operate at 40% less pressure while carrying the same weight as traditional radial tyres. This allows self-propelled sprayers to handle heavier loads or reduce their impact on the soil by operating at lower pressures, leading to increased efficiency and improved productivity.
The VDR 900 (VF) tyres feature strong lugs that provide excellent traction and self-cleaning characteristics, reducing slippage and resulting in lower fuel consumption. The larger contact patch created by the stronger lugs enhances overall productivity in agricultural machinery.
These tyres are also equipped with High-Performance Steel Belts construction to dissipate heat, provide exceptional puncture resistance protection, and defend against stubble for longer tyre life. They also have a unique mud breaker on the lugs for effective self-cleaning properties.
In addition to their performance in the field, the VDR 900 (VF) tyres offer maximum driving comfort and excellent stability on the road. With a D speed index, these tyres are suitable for road speeds of up to 40 mph, making them versatile for various applications.
Considering the large tank volumes of self-propelled sprayers, which can reach up to approximately 10,000 gallons, and boom widths that may exceed 164 ft, the VDR 900 (VF) tyres are designed to effectively handle heavy loads.
The VDR 900 (VF) tyres are available in the following sizes: VF 580/85R42, VF 380/90R46, VF 520/85R46, VF 320/90R50, VF 380/90R50, VF 380/105R50, VF 420/95R50, VF 480/80R50, VF 480/95R50, VF 320/90R54, and VF 380/105R54.
These tyres provide a comprehensive solution for farmers and agricultural professionals, offering improved performance, increased efficiency, and reduced soil compaction. Ultimately, they contribute to higher crop yields and sustainable farming practices.