In a bid to accelerate the EV buying process, leading commercial EV maker Altigreen has partnered with Sundaram Finance – one of the most respected names in the Indian financial services sector, to provide customized retail financing solutions to its customers. As a result of the strategic tie-up, Sundaram Finance will offer its range of financial products to Altigreen's customers across the country. These will include attractive financing schemes and customized loans to EV customers for boosting retail sales.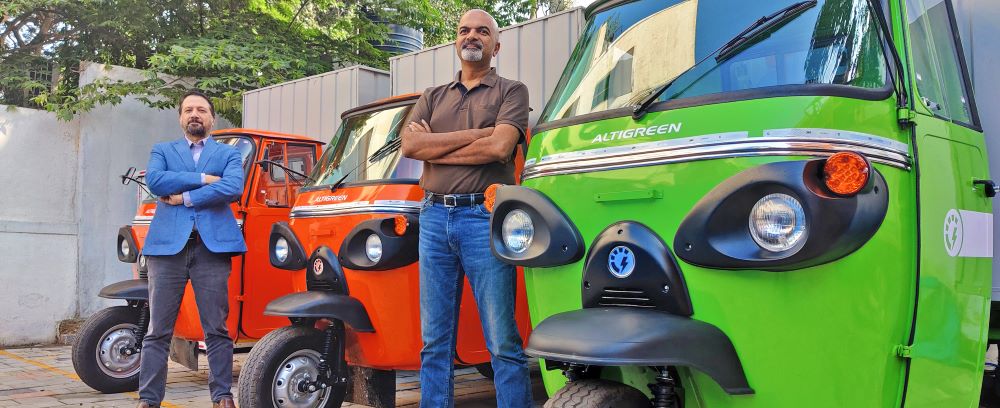 Sharing his thoughts on the partnership, Shalendra Gupta, Co-Founder and CFO, Altigreen said, "Partnering with Sundaram Finance is a strategic move. Our association with such a long-standing financier with a strong base will reinforce confidence in Altigreen products in the market and help reach urban and rural markets. Through this partnership, Altigreen will be better placed to provide better finance solutions to customers and ensure better earning opportunity.
Commenting on the collaboration, Rajiv Lochan, Managing Director, Sundaram Finance, said, "We are delighted to partner with Altigreen as we get into the next phase of financing EVs. Making transportation carbon-free and accessible to all have been the key criteria for our partnership with Altigreen. Their research, subsequent roll out of the three-wheeler EV cargo and passion allows a trusted NBFC like us to enter this new segment with exciting finance options that customers can now choose from. We are confident that through our partnership with Altigreen, our loyal and valued customers will enjoy the renowned Sundaram experience. We will also be able to offer our complete suite of financial products and services to Altigreen's customers.
Dr. Amitabh Saran, Founder and CEO, Altigreen, said, "We are delighted to partner with Sundaram Finance – a company with a proven track record of delivering high-quality financial solutions to customers. We have always aimed at last-mile delivery mobility solutions that are more affordable and accessible for our customers. We aim to provide convenient and comprehensive finance options and are confident that this partnership will cater to the business requirements of both companies and produce a great synergistic effect."
The partnership between Altigreen and Sundaram Finance is expected to generate significant interest in the market, and customers can look forward to a range of exciting new financial solutions to simplify the buying process of their favourite Altigreen EVs. Altigreen customers can get seamless funding with competitive rates of interest as compared to other non-banking financial companies. This partnership provides customers with a one-stop solution service from Sundaram Finance for all their EV financing requirements.