The 6th Truck Trailer and Tyre Expo was successful in showcasing the products of a wide range of manufacturers, including Tata Motors, Ashok Leyland, ISUZU Motors, BharatBenz, Mahindra and Mahindra, Bosch, Apollo Tyres, Velvex and Elgi Rubber as well as many international firms. Rajesh Rajgor highlights some of the interesting products and technologies that were on display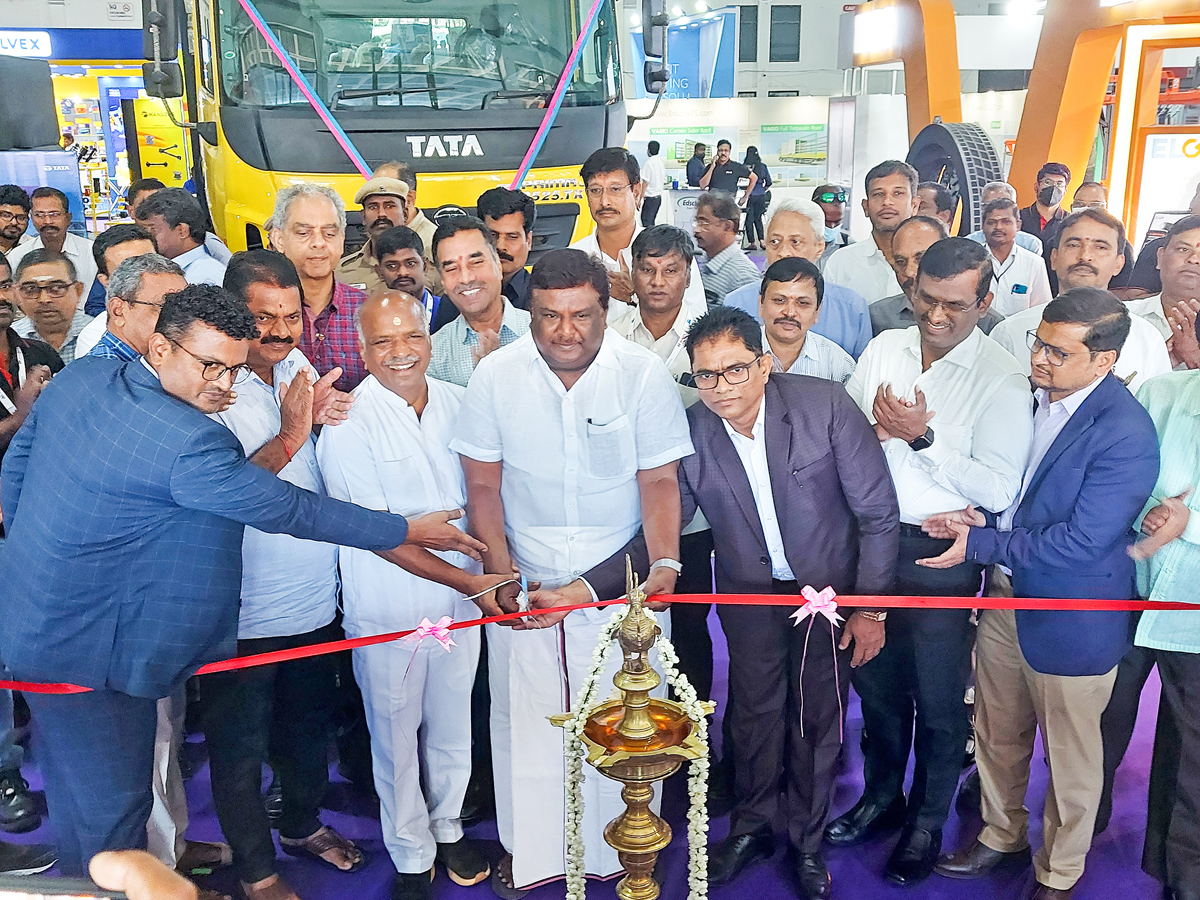 The 6th Truck Trailer and Tyre Expo offered a bustling venue in terms of networking for those engaged in the truck, trailer, tipper, tanker, container, reefer, tyre and related industries, much like the previous five editions. Transport Minister S S Sivasankar opened the Truck Trailer and Tyre Expo 2022, which was organised by Media Day Marketing with main gold sponsor Bosch in Coimbatore, Tamil Nadu, just near the eye-catching trailer from Satrac. Satrac, a member of Kyokuto Kaihatsu Kogyo Co. Ltd. displayed a 32 feet side body trailer with 55 tonne capacity and pneumatic suspension.
The company recently celebrated rolling out its 35,000th unit on road besides being in the midst of celebrating its completion of 25 years. The All-India Motor Transport Congress (AIMTC) Chairperson G R Shanmugappa and AIMTC Finance Committee Chairman Subham Sundar Rajan officially opened the expo, which placed a strong emphasis on the demand for cutting-edge technology for the overall development of the transport sector and, by extension, the entire country. The other participants in the expo included Dhanaraj Chellappan, President of the Tamil Nadu State Lorry Owners Federation, N P Velu, Treasurer of SIMTA, M Murugesan, President of the Coimbatore Lorry Owners Association and numerous other dignitaries.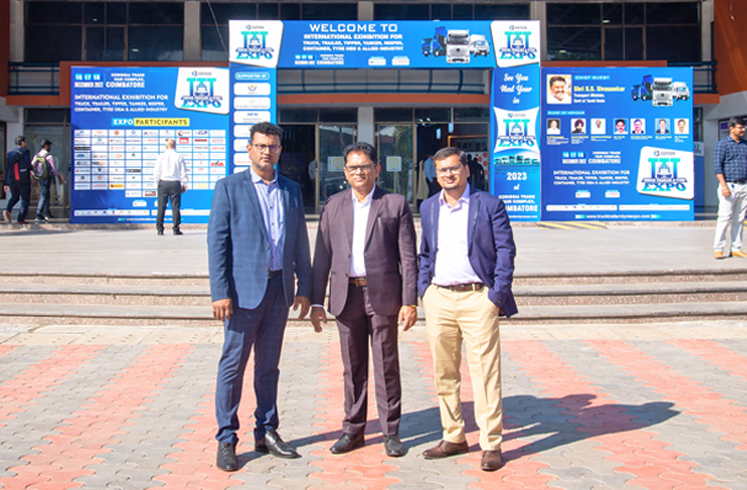 Interestingly, Coimbatore was the first location where Media Day Marketing, founded by partners Ramchandra Soundalkar, Kashif Raza and Mohammed Mudassir Ahmed first organised TTT in 2016. Elaborating about the objectives of the show, Soundalkar said, "Our expo for the truck trailer, tanker and tyre segment has always aimed to focus on the large trucking industry. Correct vehicle bodies, components, driver issues and safety issues can be addressed through this event. We are happy to have created a support system for an industry that often works in silos. Many government bodies, allied industries and channel partners have supported us. The participation of vehicle OEMs is also important to be able to reach the right people."
Echoing his sentiments, Mudassir Ahmed stated: "Up to 85% of India's transporters are still not large organised players. They are the ones with about 5-10 vehicles. By attending an event like this one they can understand and implement different technology upgrades and improve their existing services. Transporters, by and large don't get easy financing from government agencies as farmers do. Private lenders or private banks have harsh terms for them. Unlike the taxi aggregators, the transporters do not have a per km fixed rate. There is no guarantee for their prosperity or work."
"Hence, most of them go for small roadside fabricators or mechanics to make their offerings affordable to the end users and for merely surviving in this segment. We are in touch with several government agencies like ARAI and iCAT and even industry associations and bodies to seek their support for the betterment of the industry," he added. Media Day Marketing also organises Green Vehicle Expo and Food and Dairy Show apart from the TTT show. They are also mulling an event for the construction sector, especially the vehicles and equipments. Here is an account of the leading participants who exhibited their products and solutions at the expo:
Bosch Logistics Operating System (LOS)
Bosch demonstrated its Logistics Operating System (LOS) that focuses on increasing operational efficiency, optimising cost and aiding sustainability in the transportation of goods in the country. The platform aims to bring together all services in silos and service providers in the industry to make logistics visible, intelligent and sustainable. While interacting with this correspondent, R Sumanth Kumar, Head (Go-To Market), Bosch Logistics Operating System India, said: "Logistics is a lifeline for India and fleets have a special place in our heart. The fleets travel thousands of kilometres to get us the essentials of life."
"However, they face challenges like low visibility on operations, higher TCO and huge negative impact on the environment. In our pursuit of making their lives better, digitising logistics, making it efficient and cost-effective, sustainable and accessible for all stakeholders in the industry, our platform envisions to be the single source of truth (dashboard) for their complete logistics operations. The platform would horizontally integrate all existing as well as new services, enabling the independent software vendors to list or create modules that can communicate seamlessly with all stakeholders in the ecosystem," he added.
The platform will facilitate interaction and exchange between a variety of services and data, enabling transportation and logistics companies to benefit increasingly from the opportunities of digitalisation without having to build resource capability or invest in talent for creating licensed modules leading to cost-intensive IT projects. The digital services, assets listing and consumption helps companies to benefit both sellers and buyers. "Every day new solutions are being created in the market to solve specific problems. We don't want to replace them but enable them with geographical and product expansion with a larger ecosystem play in India and global landscape," Sumanth Kumar said.
Bosch LOS intends to connect fleet, inventory, warehousing and transport through a common horizontal integration layer. An example of how the platform enables a single UI through a single source of truth (dashboard) is that of the fleet lifecycle that includes vehicle ordering to re-marketing or scrapping. "We aim to comprehensively reduce acquisition and awareness costs by enabling large-scale automation while offering multiple opportunities to up-sell and cross-sell digital platforms. This will shape a future of endless, logistical possibilities for the new markets and customer segments. In short, it will help arrive at cost-effective solutions for the logistics industry," concluded Sumanth Kumar.

Velvex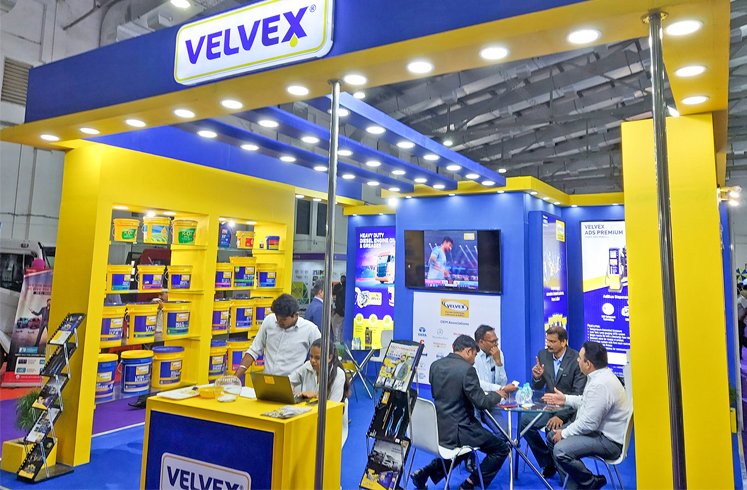 Velvex, that has a strong foothold in North India, exhibited its DEF-Adblue and lubricants range at the show. The company, which has been gaining good market share in southern states like Kerala and Andhra Pradesh, aggressively promoted its commercial vehicle solutions to potential channel partners, mechanic associations and large truck and fleet operators in Coimbatore. On this occasion, Hrishikesh Kulkarni, CEO, Nandan Petrochem, said, "We have been pioneers in providing DEF-AdBlue solutions to the Indian market. All our AdBlue products are made at the highest level industry-certified plants that offer great consistency and customer satisfaction. We expect the South India market to be a significant contributor to our top-line in the coming years and hence various industry-led expos such as TTT–Coimbatore provide a perfect platform for us to showcase our product line and solutions." The company's strong expertise in manufacturing genuine oil for top OEMs and the launch of MNC brands in India over the last 30+ years has helped them to create world-class products as per the needs of the new-age BS VI vehicles.

Edscha Trailer Systems
When Edscha first entered India a decade ago, it had to promote the benefits of its products such as a complete tarpaulin curtain-sider solution with a sliding roof on the top and sides. Fleet operators are currently asking the company for a technology that is lightweight and speeds up the loading and unloading operation. This is visible with the orders and acceptance of Edscha's product from fleet operators and OEMs. Said Dheepan Ramalingam, Managing Director, Ringfeder Power Transmission India (P) Ltd.: "In 2021 we sold 100 roofs (full tarpaulin) as against 30-50 every year. In 2022, we posted further growth and sold 250 roofs. Logistics companies and end users want to go with the international way of loading and unloading so as to earn higher profits."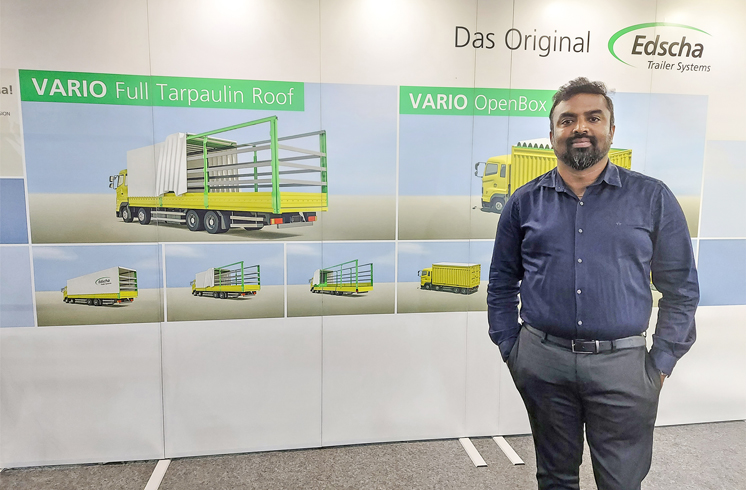 "In 2023, we believe we could double the sales number and sell 500 roof kits," he added. The company has been advocating the benefits of their systems to the tune of 10% fuel savings, minimum time in loading-unloading operations and increase in trips. Dheepan added: "Once the industry opened post-pandemic, the pace picked up. Everyone was talking about improving efficiency with existing resources. There is a huge demand from cement bag transporters, FMCG transporters, components suppliers and all this is mostly from North, South and West India."
Edscha has also considered producing some of the steel links and materials for both traditional and cutting-edge products needed for the German market in India.
"India is regarded as a centre for global sourcing. We have the necessary infrastructure in Chennai, including a sizeable warehouse where we can localise the parts and keep a lot of inventory. Germany's consent to localise in India for European demands may also result in favourable pricing," Dheepan said. In the tipper segment, Edscha in India is in discussion with a few OEMs and may soon start providing them roof systems. "It is good to see OEMs accepting what we have been advocating. This also cuts unrealistic negotiations and benefits the end user and the industry. We are optimistic and happy about the developments to work directly with OEMs," he added.

Maharashtra Polymer Products

Maharashtra Polymer Products (MPP), a leading manufacturer of rubber and plastic parts for the automotive industry and ancillaries, has recently started manufacturing PVC trims and garnish profiles for automotive applications. An IATF 16949 company engaged majorly in manufacturing extruded rubber and plastic parts, it has a very good experience at the expo.
Managing Partner Soumil Shah revealed, "We are majorly focusing on the truck and trailer segment in the southern market as there is a massive demand and we are very happy with the response which we got from the exhibition. We were able to generate some promising leads and hope to increase our business in the southern region for OEMs as well as the aftermarket. We expect that with the increase demand in India and the policy changes by the government, the industry will grow over 10%."

Hexa Precision Industries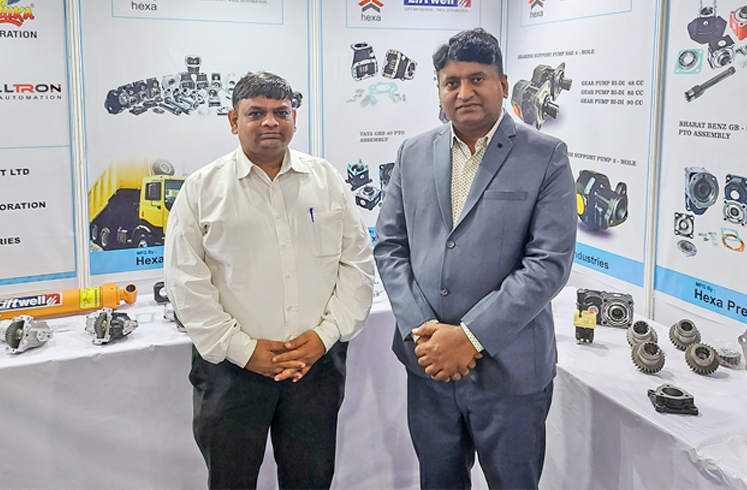 Hexa Precision Industries, a leading manufacturer of power take-off (PTOs) and hydraulic gear pumps for the automotive industry, showcased its wide range of standardised PTOs and hydraulic gear pumps along with Liftwell Hydraulics (P) Limited. "We are majorly focusing on hydraulic gear pumps as well as power take-off and other hydraulics accessories in the southern market as there is a massive demand here. We offer to help the automotive industry to meet the challenges of the current and future demand for hydraulic pumps and PTOs. We had a great experience at the expo. The organisers were supportive and the leads generated have been very promising," said Sandeep Singh, Head (Commercials and Sales).

Elgi Rubber Company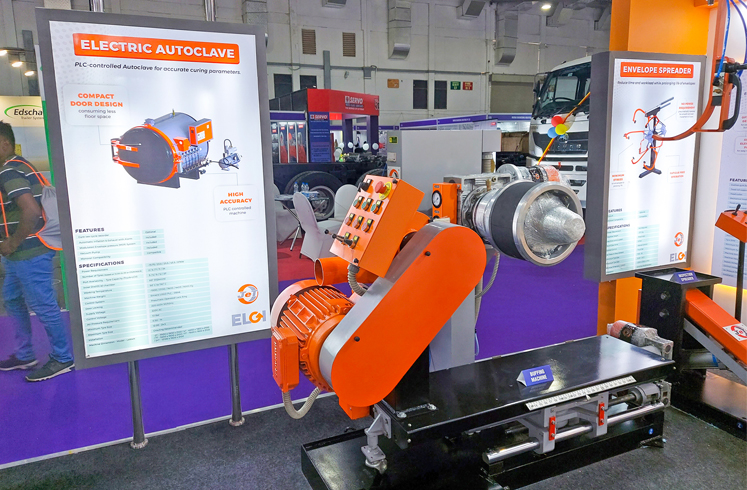 Elgi Rubber Company produces a wide variety of raw materials, machinery, tools and accessories required in the rubber industry, primarily in the tyre segment. Elgi's tyre retread and repair systems are sold all over the world under the popular brand 'Jet'. The company showcased its two-series manual machinery for tyre retreading for large fleet operators. S Shankarvadivel, Senior General Manager (Sales and Distribution), said: "In order to give large fleet owners independence and control over tyre retreading, we have showcased our two-series machinery. Any fleet operator who retreads 100-150 tyres per month or more can own it. It is affordable and economical in terms of returns and the transporter can achieve breakeven at 125 tyres. Additionally, we will support them with rubber and all the other material required for retreading."
The company that has a strong presence in North and West India is relatively new with respected to penetrating amongst South India's fleets with retreading machinery. Hence, Elgi, that has been a pioneer in retreading machines, raw material support and know-how, has had a fruitful experience at the TTT expo. "We have very good leads and hope to close at least five deals soon," Shankarvadivel shared. The company has around 150 franchisees pan-India and all their products are manufactured in-house. Elgi is able to supply goods to even the most discerning customers thanks to its cutting-edge manufacturing facilities, testing labs and research and development centres located across the globe.

WAS Automotive
WAS Automotive specialises in producing lighting and retro-reflecting equipment for the automobile sector. "We have been in this segment since 1979 and have been expanding both our product line and our manufacturing techniques. We employ the most cutting-edge technologies available to us in Poland, which enables us to provide the best lighting solutions for the automobile sector. We mix eco-friendliness, openness to new trends and innovation with in-depth understanding of our clients' demands," informed Piotr Bartoszek, representing the Export Department for WAS Automotive.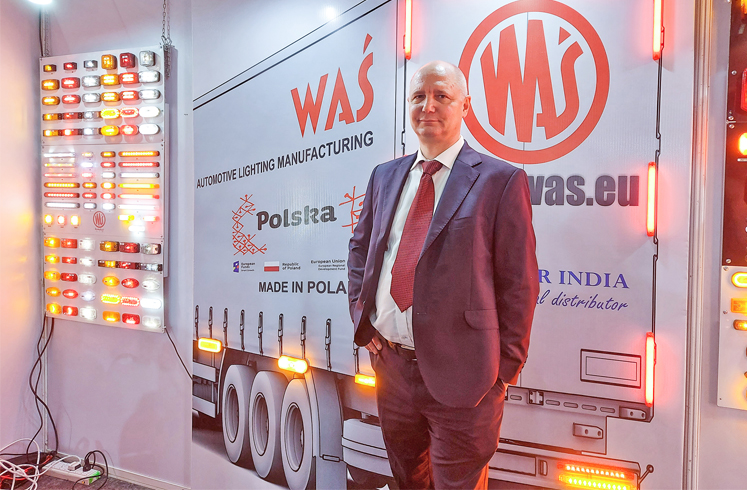 The company has a strong catalogue of products that include lightings like tail lamps, headlights, side markers, work lights, clearance lights and warning lights. "We have a complete range of products for all vehicle categories right from trucks, trailer, off-road vehicles, buses, etc. Our high-quality products come with a two-year warranty, are waterproof, can handle multiple voltages and are IP 68-69-compliant," Bartoszek informed. With a production capacity of 8 million lamps annually, the company entered the Indian market in July 2022. "We have everything in-house right from designing to finishing the products. We can customise the products in India as per the OEMs or vendor requirements. At the moment we have five customers who are our channel partners and we are looking to grow further," he added.

SDR Auto
SDR Auto (P) Limited specialises in engineering for unique applications. The company, which has its headquarters in Chennai, strives to offer an entire sustainable solution in the design and production of specialised trailers and pressure vessels. The company creates unique trailers with hydraulic and pneumatic suspension and steering systems for use in wind turbine, space and defence applications. "We are here to exchange ideas and understand the needs of the operators. We are into many niche applications like defence, space glass and crane and granite transportation. We can do custom-built trailers that can solve many operations-related complications for ODC players. For instance, the loading of glass can take more than 7-8 hours as glass is critical to handle and very fragile while safety is paramount," said Dr. B Ramesh, Executive Director (Design and Marketing).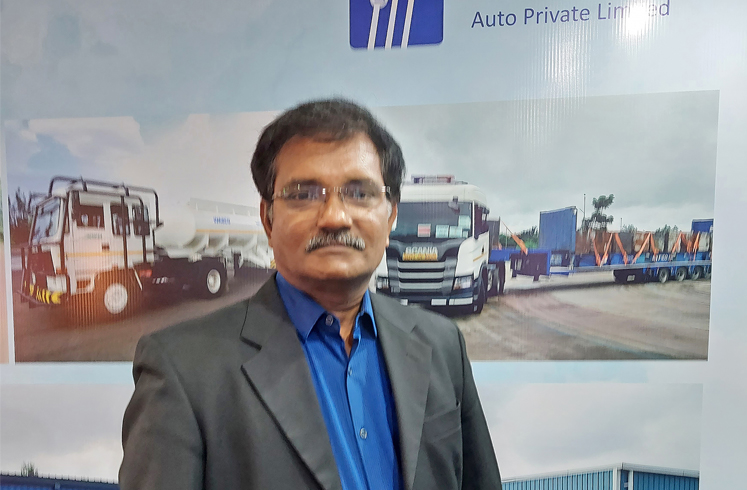 "With perfect design and engineering customised for the application, we can help them load and unload within an hour," he added. The company is known to offer solutions available in the western market to the Indian market at a feasible rate. It designs, validates and customises the products to suit the India market. "We work with the Government of India, ARAI and other agencies to bring EU standards for the India market. We currently have 50 people engaged in manufacturing in Chennai with complete in-house facilities and can make 6-10 trailers per month as each application is customised and different from each other. If we do custom trailers, we are capable of doing 40 trailers per month. We are now getting into electric-controlled steered axle and will also introduce self-propelled vehicles," Dr. Ramesh added.

Cojali S L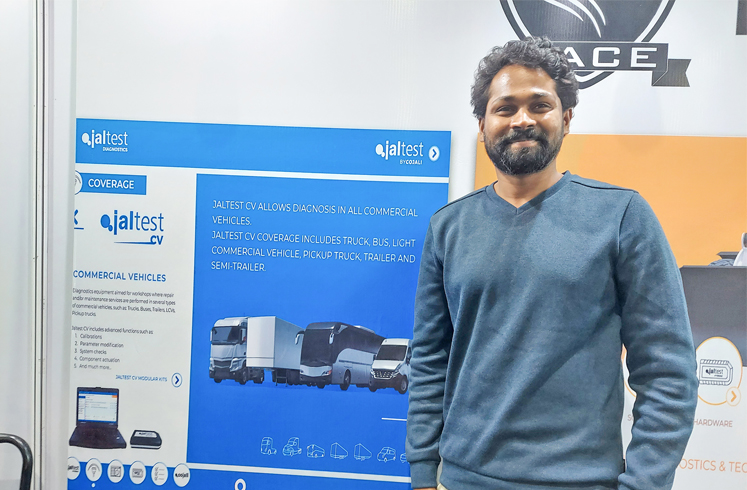 The Jaltest Link V 9 hardware device was on display along with a variety of spare parts from Cojali S L, a multinational Spanish manufacturer of components, diagnostics and telematic solutions with remote diagnostics for commercial vehicles, agricultural equipment, construction machinery, material handling equipment and vessels. According to Uday Shekhar, Area Sales Manager at Jaltest Solutions, "The market has received our products and solutions very positively. There has been a lot of praise from the end users for our professional products in the multi-brand diagnostic market. Our software is well-suited for business owners and lone operators and is highly secure with firewall protection. We have 7–10 dealers across India and with their help we have been really performing well."

RE Components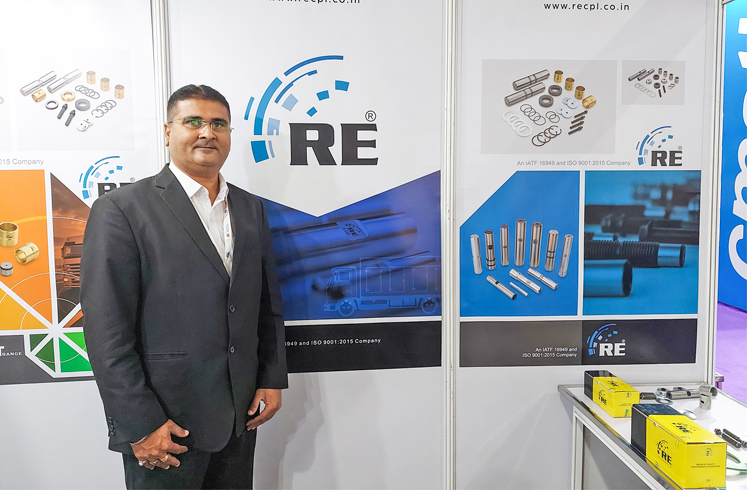 Despite the fact that RE Components' domestic product line-up also includes brass bushings, thrust bearings and kingpin kits, the company actively promoted its selection of kingpins and appeared confident in extending its reach and offering its services in Tamil Nadu. It also offered tapper roller bearings, repair kits and a wide range of other products ideal for Indian trucks. Marketing Manager Hitesh Maradia said, "While presently concentrating on Tamil Nadu, we have already been dominant in eight states. In order to fulfil consumers' expectations with our kingpins, we are setting up our dealership network in this region." RE Components, based in Rajkot, has a cutting-edge manufacturing facility spread over 53,800 sq. feet with construction area of 30,000 sq. feet. Over the course of more than 20 years the company has grown steadily and quickly, establishing a niche for itself and setting significant milestones along the way. In the engineering industry, RE Components is one of the most reputed and dependable names for automobile parts for commercial vehicles.

Surex Auto Components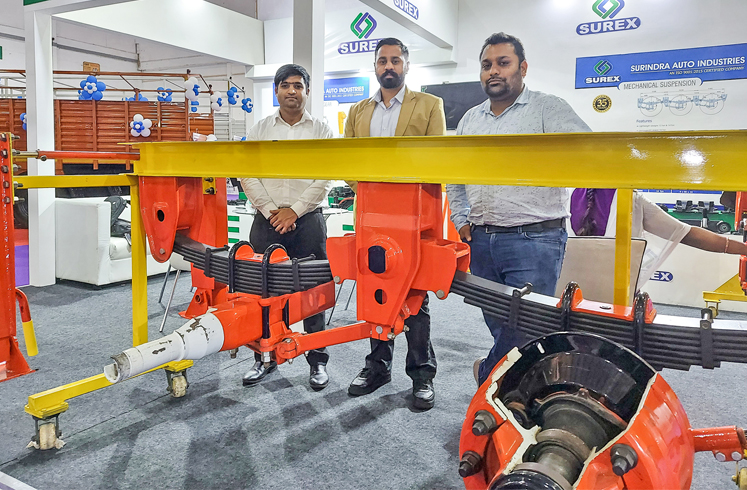 Surex Auto Components displayed its capabilities to manufacture trailer suspensions, parts and landing legs. "We supply to leading trailer manufacturers in the country. We are also the largest manufacturer of landing gears in India. Our monthly production is 2,000 landing legs and within a year we are likely to double it to 4,000 landing legs," informed Managing Director Harjit Singh Gahla. The company also displayed its mechanical suspension for trailers with 13-tonne, 14-tonne and 16-tonne capacity. Their USP is the three-year warranty extended on their lightweight and durable products. It has been in this business for oveer 35 years and exports a huge quantity of its products. Post-pandemic the domestic demand has taken over exports and the company is mulling expansion and adding a fourth plant in Punjab near their existing plants to meet the demand.