Since 2005, Vista Auto Care – an automotive venture by Resil Chemicals – has been offering the entire automotive segment a superlative range of sustainable products in the areas of cleaning, polishing, maintenance and surface protection solutions. The company has launched as many as 20 new products in just one year. Sarada Vishnubhatla talks to the head honchos of the company to know more about the uniqueness of their innovative products, growth plans and their strategic tie-up with Germany-based BlueChem Group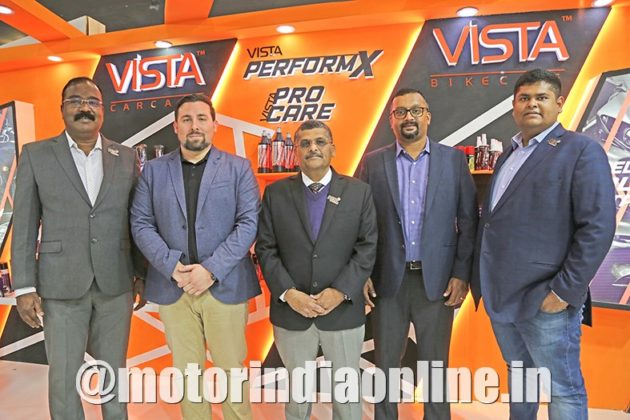 Vista Auto Care, known more by its brand name Vista, is today synonymous with automobile detailing products for the automotive segment that are of high quality alongside being economical and also user-friendly. The company takes pride in manufacturing its products from the scratch, backed by an in-house and robust research and development centre. Elaborating about this operational profile, M S Vijayan, Joint Managing Director, Resil Chemicals Private Limited, says, "We work on multiple technology platforms and manufacture all our products in-house, right from the raw material to the polymers and formulations. Our research and development facility has about 35 people consistently working on new and emerging technologies."
"We pride ourselves on coming up with sustainable technologies that are accepted around the world. And, it is not just the wide range of products we are focusing on but the entire package that includes technology which attempts to make environmental-friendly products," he adds. The company has won the prestigious National Award 2016 from the Technology Development Board (TDB) as part of its successful commercialisation of an indigenous technology – N9 Pure Silver. It is an anti-bacterial and hygiene-driven product that is now included in some of the products at Vista Auto Care. "It consists of pure metallic silver in ultra-pure de-ionized water with a low configuration of the metal that makes it highly effective in neutralizing bacteria and other microbes in the environment and on surfaces," Vijayan explains.
Growing Bouquet of Products
Vista Auto Care has worked hard to increase its range of products and also has entered many new segments in the last one year. The company has the double advantage of being a trader and a manufacturer. As Siddarth Kumar, Director, Vista Auto Care, puts it, "Our focus is to keep the communication channels with our channel partners robust, open and smooth because we are now looking at a much larger range of products in the after-care segment. Our USP is that our products are consistently reliable and of good quality that reflect the latest technology and offer great value for money to our customers. Our products are at par with leading global products in the segment. The best part is that our products are manufactured locally at our own plant."
Vijayan adds: "Vehicle detailing and care is a category which has grown considerably in India over time. Earlier, it was just a product but now is the time when India has matured for the Do It Yourself (DIY) solutions, which was not the case earlier. We have developed unique offerings for our individual customers, servicing workshop professionals and cab aggregators in the form of non-alcoholic hand sanitizers or antibacterial products (Anti-Bac), for example. The former is a product that leaves the residual sanitizing effect for a few hours after application unlike the ones from our competitors. And the latter is today a fast-moving product in India because our customers believe in it. Anti-Bac cleans automobile interiors instantly and offers 99% protection against bacteria with its active silver-based technology. It is also eco and user-friendly while removing the toughest stains from the surfaces. And the market is definitely ready for these products."
Elaborating about the products and the marketing strategy, P Venkatakrishnayya, Business Head, Vista Auto Care, says, "We want to be present in every nook and corner of India at every automobile shop, and even in the rural and small town shops selling knick-knacks because that is where our customers stop locally to buy everyday things. Our products not only look aesthetically pleasing but are packaged in convenient packs that can be bought off the shelf in their bid to keep their vehicles shining and lustrous. We are aggressively pushing to reach out to our customers in unexplored markets. As of now, we are able to come up with one new product or a variant every three months and we will keep up this momentum in the coming times too. Our message to the OEMs is that we are a manufacturer in India who can customize products for them and deliver tailor-made basket of products to them besides being present in the aftermarket in a big way."
Distribution Network
Talking about their vast distribution network and the strategy to push new products through it, Siddarth states, "We have recently launched our new range of fresheners which are gel-based and that is why they last anywhere between 45-60 days unlike the ones available in the market that have a longevity of just about 20 days. We have tweaked the fragrances also, going beyond the typical or common scents. We have something for every nose of every age and gender. Our distribution network is our biggest strength apart from our products. We are present across the length and breadth of the country and are leveraging the existing network with new products because we believe in long-standing relationships with those who we do business with."
"Our strategy is to ensure that we cover all the needs of our customers, not just in terms of formulations and the chemicals but also when it comes to application," he adds. Referring to why Vista Auto Care takes its packaging seriously, Siddarth shares: Our products and our packaging are suited to the needs of even the smallest garage owner customer of ours. It is the reason why a product available in a five-litre pack with a uniquely designed handle and a safety cap, for example. It is so because our customers expect the benefit of buying smaller quantities at a minimal cost to them. It is also about providing them the convenience of handling something small. That is why we are in a big way into innovations around packing. For instance, we have flipped nozzles which are easy to squeeze. All this is user-friendly for the DIY customer, the garage owner or the service provider in a detailing shop."
Partnering with BlueChem Group
BlueChem Group is one of the largest performance additive manufacturers in Europe. This German company ranks the second-largest at home and has tie-ups with major vehicle brands in over 15 countries around the world. Their non-presence in India was remedied by Vista Auto Care when they sought a partnership with BlueChem Group to make customized products for the Indian market. Says Siddarth: "We are collaborating with BlueChem Group not only for the technology but to see how it can be modified and used as a range of solutions for the Indian automotive industry." In a nutshell, the Vista brand is proud of its already far-reaching popularity in the Indian automotive detailing market and is raring to expand further.