Vijayanand Travels shines in passenger transportation, embodying excellence, safety, and unwavering customer focus. Led by Shiva Sankeshwar, the third-generation Managing Director, the company has redefined India's bus travel industry, achieving industry milestones, as revealed in an exclusive interview with Rajesh Rajgor.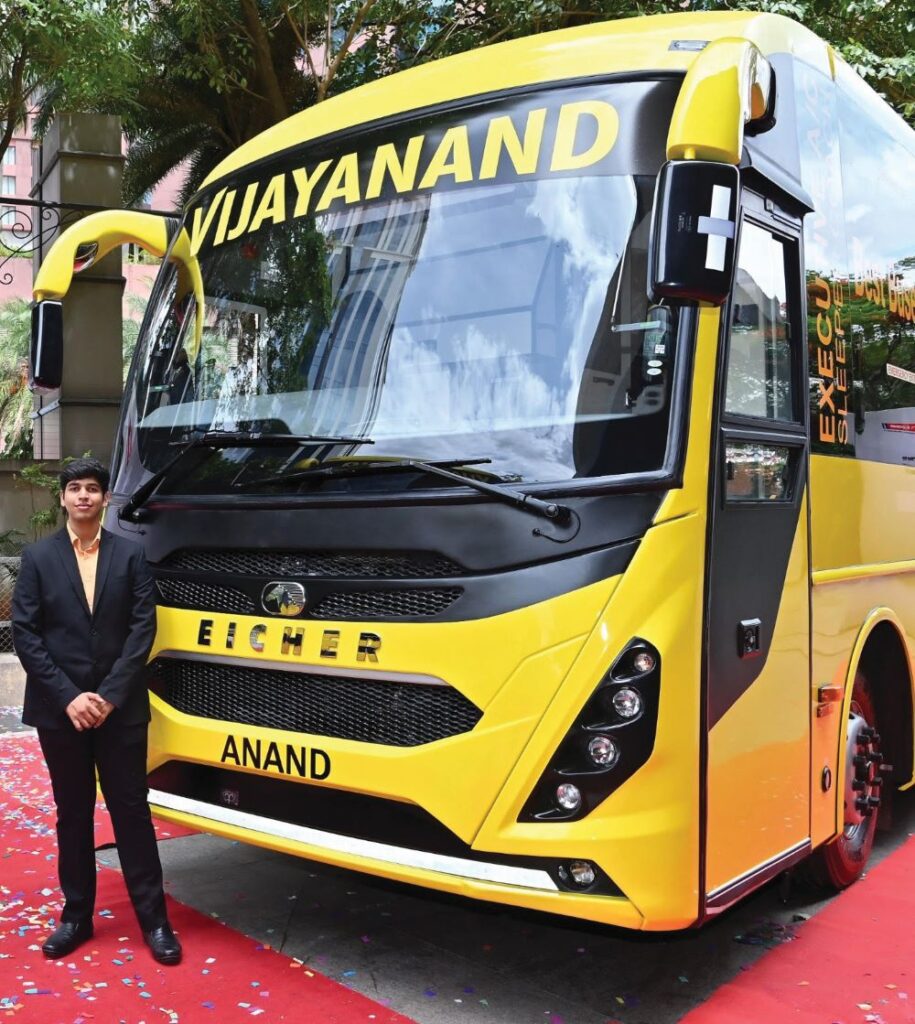 One of the factors that sets Vijayanand Buses apart is its rich history as pioneers in India's transportation sector. The company's journey towards excellence began in 2011 when it made a groundbreaking move by placing an order for 130 buses from Volvo, marking it as the largest order for Volvo at that time. "Our journey towards excellence commenced back in 2011 when we boldly placed an order for 130 buses from Volvo, an order that made history as the largest for Volvo at that time," Sankeshwar proudly reminisces. Fast forward to the present day, and Vijayanand Buses has surpassed its own record by recently placing another substantial order for buses from Volvo. This includes 500 units of Eicher Intercity 13.5m AC and non-AC sleeper coaches and 50 Volvo 9600 luxury sleeper coaches. This achievement is a testament to the trust and confidence that passengers have bestowed upon the company throughout its remarkable journey.
In a departure from the practices of some other operators who purchase chassis and subsequently engage other builders to construct bus bodies, Vijayanand Buses adheres to a different philosophy. "What truly distinguishes Vijayanand Buses is our unwavering commitment to delivering uncompromising quality. Out of our remarkable order for 550 buses, 500 come from Eicher, where Eicher provides the chassis, and Volvo oversees the construction of the body, ensuring the highest caliber of quality. The remaining 50 buses are pure Volvo 9600 models. Our commitment to quality is non-negotiable, and we refuse to compromise on this aspect," he asserts firmly.

Innovation and Resilience

Vijayanand Buses prides itself on its innovative features that prioritize passenger comfort. They were the first to introduce the concept of a 'lady seat' on buses, ensuring the safety and comfort of female passengers. "We were pioneers in introducing the concept of a 'lady seat' on buses, thereby ensuring the safety and comfort of female passengers," he points out. In addition to this, they boast some of the longest routes in the industry, provide the unique offering of double drivers on buses to prevent driver exhaustion during lengthy journeys, and emphasize the importance of relief buses to ensure smooth passenger transfer in the rare event of a breakdown.

The COVID-19 pandemic posed challenges to the entire transportation industry, and Vijayanand Buses was not immune to its impact. The company had to make tough decisions, including scrapping and selling some buses, which temporarily reduced their fleet to 250. "We had to make tough decisions during the Covid period, including the scrapping and selling of some buses, which temporarily reduced our fleet size to 250," Sankeshwar acknowledges candidly. However, the company has displayed remarkable resilience and is actively engaged in the process of expansion once again. "We added 50 Tata Marco Polo buses in May and celebrated the acquisition of another 50 buses in Bangalore recently. This brings our current fleet size to approximately 350, comprising Volvo, Eicher, and Magna buses, with more orders in the pipeline. Our goal is to reach a total of 1000 buses in the next year and a half," he reveals with unwavering determination.

Route Expansion & Easy Booking

Vijayanand Travels currently operates in six states, including Karnataka, Maharashtra, Tamil Nadu, Andhra Pradesh, Telangana, and Gujarat. However, their vision extends beyond these boundaries. They believe there's immense potential in expanding to other states and are actively exploring new territories. Their goal is to establish a monopoly on certain routes, offering passengers a consistent and reliable choice. "We believe there is immense untapped potential in expanding to other states, and we are actively exploring these new territories like Rajasthan. Our ultimate goal is to establish a monopoly on certain routes, offering passengers a consistent and reliable choice," he envisions.

In the face of initial skepticism, Vijayanand Buses has set benchmarks by introducing long-distance routes that have now become highly successful. For example, their Bangalore to Pune route, initially met with doubt, has become one of their most successful routes. Their strategy involves a strong online presence, social media campaigns, and highlighting their commitment to organized and reliable travel experiences.

Booking a ticket with Vijayanand Buses is now more convenient than ever. They've taken significant steps to reduce their dependence on aggregators and encourage direct bookings through their own channels. "Passengers who book tickets through our website can enjoy a flat 15% discount, a unique and consistent offer that surpasses what other aggregators typically provide. QR codes on our new Eicher, Volvo, and Magna buses make it easy for passengers to access their booking platform. For those who prefer offline bookings, we maintain a network of over 300 structured pickup points where passengers can book tickets through their staff," informs Sankeshwar.

Committed to Customer Excellence and Comfort

In their relentless pursuit of excellence, Vijayanand Buses is constantly working to enhance the customer experience. They adjust schedules to make travel more convenient, listen to customer feedback, and adapt to their needs. For instance, in Whitefield, a major IT hub, they plan to add more boarding and dropping points to better serve passengers' needs.

Vijayanand Buses takes customer feedback seriously. They actively gather feedback from staff and monitor customer requests on their website. When they notice repeated requests for specific routes, they consider introducing new routes to cater to these needs. Their aim is to offer a variety of options to suit different customer preferences and budgets, from top-class luxury buses to more economical choices. "We actively solicit feedback from our staff and meticulously monitor customer requests through our website. When we discern repetitive requests for specific routes, we eagerly consider introducing new routes to cater to these demands. Our overarching goal is to offer a diverse array of options to suit varying customer preferences and budgets, ranging from top-tier luxury buses to more economical choices," Sankeshwar explains.

With over 200 structured pickup points across the six states they operate in, Vijayanand Travels ensures on-time pickups and provides passengers with a convenient and comfortable place to board, even in adverse weather conditions. Their hub at Anand Rao Circle in Bangalore serves as a model for future depots, offering a complete experience with amenities like a restaurant, snack counter, baby care room, and spacious washrooms. They plan to replicate this concept in other major cities. "Our intention is to reproduce this concept in other major cities," he reveals.

Enhanced Safety and Comfort
Vijayanand Travels understands that their drivers are the backbone of their operations. Every bus in their fleet is equipped with two drivers to ensure safety and passenger comfort during long journeys. They provide designated resting areas for the second driver to ensure they are well-rested and ready to take over their shift when required.

"Every bus in our fleet is staffed with two drivers to ensure the safety and comfort of passengers during protracted journeys. We provide dedicated resting areas for the second driver to guarantee that they are adequately rested and prepared to assume their shift whenever necessary," he highlights.

With plans to add 550 more buses to their fleet, Vijayanand Buses is also working on building 10 more restaurants along major routes to support their expansion. These restaurants serve as convenient stops for passengers, enhancing the overall travel experience and complementing their commitment to passenger satisfaction.

Vijayanand Travels, under the visionary leadership of Shiva Sankeshwar, has embarked on a journey of excellence and customer-centric service. Their commitment to quality, safety, and innovation has earned them the trust and loyalty of passengers across India. As they continue to expand and innovate, Vijayanand Travels remains dedicated to setting new standards in the passenger transportation industry.