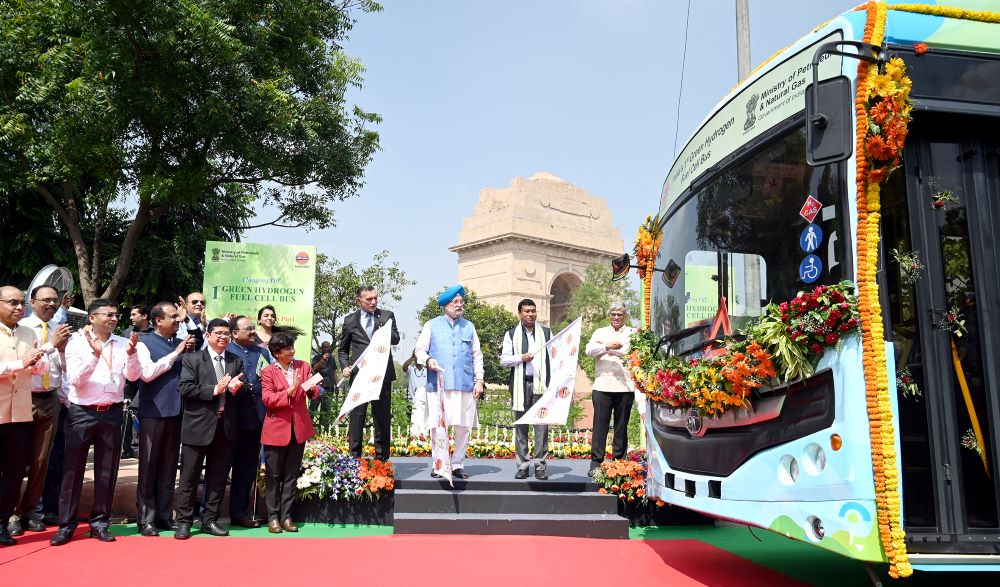 Tata Motors, India's largest commercial vehicle manufacturer, today made a giant leap forward in its commitment to move India forward with smarter and greener mobility solutions by delivering first-of-its-kind Hydrogen Fuel Cell powered (FCEV) buses to Indian Oil Corporation Ltd. (IOCL), the country's largest petroleum company. Heralding a new era of fully decarbonised transport, two buses were flagged-off by Shri Hardeep Singh Puri, Hon'ble Union Minister for Petroleum & Natural Gas and Housing & Urban Affairs, Shri Rameswar Teli, Union Minister of State for Petroleum & Natural Gas and Labour & Employment, Shri Pankaj Jain, Secretary, Ministry of Petroleum & Natural Gas, Shri S M Vaidya, Chairman, IOCL, Dr. Umish Srivastva, Executive Director, IOCL, and Mr. Rajendra Petkar, President & Chief Technology Officer, Tata Motors, along with delegates from Government of India, Government of New Delhi and Tata Motors.
Speaking about the successful deployment of first-of-its-kind FCEV bus, Mr. Girish Wagh, Executive Director, Tata Motors, said, "This is an outcome of the progressive policies of the Government, IOCL's focus on future readiness and Tata Motors' R&D prowess, all collaborating to fulfil the common vision of clean mobility in India. The delivery of the FCEV buses to IOCL marks a significant step forward in this journey and we are grateful for the trust and support of our partners. At Tata Motors, we always prioritise nation building and are leading the global megatrend of sustainable, connected, and safer mobility in the country. The delivery of these buses today heralds a new era in inter-city mass public transport and marks another step forward towards fulfilling the aspiration of sustainable mobility. With proactive actions to develop and adapt new age technologies, we are creating future-ready transport solutions for both cargo and people to address the mobility needs of tomorrow's India, today."
In June 2021, Tata Motors had won a tender from IOCL to provide 15 FCEV buses to evaluate the potential of hydrogen-based PEM fuel-cell technology in India. These buses are to be assessed as potential mass transport solution for inter and intra-city commute.
Built at a dedicated lab in Tata Motors' world class R&D centre at Pune, these 12-metre long buses are designed for easy ingress and egress with a low-floor design, can seat 35 passengers and were delivered after successful strenuous road tests and validations. Expertise and experiences was acquired by Tata Motors from a collaborative approach with renowned industry partners and research institutions, for adapting the advanced hydrogen-based proton exchange membrane (PEM) fuel cell technology to Indian conditions, and has played a key role in developing the buses.
Speaking about the technology and innovations incorporated in these new age FCEV buses, Mr Rajendra Petkar, President & Chief Technology Officer, Tata Motors said "Tata Motors is proud to deliver the state-of-the-art, new-generation, technologically-advanced, zero-emission fuel cell powered buses to IOCL. This is an important milestone for green mobility in India, harnessing the strong potential of hydrogen as an energy carrier, ushering in hydrogen economy in the transport sector. This bus features 350-bar hydrogen storage system, 70 Kw fuel cell stack, electronic braking system & stability control for higher safety, intelligent transport system, new-generation telematics for efficient, user-friendly vehicle maintenance and tracking along with roomy interiors. This development is a testimony to Tata Motors' continued commitment and leadership towards carbon neutrality. As a part of the MoU, Tata Motors and IOCL will continue to make further advances in the core technology related to PEM fuel cells in the times to come."
Being India's largest and most innovative commercial vehicle manufacturer, Tata Motors research and development facilities have consistently engineered innovative mobility solutions powered by alternate fuel technology, including battery-electric, hybrid, CNG, LNG, Hydrogen ICE and Hydrogen Fuel Cell technologies.