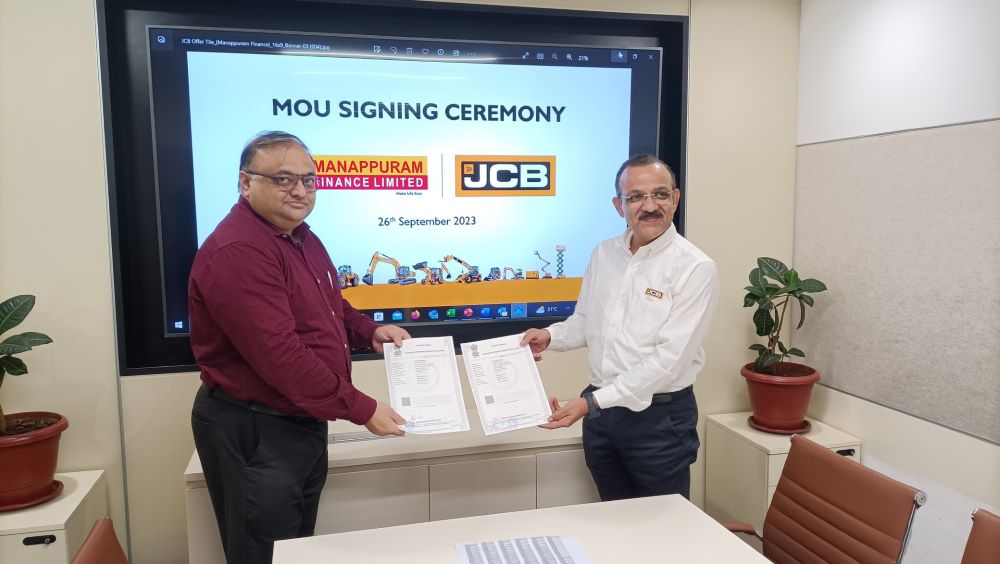 Manappuram Finance India Ltd (MAFIL) has entered into a Memorandum of Understanding (MoU) with construction equipment manufacturer JCB India Ltd to finance the latter's range of equipment and engineering products. The agreement was signed by Kamal Parmar, Head, of Vehicle and Equipment Finance, Manappuram Finance, and JCB India representative the other day. As per the agreement, the finance options will be available across the country. The pact will go a long way in helping both sides increase their business volumes.
"We are pleased to announce the signing of an MoU with JCB India for financing a range of their construction equipment. This MoU will lead to higher volume growth for both partners. It will help both companies to leverage each other`s strengths in the respective markets", said Mr V.P. Nandakumar, MD and CEO of Manappuram Finance.
"This agreement with JCB India opens up our network of branches to expand their dealership footprint across India and is an integral part of our efforts to diversify our portfolio offering by making a foray into new verticals to spur growth. It is indeed a major step to boost our business of construction equipment finance," he added.