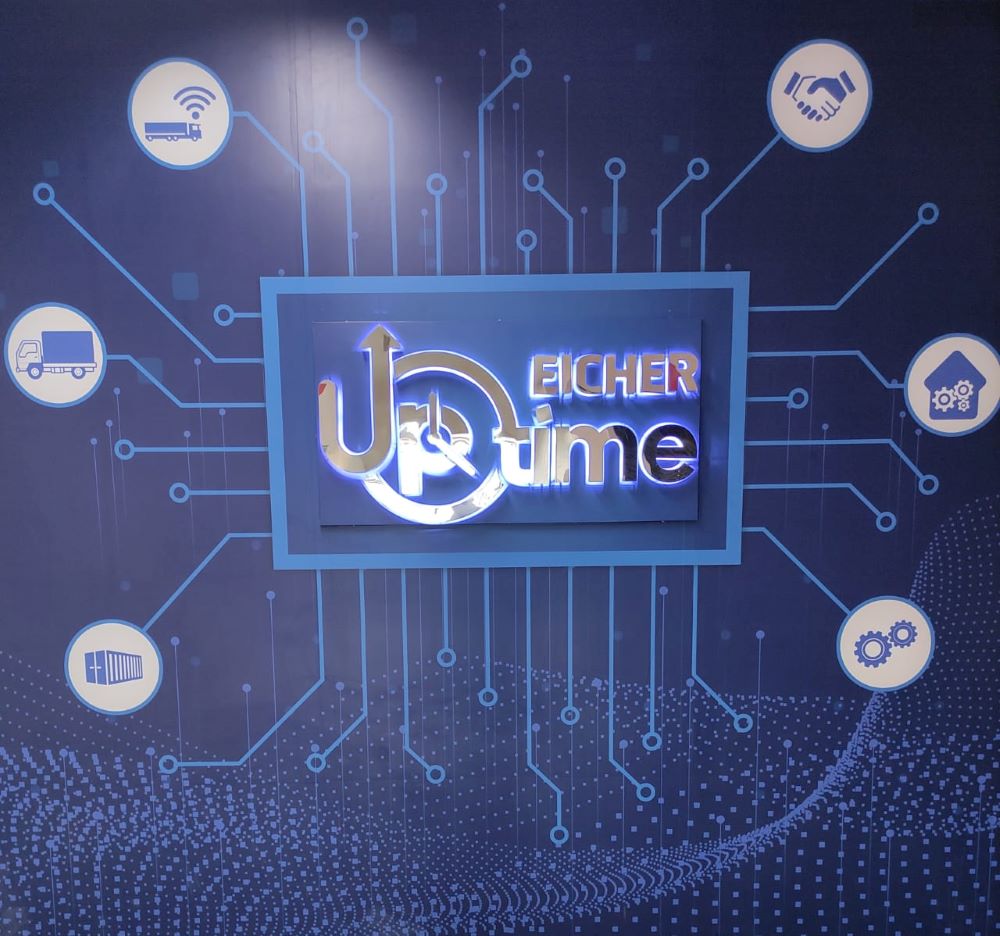 Eicher Trucks & Buses, a business unit of VE Commercial Vehicles (VECV), has been making remarkable strides in the Indian truck industry by revolutionizing its service ecosystem and playing a leading rolein delivering Uptime for its truck and bus customers – a crucial factor to ensure higher utilization of vehicles in today's time-bound, 21st century business requirements. Eicher Trucks & Buses was the first CV manufacturer in India to recognize the increasing importance of maximizing fleet uptime and addressing customer needs promptly, leading to the establishment of the Uptime Centre in 2020. The groundbreaking initiative connects Eicher's entire range of BS-VI trucks and buses to a state-of-the-art Uptime Centre in Pithampur, Madhya Pradesh. With the motto to be with the customer "Har Qadam, Har Waqt" , Eicher has invested substantially to address the industry's long-standing challenges and has pioneered next-gen service solutions like remote and predictive diagnostics through its 24X7 Uptime Center. Through a range of modern, connected, and reliable products backed by holistic Uptime services the company is now able to deliver >98% Uptime in all major transport segments in all parts of India.
Driving productivity through Uptime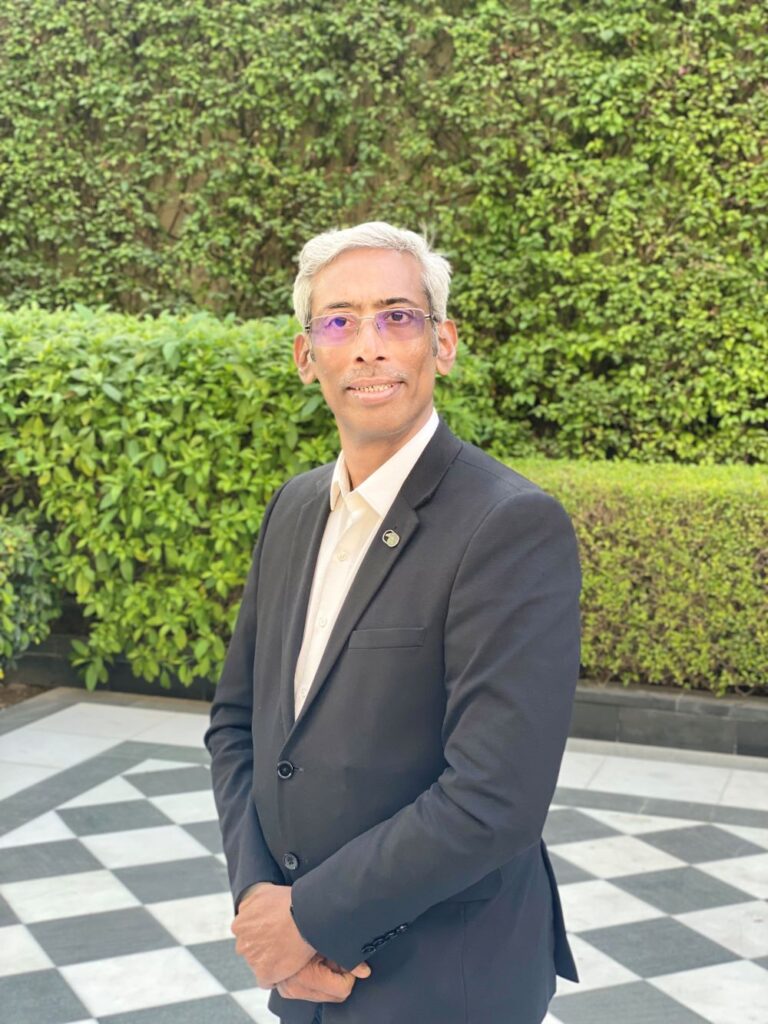 Since the formation of the VE Commercial Vehicles Joint Venture between Volvo Group and Eicher Motors fifteen years ago, Eicher Trucks and Buses has been focused on driving modernization in India's transport ecosystem and has brought several industries' first features and services to market.
Eicher Trucks & Buses was the first to recognise the increasing importance of maximizing fleet uptime and addressing evolving customer needs promptly, leading to the establishment of India's first Uptime Centre in 2020, with 24X7 service support and remote diagnostics capabilities linked to its widely dispersed service network.
The need for developing this ecosystem rose due to the growing demand for reliable and efficient commercial vehicles in the market in the wake of improving national highway network, tax reforms like GST, introduction of globally contemporary BS VI emission standards, and the governments focus to modernize logistics through the Gati Shakti and National Logistics Program. These factors resulted in increasing demand for efficient vehicle utilization and maintenance to improve productivity in the long haul, construction, and mining segments making Uptime the Number 1 priority for customers.
Technological Prowess and Smart Features
The Uptime Centre offers a range of features and benefits to enhance the overall service ecosystem.
Experts at this 24X7 state-of-the-art control room are fully equipped to remotely monitor vehicles and provide real-time support to the vehicles being attended at Eicher's Uptime Certified workshops across the country. The Uptime experts are also capable of proactively monitoring truck data to help predict potential failures before they occur irrespective of time and place. Thanks to the immense innovation in technology and proprietary predictive analytics, Eicher's Uptime Center is making maximum utilization of Eicher's fleet an achievable feat. This comprehensive support system ensures that Eicher vehicles continue to deliver efficiently and effectively, empowering commercial vehicle operators across India.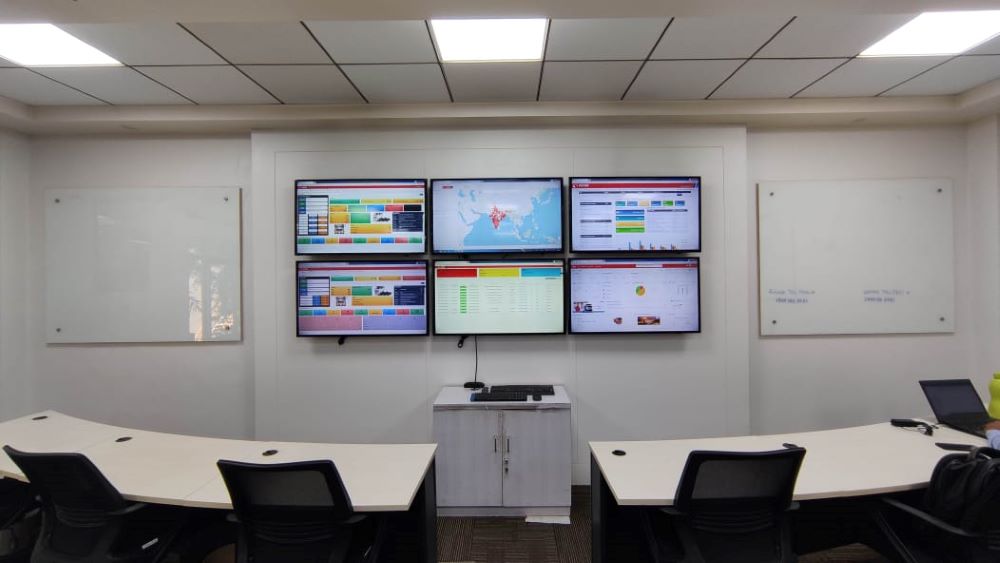 As of now, the Uptime Centre has become an integral part of Eicher's aftersales service network. It is seamlessly integrated with Eicher's rapidly expanding nationwide dealership and workshop network, comprising over 800 touchpoints. These touchpoints include sales and service outlets, on-site support locations, parts retailers, and trained technicians across all the major highways of the country The Uptime Centre's connectivity with vehicles, dealers, and workshops enables efficient communication and coordination, facilitating timely repairs, parts availability, and service support.
Transforming and Modernizing Customer Service
The establishment of the Uptime Centre is transforming the service landscape. It has significantly improved the overall customer experience by ensuring quick issue resolution, minimizing vehicle downtime, and optimizing fleet performance. Through this pioneering initiative, Eicher continues to set new standards in the Indian commercial vehicle segment, solidifying its position as an industry leader and driving the modernization of the Indian CV market.
With each passing day, the commercial vehicle business is developing into something more intelligent, perceptive, and effective. To better serve its customers, Eicher with the help of its experts at Uptime Center is shifting to a more predictive mode of service delivery through its Predictive Diagnostics Services. This service enables the company to provide higher uptime for vehicles by significantly minimizing unplanned stops at its workshops, as well as a faster turnaround in fixing the vehicles which report to the workshops.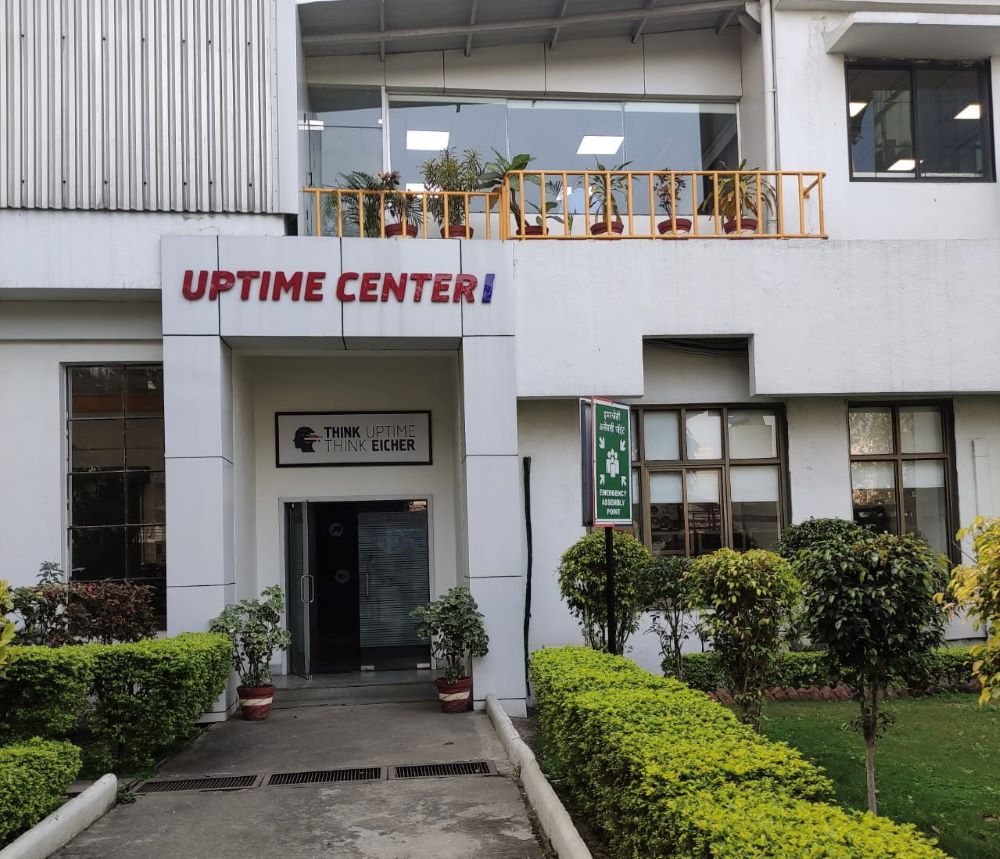 Apart from delivering future-ready services to its customers Eicher's focus is also on giving its customers more control and transparency to its customer through the My Eicher app. My Eicher is a first-in-industry digital platform that seamlessly integrates Eicher Trucks and Buses with Eicher Fleet Owners, Fleet Managers, Drivers, Dealers and Service Points. This new platform has the convenience of conducting business at its core, which is experienced through important aspects like Fleet Management, Uptime Management, Fuel Management, and a whole new set of Value-Added Services
Growing Network
Eicher recognizes our Dealer's integral position in the value chain and has implemented stringent processes to ensure transparency, profitability, and long-term partnerships. As a result, the company has secured the top position in the CV segment for two consecutive years in the prestigious FADA Dealer Satisfaction Survey.
Eicher's network continues to expand rapidly, with approximately 9-10 new touchpoints added every month. Currently, the company has 800+ touchpoints nationwide, including sales and service outlets, on-site support locations, and a vast network of parts retailers and technicians. Eicher is well-prepared for the growing demand, with several workshops operating extended hours, including Sundays, and some locations offering 24×7 service. The company provides on-site support for large fleets and mining sites, guaranteeing uptime through more than 150 locations across the country.
VECV offers one of the widest product ranges, from 4.9-55T GVW trucks and 12-72-seater buses. These products are produced on Eicher's most innovative BSVI solution – EUTECH6 which offers the most reliable engine technology and best-in-class fuel efficiency. Eicher is the first player to introduce a 100% connected range of vehicles with advanced telematics which provides enhanced fuel efficiency, superior uptime enabled by the industry-first Eicher Uptime Centre support, and segment-specific benefits such as enhanced logistical efficiency in e-commerce & passenger safety in buses. The company has the widest range of HD trucks in the industry and at various price points to cater to the basic, premium, and value segments.