ELGi Equipments Limited introduced its intelligent, energy-efficient LD Series two-stage, direct drive, duplex compressor with controller at INTEC 2022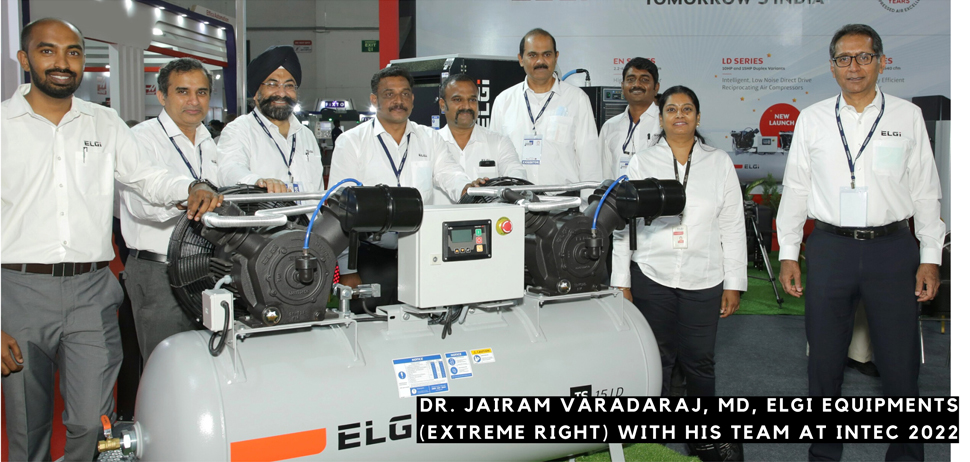 ELGi Equipments, with over 62 years of compressed air excellence, reiterated its commitment to building tomorrow's India at the 19th edition of INTEC held in Coimbatore. A platinum sponsor at INTEC, ELGi Equipments unveiled its LD Series two-stage direct-drive, intelligent reciprocating air compressor with a proven Neuron XT controller. The LD Series two-stage direct drive 10 HP and 15 HP duplex controller versions are future-ready with three intelligent compressor modes that customers can select based on their compressed air demand and utilisation pattern. The company also displayed its range of EG, EN and EV Series of oil-lubricated screw air compressors as part of the exhibits.
"Energy efficiency is a growing concern across the industry. Our customers are challenged by ever-increasing electricity costs, fluctuating market demand and limited industrial floor space, causing them to look at competitive compressed air solutions that offer a lower total cost of ownership. Our technology teams endeavour every day to transform conventional compressor technology. The LD Series range of 3 HP to 15 HP direct-drive reciprocating air compressors equip our customers with the key benefits of high energy efficiency, industry-leading reliability, low noise and ease of maintenance," said Dr. Jairam Varadaraj, Managing Director, ELGi Equipments.
Dr. Jairam further said that since the new compressor has immense potential among the automotive industry, the company has decided to market the product through its subsidiary company, namely, ATS ELGi, a leading automotive aftermarket service provider. "It is worth mentioning here that compressors play a major role in automobile workshops, petrol pumps, shop floors, etc. For other sectors, ELGi Equipments will maintain the existing system of selling," he added. According to Dr. Jairam, during the last few years the company has gained a major market share from all over the world and out of its export business of 50%, up to 43% comes from Europe and USA.
Even during the last two years of the pandemic, the company continued to invest in research and development, new product development, skill training, etc. The DNA of the company is that it focuses on frugal innovation with world-class technology.
A pioneer in cutting-edge compressed air technology with reach across over 120+ countries, ELGi Equipments offers a complete range of compressed air solutions from oil-lubricated and oil-free rotary screw compressors, oil-lubricated and oil-lubricated oil-free reciprocating compressors and centrifugal compressors to dryers, filters and downstream accessories. With state-of-the-art manufacturing units and a product portfolio of 400+ compressed air systems, it redefines reliability, efficiency and cost-effectiveness across 2+ million installations worldwide.