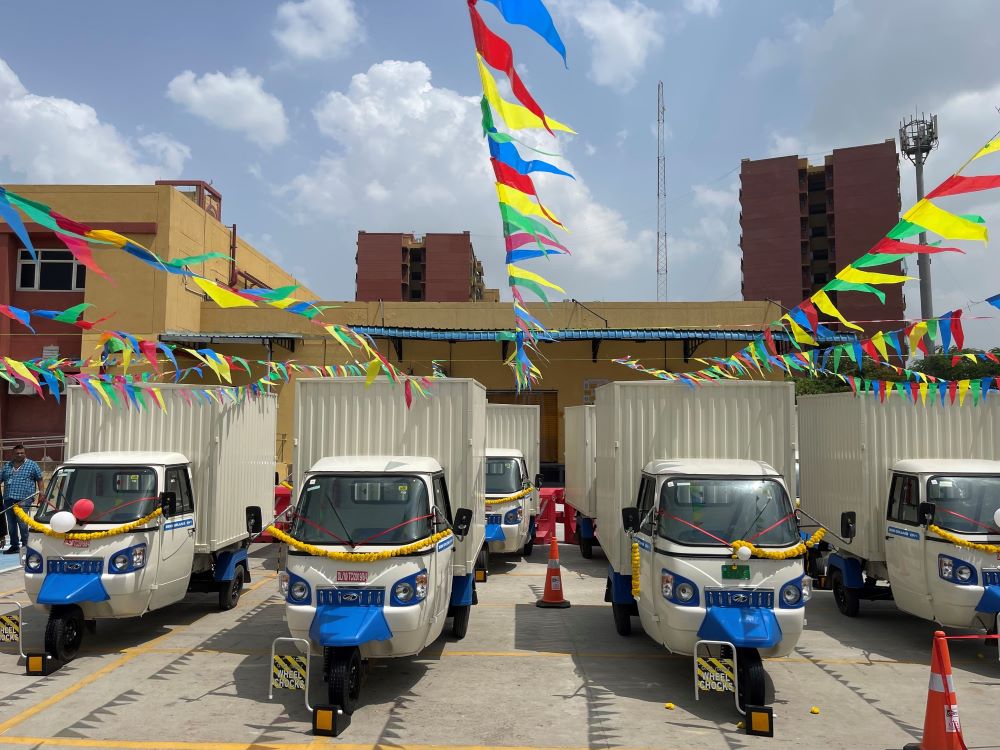 Amazon has announced the launch of its last mile fleet programme in India with 100% electric vehicles (EVs), a global first for the company. The programme will help more than 300 Delivery Service Partners (DSPs) to make customer deliveries with zero tailpipe emissions.
Amazon's global last mile fleet programme enables the procurement of a tailored fleet of vehicles by its delivery partners through a fleet management company. Already operating effectively in North America and Europe, Amazon's fleet programme is launching for the first time with entirely custom-designed EVs in India, making it convenient for DSPs to access safe, high-quality zero-emission vehicles for last mile deliveries.
The all electric fleet programme in India provides DSPs with access to customized EVs suitable for last mile deliveries, with maintenance, charging, and parking also provided. The vehicles are also equipped with advanced safety features, supporting the well-being of Amazon's delivery partners and the communities they serve. Data generated by the vehicles allows Amazon to optimize deliveries for safety and punctuality. The India fleet launches ahead of the busy Diwali season, and more electric three and four-wheelers will be added to the fleet over time.
"We are committed to be net-zero carbon by 2040, and decarbonising our delivery network is an important part of getting us to that goal," said Abhinav Singh, VP of Operations, Amazon India. "By launching the last mile fleet programme with an all-electric fleet in India, we help our delivery service partners decarbonise with us – and we're delighted that India is the first country where we are able to do this."
"We're excited to launch our last mile fleet programme in India and to launch with a 100% electric fleet is a global first for us," said Tom Chempananical, Director Global Fleet and Products, Amazon. "These vehicles will raise the bar for last mile delivery services, helping us deliver packages to our customers safely, reliably and efficiently."
Over the next two years, Amazon intends to bring large part of last mile delivery vans under the programme, eventually including every single last mile van. In the initial phase of the programme, the company has introduced Mahindra Zor Grand three-wheeler EVs, each equipped with specialised enhancements for Amazon's last mile deliveries. Mahindra Zor Grand is an electric three-wheeler well-suited for last mile logistics. Its electric powertrain produces no emissions, making it ideal for areas with poor air quality. Featuring a spacious 170 cubic feet delivery box and a robust 400kg payload capacity, it can handle daily shipments with ease. This electric vehicle can travel through roads at speeds up to 50kmph, and travel over 100km on a single charge. It is equipped with telematics and safety technology, providing real-time data on various aspects like vehicle performance, driving behavior, and critical safety metrics. The Amazon model features safety customisations, such as digital rear-view cameras.
"We are excited to be a part of Amazon's journey towards a cleaner, more sustainable future in last mile logistics. With zero tailpipe emissions and reliability at the core, our Mahindra Zor Grand will not only enhance cargo delivery efficiency but also contribute to improved air quality and lower driver fatigue," said Suman Mishra, MD and CEO of Mahindra Last Mile Mobility."
"The launch of Amazon's fleet programme with 100% electric vehicles is a commendable step toward a cleaner environment. We encourage this transition towards more sustainable delivery options that are clean, charged and cutting edge and don't emit pollutants or smoke for a better, healthier future. Programmes like this go a long way in decarbonizing the last mile delivery operations and will pave the way to encourage more innovation and adoption of such solutions. We compliment Amazon and will be proud of them as they work out an aspirational and clear roadmap for this transition and bring more vehicle segments into it," said Shri Sudhendu Jyoti Sinha, Adviser, NITI Aayog.
Amazon supports NITI Aayog's 'Shoonya – Zero-Pollution Mobility campaign,' to promote electric vehicles for urban deliveries and ride-hailing services. The company continues to seek new ways to electrify its fleet, partnering with vehicle manufacturers, fleet management experts, delivery partners, charging point operators, and financing companies.
With support from Mahindra Electric and other vehicle manufacturers, Amazon has deployed more than 6,000 electric vehicles to deliver packages today in more than 400 cities across India. The company is well on its way to achieve its goal of having 10,000 electric vehicles in its India fleet by 2025. The Climate Pledge—co-founded by Amazon and Global Optimism—has also recently committed US$10 million to C40 Cities to launch Laneshift, an initiative aimed at kickstarting the development and deployment of zero-emission medium and heavy-duty electric trucks and charging infrastructure across major cities in Latin America and India, including Delhi, Mumbai, Bengaluru, and Pune.
Amazon is actively exploring low-carbon fuels, embracing energy-efficient innovations, and investing in renewable energy projects to reduce emissions from electricity generation. Amazon is on track to power its global operations with 100% renewable energy by 2025, and is the largest corporate purchaser of renewable energy globally.