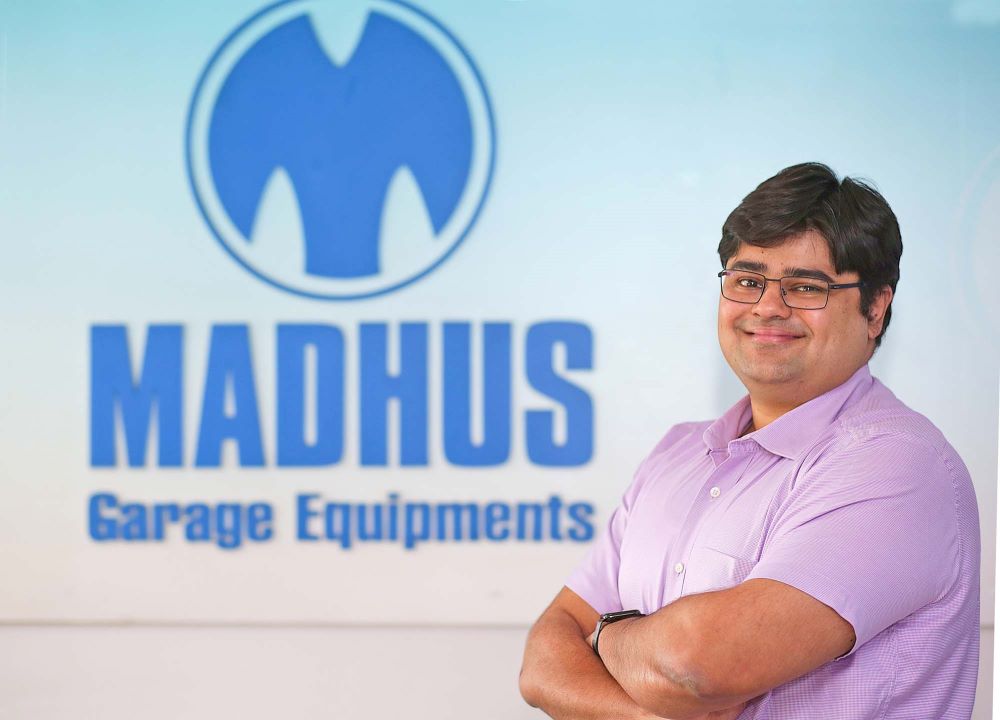 Dent repairs have always been an integral part of garage operations, requiring time, effort, and precision. However, traditional dent pullers often present challenges such as setup time, maintenance costs, and limited mobility. Introducing the Telwin Portable Dent Puller, an innovative game-changer that is revolutionizing the dent repair landscape. In this article, Rajesh Rajgor explores how the Telwin Portable Dent Puller saves time, increases efficiency, and reduces costs, benefiting garage owners and technicians alike.
Setting itself apart with hassle-free operation, the Telwin Portable Dent Puller eliminates the time-consuming setups and power source requirements of traditional dent pullers. This remarkable portable device is ready to use with a simple switch-on. Its battery-powered functionality eliminates the need for technicians to search for power outlets or deal with power fluctuations.
Nikhil B, Deputy Managing Director of Madhus Garage Equipment, describes the Telwin Portable Dent Puller as a game-changer for dent repairs, stating, "The portable dent puller does not require any setup time. Simply switch on the tool and start the work. There is no need to find a power source, and it can be taken anywhere in the service shop. These factors save a significant amount of time." Technicians can begin their work immediately, eliminating setup hassles and saving valuable time. Additionally, the lightweight design ensures that technicians can work comfortably for extended periods without fatigue, resulting in increased efficiency and output.
Reduced costs and increased profits are significant benefits of the Telwin Portable Dent Puller. Traditional dent pullers come with maintenance costs such as power consumption, consumables, electronic replacements, and wear and tear parts. Nikhil explains that the portable dent puller, working on a battery with minimal consumables and stable voltage, significantly lowers ownership costs. Garage owners can achieve long-term savings and a more cost-effective dent repair solution.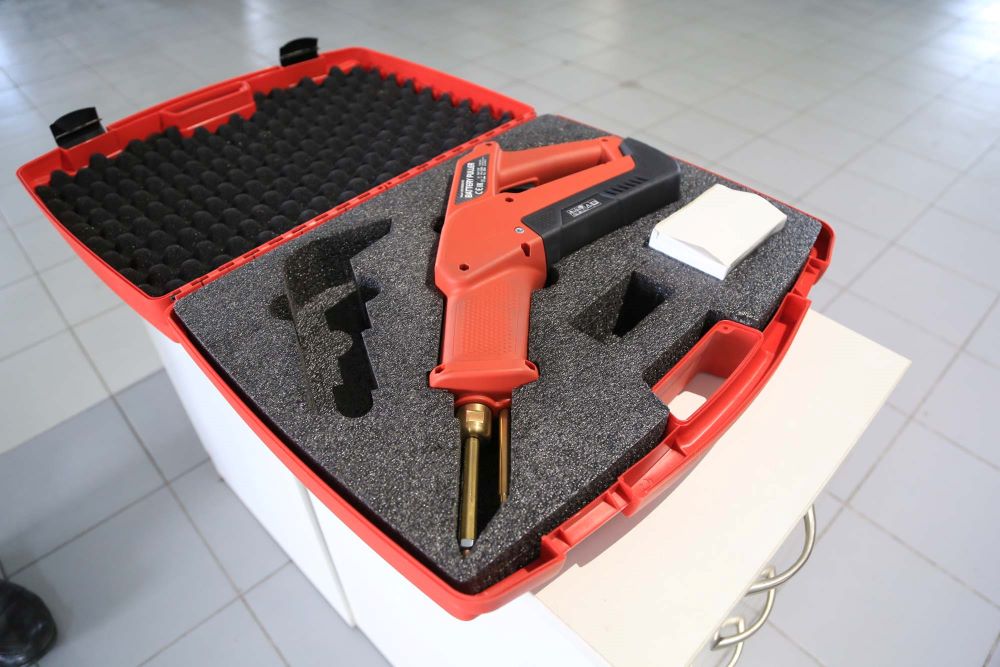 The Telwin Portable Dent Puller's effective design contributes to seamless repairs. Nikhil highlights its user-friendly features, stating, "Portable dent pullers are very light at 2.3 kg and easy to operate with minimal settings required. Rechargeable lithium-ion batteries can produce up to 2800 amps, offering similar output to traditional dent pullers." The lightweight design and minimal settings enable technicians to handle the dent puller with precision and ease, resulting in seamless dent repairs. With fewer complications, technicians can focus on their work without unnecessary distractions.
Busy workshops require tools that can keep up with daily operations, and the Telwin Portable Dent Puller meets this demand with its rechargeable lithium battery. "A single charge can facilitate 400-450 spots or 4-5 panel repairs," explains Nikhil. Furthermore, the swappable battery feature ensures uninterrupted work, even in the busiest garages. By incorporating this dent puller alongside traditional models, multiple technicians can work simultaneously, optimizing productivity and reducing wait times.
Undoubtedly, the Telwin Portable Dent Puller simplifies dent repairs with its user-friendly features such as cable-free operation, one-touch functionality, and integrated earthing. This groundbreaking solution saves time, increases productivity, and reduces ownership costs for garage owners and technicians, making it a game-changer in the automotive repair industry. Embracing this innovative dent puller enhances efficiency and profitability, making it a must-have tool for modern automotive repair setups.
Equipping Dealerships for Success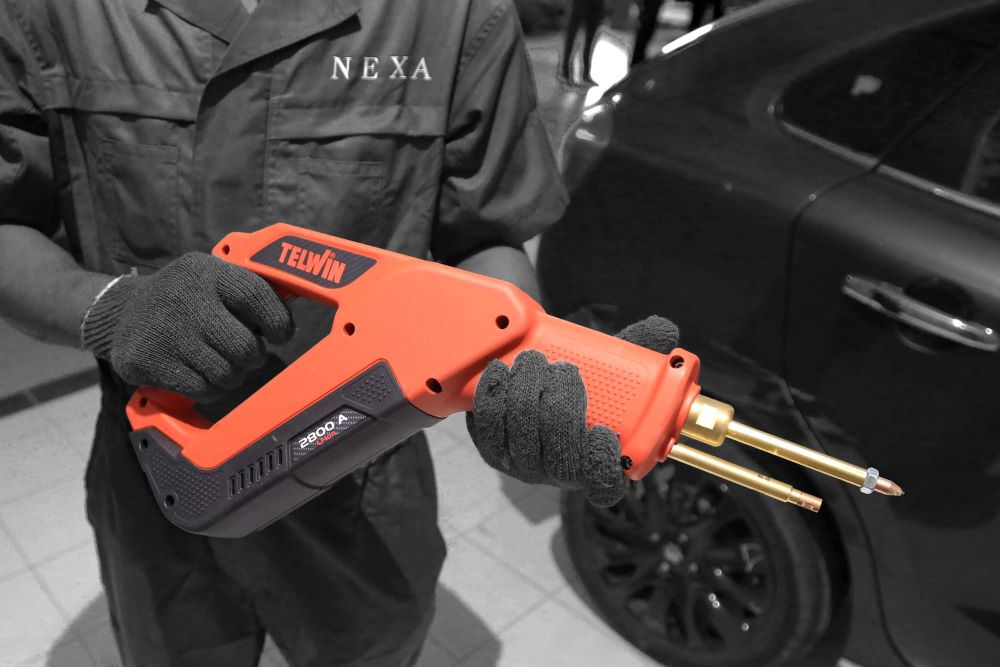 Madhus, the oldest and most respected company in the garage equipment industry, strives to enhance the profitability and efficiency of body shops in the country. Nikhil shares, "We have gained approval from all leading OEMs and boast an industry-leading service team of over 150 sales and service engineers spread across 35 cities in India. With three training centers at our disposal, we can provide comprehensive training to both our customers and OEMs. Additionally, we maintain a substantial spare part inventory valued at over Rs 6.0 crores, consisting of more than 80,000 parts."
Nikhil also emphasizes the significance of the body shop industry in the automobile sector. He points out that while the business is highly profitable, many car dealerships overlook its potential. Instead of investing in the recommended minimum equipment for their body shops, dealerships fail to upgrade and expand their equipment inventory. Nikhil explains, "For instance, they typically possess only one unit of essential tools such as Spot Welders, Dent Pullers, MIG Welders, and Plasma Cutters, despite the need for multiple units to efficiently handle cars with minor and medium damages. Consequently, dealerships experience poor efficiency, longer turnaround times, and diminished profitability. Technicians often find themselves idle, awaiting equipment availability from previous jobs, hampering the body shop's full potential."
Madhus aims to collaborate with dealerships to ensure appropriate and adequate equipment instead of simply adhering to OEM standards. Nikhil states, "We have been engaging with OEMs to educate them on the importance of properly equipping and educating their dealerships." Through these efforts, Madhus seeks to enhance the efficiency and profitability of body shops in the industry.