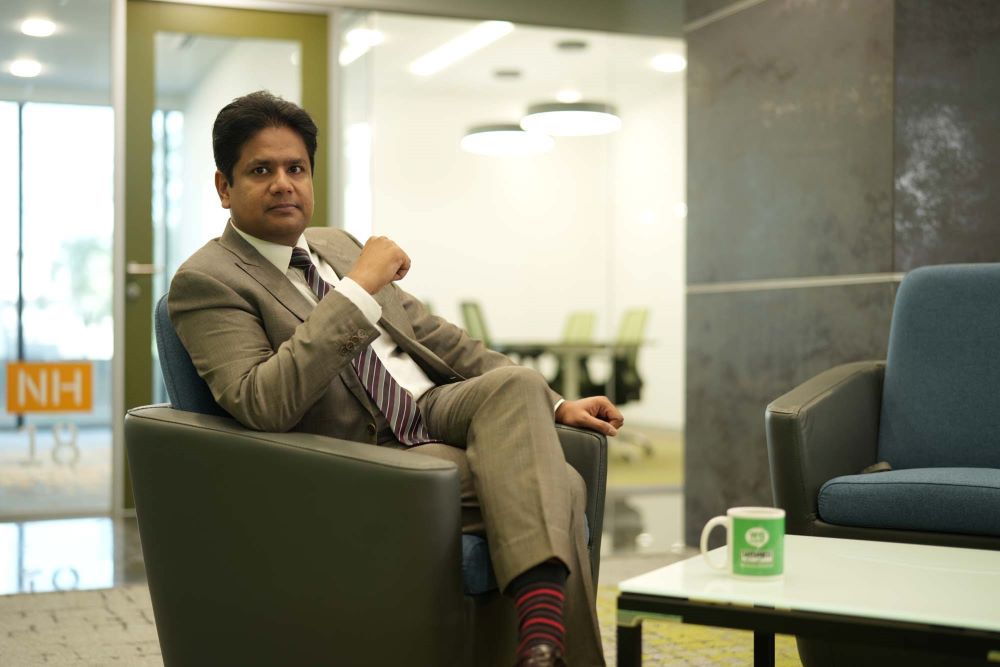 Safexpress, a leading name in India's logistics and supply chain industry, has experienced remarkable growth in FY 2023. Under the visionary leadership of Rubal Jain, Managing Director, the company has achieved significant milestones, embracing innovation, expanding its network, and leveraging technology to provide seamless services. In an insightful interview with Rubal Jain by N. Balasubramanian, we delve into Safexpress's achievements, strategies, and plans for the future, showcasing its commitment to excellence in the ever-evolving world of logistics.
How was FY23 for Safexpress and what were your key highlights and milestones?
FY23 was a year of substantial growth for us, with a 30 percent increase in business. We initiated consolidation efforts in technology and infrastructure, including a complete overhaul of our booking technology. We've become the first company to generate automated e-WayBills for customers using handheld devices, eliminating manual processes entirely. We've also expanded our facilities, adding significant capacity across various locations, making us well-equipped for the next few years.

Safexpress boasts coverage of over 30,000 pin codes across India. How does this extensive reach contribute to your leadership in the supply chain space, and what sets you apart from the competition?
Our focus has always been on being the leading B2B service provider in India, catering to the entire nation without regional limitations. We've achieved this by ensuring that we cover every square inch of India, with 811 physical hubs strategically placed across the country. This vast network allows us to serve customers with reliability and efficiency, no matter where they need deliveries.
Also, technology adoption has played a crucial role in ensuring that we remain a reliable pan-India partner. We've standardized our operations across all 811 gateways and 10,000+ trucks, utilizing GPS tracking and internal data for real-time decision-making. We focus on exception handling and instant alerts to react quickly to any issues, ensuring a seamless supply chain. Moreover, we've developed technology that can function without a network, considering the challenges of network connectivity in India. Our goal is to provide consistent service, regardless of external factors.
We are committed to innovation and expansion which are imperative for us to remain a prominent player in India's logistics and supply chain industry. Our relentless focus on technology and customer-centric solutions sets us apart in the competitive landscape.

How important is the automotive sector for Safexpress? What share of your revenue comes from this sector, and what are your plans for expanding it further?
The automotive sector accounts for around 23-24 percent of our total sales. We serve two aspects within this sector: OEM deliveries to manufacturing units and Aftermarket sales. The latter has become a major part of our business, enabling us to reach every service center and repair shop across the country efficiently. We are actively working with customers to streamline their operations by centralizing their warehouses and relying on us for nationwide distribution.

Congrats on hitting the 10,000-truck mark which is quite a phenomenal achievement. What is your strategy in this regard moving forward?
We are asset-light and don't own a single one of the 10,000+ trucks. These are 10,000 trucks that are painted Safexpress and dedicated for our use. We have vendor partners that operate for us, but they are exclusive to us, and we pay them every day. For any activity or delivery that was done on a given day, our partner will get paid by noon the next day. These 10,000+ trucks operate as per our requirement and our direction. Our teams in the warehouses are the ones who load the trucks and we give our partners the route plan, time of departure, arrival, etc. And, by virtue of being painted containers, our vehicles are easy to differentiate, and we have full tracking of all our vehicles.

What is the role of market vehicles in your operations?
Market vehicles are meant for use outside of our dedicated 10,000+ trucks. When there is a sudden surge in load or increased demand in a particular area / route, we may need additional fleet, and we get it from the market. However, our aim is to keep that number to zero. We want to anticipate the need for additional fleet in advance. When we see our trucks consistently hitting 60 to 65 percent capacity on a regular basis, we induct new routes. Anything beyond that means there will be days when we hit 100 to 110 percent, and we can't provide the service we aspire to using market vehicles. This is why we try and reduce the use of market vehicles and prefer to have our own dedicated fleet.

Can you elaborate on how you plan and collaborate with truck manufacturers to ensure you have the right type of trucks for your operations?
We work closely with manufacturers to determine our truck requirements. For example, we saw the need for single-axle 32 feet containers due to changes in load characteristics. We collaborated with manufacturers like Ashok Leyland, Tata Motors, and Eicher to make this happen. We continuously engage in discussions and research with them to ensure we have the right fleet available. Our trucks are not so customized that they are exclusive to Safexpress, but due to our size and fleet, manufacturers often work closely with us to develop suitable options.

What do you believe are the top challenges facing the Indian logistics & supply chain sector, and how do you propose to overcome them?
The primary challenge is the focus on infrastructure over the human side of logistics. While infrastructure development is critical, the challenges arising from the human element are significant. The movement of commercial vehicles within cities faces a lot of negativity, leading to restrictions and bans. We need to learn from developed countries where delivery trucks can easily access city streets. We must change the perception of trucks and truck drivers. It is a social challenge that requires time and effort to overcome.

In terms of business opportunities, what are the factors driving the growth of the logistics sector, and how is Safexpress capitalizing on them?
Economic growth and increased consumption are significant drivers of the logistics sector. Additionally, the shift from traditional trading centers to direct sourcing by retailers is creating opportunities. We enable small shopkeepers to buy directly from manufacturers and streamline logistics. Online presence, easy payments, and efficient deliveries are reducing logistics costs and driving growth.

What is your perspective on use of alternative powertrains in the logistics sector?
The future of alternative powertrains like electric, hydrogen, CNG, and LNG is uncertain, but infrastructure development will play a crucial role in adoption. We are open to these technologies and are already preparing for electric charging at our logistic parks. The adoption of these technologies in commercial traffic will be a significant factor and will largely depend on how the infrastructure readiness for the different technologies pans out.

Any plans to expand to international markets?
No plans for now. Our focus is currently on opportunities within India. We believe there is immense potential here, and we want to continue to excel in serving our domestic market.

What does the future roadmap for Safexpress look like, and what are your key priorities moving forward?
Our roadmap includes a commitment to providing reliable and efficient logistics services. We plan to invest in capacity expansion and adapt to the changing industry landscape. Our goal is to offer the best solutions to our customers while staying at the forefront of logistics innovation.